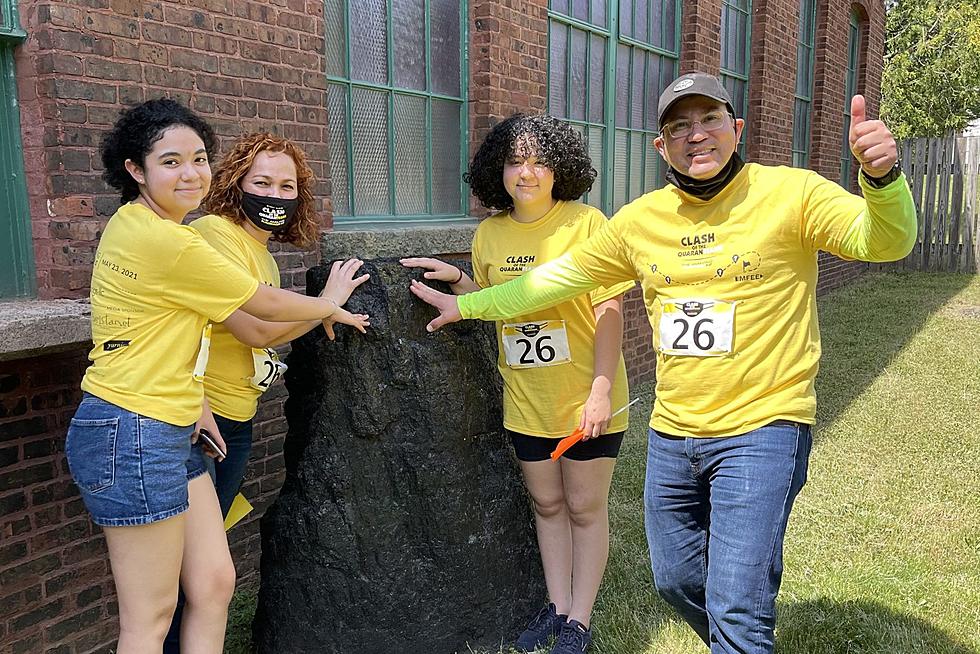 Fleeing persecution, Nicaraguan family found a welcoming home in Montclair
Members of the Chavarria family take part in the "Montclair: The Clash of the Quaranteams" fundraiser for the Montclair Fund for Educational Excellence earlier this year. Family members, from left, are Isabella Risash Chavarria, Maria Delgado, Camila Andrea Chavarria and Roger Chavarria. (COURTESY CHAVARRIA FAMILY)
By DIEGO JESUS BARTESAGHI MENA
bartesaghi@montclairlocal.news
When Roger Chavarria, left behind his life in Nicaragua as a mechanical engineer and a manager at major sugar cane companies — eventually settling in Montclair in January of 2019 — he had to start from scratch.
Chavarria, now 49, had been fleeing what he described as political persecution in his home country. A husband and father of three daughters, he came alone to America; family members would join him months later. A native Spanish speaker, he didn't know English well. He needed to learn to navigate the resources and infrastructure of a community that wasn't yet familiar. He needed a job. He needed to find a place to stay.
The only person he knew in Montclair was the Rev. Amilcar Benito Prado, the Nicaraguan-born pastor of St. Teresa of Calcutta Parish, known affectionately to parishoners as "Father Benny." They'd met in León, Chavarria's native city.
"[Prado] called me while I was in Nicaragua deciding what to do," Chavarria said in an interview with Montclair Local in Spanish. "I told him what happened, and what I went through. He told me: 'Why don't you come here and find a job, stay a couple of weeks, make some money and come back [to Nicaragua]?'"
Chavarria already had a tourist visa he'd previously used to visit a cousin in Miami.
But Chavarria said he couldn't stay with his family there, so he took Prado up on his offer. Chavarria moved into a room upstairs in the Immaculate Conception Roman Catholic Church on North Fullerton Avenue until he made enough money to rent an apartment. He worked 12-hour shifts as a busboy, a dishwasher and a runner for food orders at a local restaurant. 
"The pay wasn't great, but it was enough to save up," Chavarria said. "But it wasn't something that I wanted to do."
The transition in work — from leadership positions in an important industry to service jobs — wasn't easy. The longer hours took their toll on his body, especially at his age, Chavarria said. But he said he didn't care, as long as he was making money to send back home.
Life in Nicaragua 
Chavarria was born and raised in León, the second-largest city in Nicaragua. His family didn't have much money, and he went to a public school. Chavarria's dream was to become an engineer. He earned a scholarship to a private school where he was able to network with León's upper class. He moved to the capital, Managua, and was able to get into the National University of Engineering, one of the most competitive universities in the country.
In 1998, at the age of 26, Chavarria graduated from the university and began working as an engineer with Nicaragua Sugar Estates. His job was to create energy with the byproduct of the extraction of sugar cane, called bagasse, producing enough energy to help the company stay afloat after the sugar industry declined. 
But when Nicaraguan President Daniel Ortega returned to leadership of the country in 2007, he began a series of social programs enabled through an arrangement to purchase Venezuelan oil and energy plants at favorable rates — part of the "oil diplomacy" Hugo Chávez also used to support allies in countries such as Cuba, Argentina, Ecuador and Brazil.
Chavarria said the work became unbearable.
"They told us that it will benefit the county," Chavarria said. "But we didn't see that this agreement, that the government was doing, was going to benefit Ortega." 
Chavarria described an escalating pattern of political persecution and violence. Montclair Local was not in a position to further corroborate the particular details of his experience, but the Ortega regime has been widely condemned by other powers for practices that include killing protesters in violent clashes and jailing, harassing and intimidating dissenters. In a statement this month, President Joe Biden denounced the "sham election" that had just secured Ortega another term as president, as the United States issued new sanctions against Nicaragua.
Chavarria said when he was working in a plant set up by the regime, he started noticing increasing presence from government officials — asking managers to talk with their employees about politics, and to hold political meetings in favor of the ruling Sandinista party. Those who didn't cooperate were fired on the spot, he said.
By the end of 2017, only a few engineers were left working at the plant, Chavarria said. It started breaking down, he said.
Since Chavarria didn't go to any of the rallies or became a Sandinista, he said, he was targeted as opposition. The police began harassing him, he said.
In 2018, during the massive, protests that erupted when Ortega announced a plan to increase taxes and scale back social benefits (a plan he later abandoned), Chavarria saw how much power the government had. 
"The police started shooting people in the streets. They would take out the license plate to their cars [so they wouldn't be identified] and would go to the protest against the government and shoot everyone. Young, old, children, they didn't care," Chavarria said. "It was chaos." 
According to several reports, nearly 30 people were killed in the five days of unrest that kicked off the political crisis — only the first of many violent and sometimes deadly clashes amid protests that continue into the present.  
Chavarria became involved in one of the anti-government protests that was held in León. He said a member of a Sandinista neighborhood committee saw him and alerted the police. Chavarria said that made the harassment worse, not only for him, but for his family. He said at one point, his wife's mother and cousin were held in police custody and tortured for two days because they'd been seen holding a flag at an anti-government protest.  For two days, Chavarria said, the police tortured them. 
"One of my wife's male cousins went out drinking with some friends and he didn't come back home," Chavarria said. "He was found dead days later with a knife wound on his side, a broken arm and blows in the face."  
Chavarria and his family briefly fled Nicaragua for Guatemala, and then Honduras, but found more chaos there and returned to Nicaragua, he said. The police found him, took him out of his home, and beat him, he said. If neighbors hadn't intervened, Chavarria said, he would have died. 
He said he couldn't live like that — unable to work, unable to go out. "They were chasing after me and they were threatening my entire family," he said.
Our Montclair: A refugee family tackles digital, language divides
Relief in Montclair
The call from Prado gave him a new hope, he said. And though Chavarria arrived in Montclair expecting to eventually go back to Nicaragua, he chose instead to stay.
In June 2019, six months after Chavarria came to Montclair, he was able to bring his wife, Maria Delgado, and their two teenage daughters, Camila Andrea and Isabella Risash, to town as well. An adult daughter, Carol Chavarria, came to America separately from the rest of the family.
While still living at the church, the family members had to learn how to navigate a new transportation system. Where to buy groceries. How to register the family's children to school. And they had to do all of that while trying to learn or improve their fluency in English.
During that transition, they applied for asylum — which Chavarria said was granted to his wife, his two teen daughters and himself in November of 2019 (the family's oldest daughter is awaiting word on her own asylum application). They've since applied for permanent residency as well.
(The family's experience trying to bridge digital and language divides in the pandemic was the subject of a September edition of "Our Montclair," Montclair Local's podcast and video series, as well as an accompanying article.)
It took hard work and perseverance for the family members to acclimate to a new community, Chavarria said. They got an apartment after a few months, and were able to purchase a car.
Being connected to local Facebook groups in town gave the family a chance to interact with the neighborhood, Chavarria said. He remembers in one of those groups, he found a person was giving away a basketball hoop. Since Chavarria played basketball in college, he asked the person if he could have it.
"I messaged the person and, to my surprise, he came with his car and helped me set up the basketball hoop," Chavarria said. "I thought he was going to drop it off. But he stayed and talked to me. That's when I knew this town was special."
Chavarria said the family continues to receive help from neighbors and programs such as the Montclair Fund of Educational Excellence's "Navegadores Escolares" initiative, which helps Spanish-speaking immigrants make their way through the school system and gain access to other local resources.
As the family started to settle in, Chavarria stopped working as a busboy in restaurants, and now works as a rideshare driver. He said it's better. He's able to manage his time and the work is easier on his body.
Chavarria said he sees the United States as a land of opportunity, and he doesn't take it for granted. Along with his family and some friends, he founded Risash Cosmetics last year, selling colorful nail polish online. He has also been working as an actor with NYC Latin Media.
His wife also left restaurant work. Now she works providing assistance to an elderly person with household tasks and other needs.
Chavarria said even though Montclair is his new home, he still misses Nicaragua.
"Coming to this country wasn't a matter of money. It was a matter of living, to be able to live," Chavarria said. "When we come to this country, we leave our hearts in our countries. You know how hard and difficult that is? Coming to a new country that you don't know anything about? But we had to do it."
The family has also been helping another Nicaraguan family who came to the country in similar circumstances. Chavarria said the other family stayed in his family's home early this year, but now they are working on pursuing their own asylum status, and looking for a new place to live.
 "Montclair has been incredible. The human quality is incredible. I have no words to thank the people of Montclair and this country," Chavarria said.