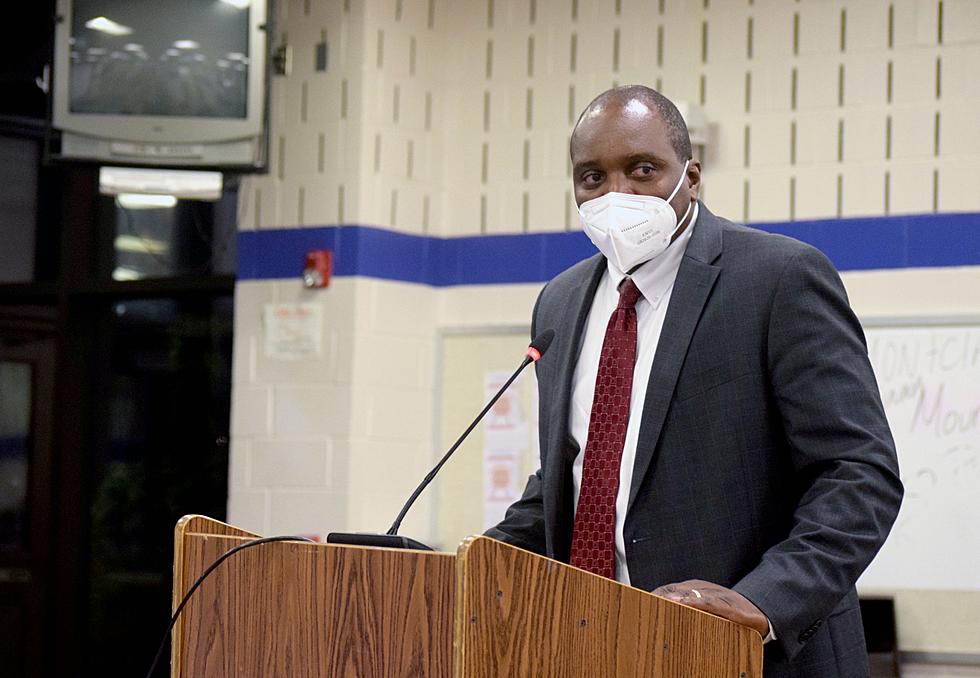 For some parents, frustration over Montclair public schools' COVID-19 policies
Montclair parents have offered expertise to the district for creating and updating COVID-19 mitigation plans. Some say their recommendations have not been implemented by Superintendent Jonathan Ponds and district leadership — though district leaders stress they need to weigh several concerns and their own experts' guidance. Ponds is seen here at an Oct. 17 Board of Education meeting. (TALIA WIENER/STAFF)
By TALIA WIENER
wiener@montclairlocal.news
For the 2021-2022 school year, Montclair public schools have implemented a series of COVID-19 mitigation measures, intended to keep students and staff safe as full-time classes continue.
But some parents — and even some Board of Education members — say they're frustrated or disturbed by certain policies or their implementation.
Some parents who've offered their own expertise in areas of air quality or public health say they feel ignored. 
But district leaders say they do indeed listen — stressing that point repeatedly to frustrated parents at Board of Education meetings. They have to weigh concerns and other expert advice, and can't always give parents the exact answers they want, officials say.
Open windows policy
Justin Klabin is both a parent and a consultant on green building and health issues through his company, Klabin Eco Development. He's been arguing for months the district needs to fully open windows to better ventilate its aging buildings. The current policy is for partial opening, but this fall, board members and parents alike said it didn't always seem to be followed. 
School board members have proposed a major overhaul of district infrastructure, with a particular emphasis on multimillion-dollar ventilation projects. They'd hoped to get a bond measure approved by the Township Council before this fall's referendum changed Montclair's style of school district, but now any bond will have to go before voters, and school officials say that's not likely until November of 2022.  
With the most extensive ventilation upgrades on hold, open windows are essential to keeping students and staff safe, Klabin told Montclair Local. 
On Sept. 11, he sent a letter to schools Superintendent Jonathan Ponds and to Montclair Board of Education members, asking for every window in every room in every Montclair school to be opened as much as possible. He also asked for more air filters to be installed in classrooms.
"You said in an interview you are up at night worrying about the schools — the current window situation is so ridiculous that you should skip sleeping altogether and go open windows," he said in the letter to Ponds, also published on Montclair Local's website. Klabin was among several parents who previously advocated against bipolar ionization devices installed in classrooms during the 2020-2021 school year. Those have since been turned off. 
At a Sept. 20 school board meeting, Ponds said all windows were to be opened 6 inches, a directive that had gone out to buildings and grounds staff from business administrator Nicholas Cipriano. Ponds said the district had worked with Parette Somjen Architects on the plan. 
But the district did not consult an air quality expert during its policy development, Klabin said. Parette Somjen Architects consulted mechanical engineers with HVAC expertise while advising the district, a representative of the company told Montclair Local.
"We do investigate these things," Ponds said at the Sept. 20 meeting. "I just want to make sure that's clear."
Klabin met with the board's finance and facilities committee, and he recommended going further — opening all first-floor windows and all upper sashes of second-floor windows; the bottoms of second-floor windows are kept closed to avoid fall hazards. If the upper sashes couldn't be opened, he suggested putting a fall protection device in each classroom, at a cost of about $500 per school. The group was receptive to his plan, Klabin said, but that version of the plan never went into effect.
Board of Education President Latifah Jannah, Vice President Priscilla Church and board member and finance and facilities Chair Eric Scherzer referred questions about mitigation measures to Ponds. The superintendent, though, has not responded to multiple interview requests and questions regarding COVID-19 mitigation measures sent to his district address beginning Oct. 31. 
Scherzer said at an Oct. 6 meeting that the committee spends "a tremendous amount of time" talking about "what seems like an incredibly simple topic" — opening windows — but that it's actually more involved than people outside the discussions might understand. Opening the windows partially, he said, "is a concrete thing that we can do," he said.
Still, at multiple board meetings this fall, Klabin, other parents and board members said they'd seen windows remaining shut, despite the district policy. Church said at the Oct. 6 meeting that she was "paralyzed" by photos of closed windows sent in by parents.
"Particularly this time of the year, when the weather is mild, we should just be in solidarity that these windows have to be open, even if we have to send a notice home to the parents that the kids bring a sweater or a little sweatshirt in your backpack," she said.
But Montclair High School physical education and health teacher Tracy Aytch said at the meeting some windows just won't budge; custodians had told her work orders were in to get them repaired.
Ponds urged any staffer who sees a closed window to open it, though Church and Scherzer spoke again at an Oct. 18 meeting about some windows being closed. 
At a Dec. 1 board meeting, Ponds said the district was still working to develop winter plans. Windows were to remain open, but he and Cipriano said aging boilers couldn't be turned up further to keep up with the cold. 
That was already an issue for some students and staff in the fall. At the Oct. 18 board meeting, Montclair Education Association President Cathy Kondreck said she had received "complaint after complaint after complaint" about open windows making classrooms cold. Then and again at a Nov. 10 board meeting, Kondreck asked for a winter plan. The only answer she received is "that the heat would compensate for cold weather," she said at the time.
Cold temperatures are an issue in every building, "except perhaps Bullock," the district's newest building, Kondreck said at the Nov. 10 meeting.
"We need a solution, and we can no longer wait for it," she said. 
Kondreck has not responded to questions sent to her union email regarding windows since Nov. 17.
COVID-19 testing
Parent Magda Schaler-Haynes, an expert in public health law and adjunct professor of health policy and management at Columbia University School of Public Health, argues the testing plans in Montclair public schools don't do enough to ensure the safety of students and staff.
The district is currently administering voluntary pooled tests for students and staff, with testing taking place outdoors, under tents. Participating students and staff members self-administer nasal swabs, and all swabs from a given pool are placed in a combined container. If a positive test is found in a pool, the students in the pool are given rapid antigen tests and parents are notified.
Elementary and middle school students are tested each week on Mondays and Tuesdays, with antigen tests administered on Wednesdays and Thursdays if a positive test is found. Testing at Montclair High School occurs less frequently, students have told Montclair Local. 
The testing plan was developed with provider Ginkgo Bioworks, the district physician and principals, Ponds said at an Aug. 16 Board of Education meeting. 
Schaler-Haynes reached out to school officials around the beginning of the school year to ask questions, to make her own policy recommendations and to offer to help connect the district with other Montclair parents in the fields of medicine and epidemiology. She met in person with Ponds in September.
"There have been times where the district seemed open to [parents'] recommendations, but ultimately, they've taken almost none of them," she said.
Schaler-Haynes was pushing for mandatory testing, a practice that has been implemented in private schools in Montclair and in public school districts in New Jersey, including Hoboken. But Ponds implemented an opt-in testing program for the district, despite
opposition from some board members and parents. 
The superintendent cited the New Jersey Patient Bill of Rights as one basis for his decision during an October board meeting; it includes language about obtaining a patient's consent prior to the start of treatment. But the Patient Bill of Rights, which addresses care of hospitalized patients, does not apply in this situation, Schaler-Haynes said.
"No one has the right to go to school with COVID," she said.
At the Sept. 20 board meeting, Ginkgo presented the testing plan for the district. But  Schaler-Haynes argues too much has been left unclear in the district's communications. At that point, for instance, she says many questions still weren't answered about how and when testing would take place, or how contact tracing would be handled.
She also criticizes the district for not opting to use a state-contracted vendor to help devise and implement its 2021-2022 testing plan, instead choosing to have the state Department of Health reimburse it for funds to support the testing program it was already working to put into place. She argues the option of the state vendor would have been better, putting less burden on the district's nursing and maintenance staff. Statewide, 81% of districts chose that option, state Department of Health communications manager Nancy Kearney told Montclair Local.
But at the Sept. 20 board meeting, Ponds said the district didn't understand the state's timetable for use of its vendors, and the district was already familiar with Ginkgo, which had conducted COVID-19 testing during the 2020-2021 school year. Montclair Public Schools began pooled testing Oct. 25.
The district's website leads off with information on its coronavirus plans — with links on its homepage to its pooled testing policy, its travel guidance and other resources. A "Frequently Asked Questions" page on the district site addresses some questions about pooled testing — for instance, whether students in a pool where coronavirus is found can return to school once individual tests are done, and whether and when siblings of students who test positive can come to school.
When a positive case is identified during pooled testing, the principal emails a letter to the entire school community. The school district then coordinates with the Essex County Health Department and uses contact tracing guidelines set by the Centers for Disease Control and the New Jersey Department of Education to determine close contacts, according to the district's Safe Return to School Plan. Additional messages are then sent to the families of students identified as in close contact, according to a Sept. 24 community message from Ponds. 
The state Department of Education definition for close contact excludes students who were within 3 to 6 feet of an infected student if both the infected student and the exposed student correctly and consistently wore well-fitting masks the entire time. 
But parents have asked for more information about how close contacts are determined. For instance, one parent asked at a Dec. 8 school board meeting, if students eat lunch indoors during the colder months and are surrounded by unmasked peers, who will be considered a close contact? Ponds, at the meeting, said the district continues to look at its monitoring practices, but didn't specifically address that question.
According to the district's COVID-19 Data Dashboard, as of Dec. 14 there had been 22 known cases of coronavirus among staff this school year. There had also been 71 known student cases. The dashboard doesn't address how many of those cases were discovered through pooled testing.
Desk shields
For months, the district faced criticism from parents who say another mitigation strategy — the use of desk shields — was unnecessary and interfering with learning. They're now optional, but were required at the start of the school year.
In any classroom or cafeteria where CDC guidelines for physical distancing indoors cannot be met with all students present, desk shields were to be used, Montclair's Safe Return to School Plan said. But during the summer, parents began voicing their concern about the efficacy of the shields. 
A March study found that plexiglass dividers with side walls impeded airflow in a school in a Massachusetts school district. CDC research from May showed that while masking and ventilation greatly affected transmission rates in Georgia schools, barriers did not. Articles and columns published within the past year in The New York Times, New York magazine and Bloomberg also argued there isn't much evidence the barriers are effective. 
Many districts, including New York City public schools, have stopped using barriers in their classrooms this year, but some schools continue to use them, including nearby Clifton and East Orange.
In a Sept. 17 community message, Ponds said the district had heard community input on the use of shields, evaluated the research and would continue to use them. In elementary and middle schools, students used shields in classrooms and the cafeteria. At Montclair High School, shields have only been used in the cafeteria or during group work, according to MHS students. 
Parent Jordan Goldberg, at a Sept. 20 board meeting, said the shields are "fuzzy and opaque," keeping students from seeing clearly. Still, Ponds at the time affirmed the district's use of the shields for virus mitigation when 3 feet of distance between students could not be achieved. He said they'd stay in use until vaccinations for more students were available.
But the superintendent also said Kalisha Morgan, the district's assistant superintendent for equity, curriculum and instruction, would look into any instructional problems the shields might have caused. Ponds has not yet responded to a question about the outcome of Morgan's investigation sent to his district email Dec. 2.
On Sept. 24, Goldberg sent a letter signed by 250 parents to school officials, asking that the shields be immediately removed. The letter described a kindergartner who almost missed lunch because her teacher could not see her hand raised, a fourth grader who stood during class to see his teacher over the shields and a seventh grader with attention deficit hyperactivity disorder who got easily distracted not being able to see instruction.
The letter also noted that the CDC removed plexiglass shields from its list of recommended mitigation techniques in March, and then in June said the shields can either help or hinder airflow, and testing should occur before they are used. 
Ponds wrote back to Goldberg, thanking her for the letter, but then she did not hear anything else back, she told Montclair Local. At the Oct. 6 board meeting, several other parents asked that the shields be removed from classrooms. 
On Oct. 15, NBC New York published a story titled "Why Some NJ Schools Still Use Sneeze Guards – Despite No Evidence They Prevent COVID," with a reference to Goldberg's letter and a quote from a Montclair parent. 
At the Oct. 18 board meeting, Ponds announced the district had spoken to its attorneys and the state Department of Health about the shields and was waiting on information from a county epidemiologist. The shields were put up as a mitigating factor with no mal intent, he said.
"Just know we do listen," the superintendent said at the Oct. 18 meeting. "We do do our homework. We do it for the kids."
Ponds then told families in an Oct. 21 community message that starting in early November, desk shields would be used on a voluntary basis in classrooms, on an opt-out basis.
"I would have preferred based on the science for them to simply have been removed from the classrooms, because I don't think that there's any indication that they are mitigating the spread of COVID, and I think that's been fairly well established at this point," Goldberg said. "But I'm very, very grateful that I can, as a parent, decide to remove this burden from my two children."