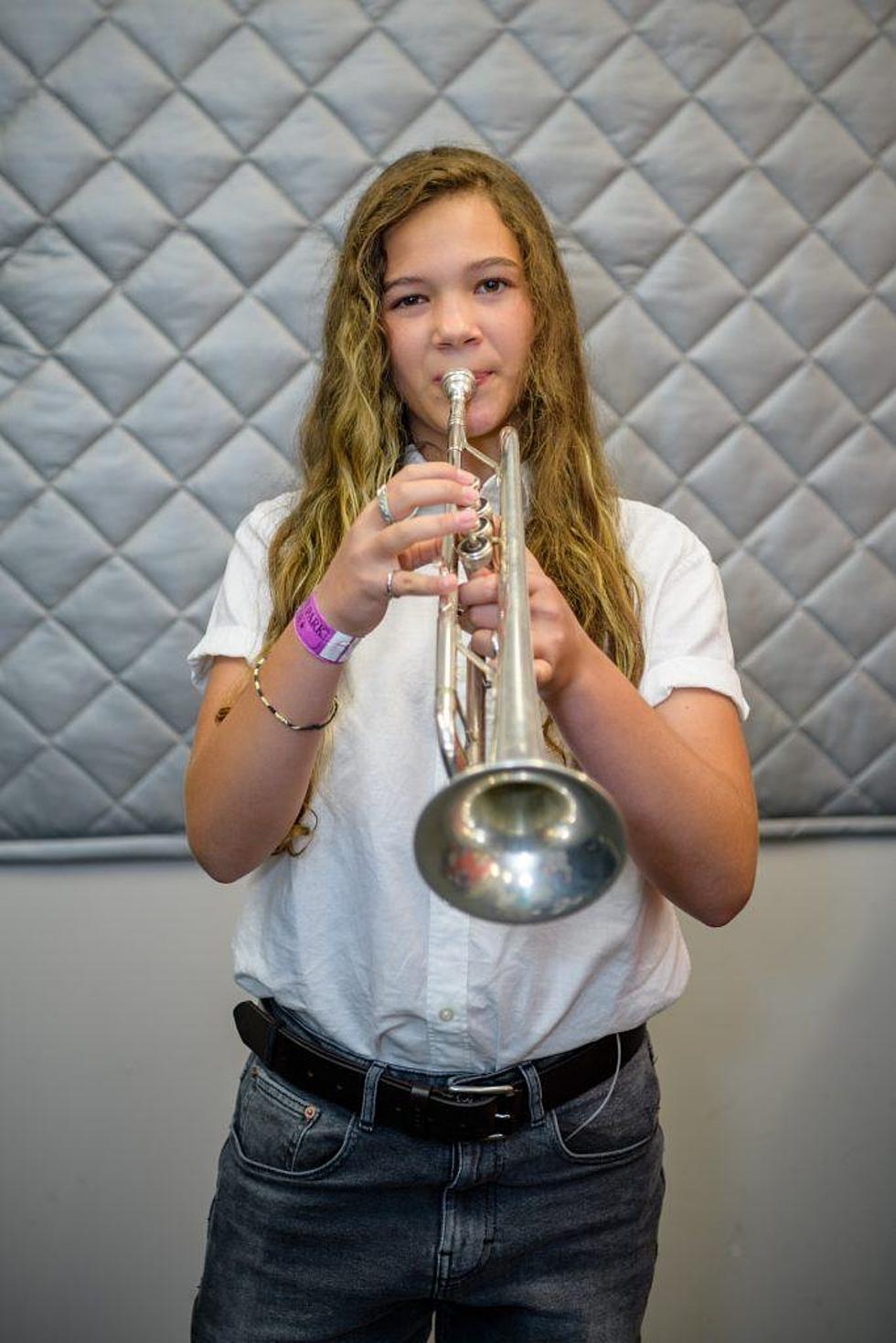 Friends and neighbors: trumpet player Violet Mujica
Violet Mujica practices her horn in a Jazz House Kids studio. NEIL GRABOWSKY/FOR MONTCLAIR LOCAL
By GWEN OREL
orel@montclairlocal.news
In "Friends and Neighbors" we spotlight interesting Montclairites doing interesting things. Some of them you might have heard of, others you might not. Answers have been edited for space. Got someone you think we should write about? Drop a line to culture@montclairlocal.news.
Violet Mujica, 13, is a trumpet player who studies and performs with Jazz House Kids. She'll perform at the Montclair Jazz Festival on Saturday, Aug. 10, with the Afro Latin Jazz Band. Previously, she played in the Legacy Big Band and the Blues and Roots Big Band. She will attend Montclair High School as a first-year in the fall.
How long have you played the trumpet, and what made you want to begin?
In elementary school, in third grade, there was a lady that came into our auditorium and she was offering lessons. I signed up for it. That's how I got started. That was at P.S. 75 in New York City. We moved almost four years ago.
________________________________________________________________________
READ: FRIENDS AND NEIGHBORS; RICHARD THOMPSON, A CELT IN THE GARDEN
READ: FRIENDS AND NEIGHBORS; THE HARRINGTON-LOGUE-BOOTH FAMILY
________________________________________________________________________
What appealed to you about the trumpet?
I also play piano and drums. My parents made me play it because it's a good foundation. She started playing something kind of jazzy and I just felt kind of drawn to it.
What kept you sticking with it?
I did it in third and fourth grade, and moved to Montclair in fifth, and I stopped for a year. Then in sixth grade my chorus teacher, who plays trumpet, a professional classical trumpet player  — Taylor Mandell, at Buzz Aldrin Middle School — offered to give me lessons. I was in the school band.
How did you start coming to Jazz House Kids?
My ELA teacher, I guess her son, Tim Murphy, teaches here now. He grew up here. She brought me here and figured out how to get us to join a class for a day and see what it's like and if we'd like to do it. That's when I started here and I really came to love it. I don't take private lessons yet. I'm going to. I'm in different bands.
What did you love about it?
I fell in love with how nice everyone here is and almost accepting. You don't have to be good at all for them to help you out.
How would you describe your playing level?
I guess I'm pretty good. It's hard to say something like that, but I think I have some skill. I'm probably in the middle. I'd say I'm a little better for my age.
How much do you practice?
I practice every day, about an hour and a half. Practice for me is scales, different warm-ups I come up with. After that I'll play a backing track to something, blues for example, and play along with that.
Are there any downsides to playing the trumpet?
It's definitely one of the harder instruments. The air, it's hard to blow the air out. You have to blow harder or softer for high notes because there's only three valves. Something like saxophone you press a button and the note's there. I have a saxophone at home, but I want to stick with trumpet.
Had you heard blues and jazz before you started playing?
I'd heard it, but not really. Now I really love it. I like how there are so many different components, how technical it is, how complex it is, but at the same time it's just music. There's just so much built into it. I think it's also really cool how many types of jazz there are. I like something upbeat. I'm not the biggest fan of smooth jazz, but I still listen to it. I'm not a big fan of pop, but I'll know it, because my little brother listens to the radio. I like Led Zeppelin and stuff like that. My dad likes it.
Is playing solos scary?
It used to be. I really enjoy doing it now. I had this one class with Mike Lee, a Chica Power thing, and there was all this theory stuff. It was so complex at the beginning and I didn't understand it at all, but after a while I got it. All that theory really helped me figure out in the solos and what to do and how to come up with it on the spot. I do solos at home. It's a lot easier for me to come up with solos now. I also have some licks built already.
How big a part of your life is trumpet?
I had to quit a lot of stuff. I had to quit jiujitsu, but it was on Tuesdays and Thursdays, and my jazz classes were on Tuesdays and Thursdays. I chose to do the music. I'm probably going to go back soon, depending on what days the classes are. And my dad wants to do it too. 
Do you come from a musical family?
My dad knows a lot of theory. I think he used to be in a salsa band in Germany. My mom plays guitar and she sings. I have a younger brother, but he's 6. He likes it, but I don't know if he's really into it or not.
What's the best thing about playing in the band?
There's almost like a rush of energy. It's so fun. You're playing and it doesn't matter how good you are or anything like that, it's just a rush of playing the music.
MEET THE NEIGHBOR
VIOLET MUJICA
Age: 13 (14 in October).
Hometown: Manhattan and Montclair.
Season: Spring.
Favorite subject: English or science.
Hobby: I draw sometimes. And jiujitsu.
Beach, forest or mountains: Forest.
Favorite vacation spot: I've been to Costa Rica a couple of times.
What do you want for your birthday: A Harmon mute for the trumpet.
Superpower you'd want: Invisibility.
Favorite color: Green.
Favorite drink: Diet Coke.
Favorite dessert: Chocolate cake.
Hero: Trumpet player Sean Jones.
Last TV show watched: "How I Met Your Mother," or "N.C.I.S." [reruns].
Book reading: "Boy Erased" [a memoir] by Garrard Conley.
Favorite song to play: Surfing by Sonny Stitt. I like the solo, and the melody of the song.
I want to meet (alive or dead): My grandmother Mercedes. She passed away. I guess I met her, but I was really young.
If I weren't me, I'd love to be: A superhero. Violet, from The Incredibles.
Nobody knows: How much I play my music. Except for my parents.