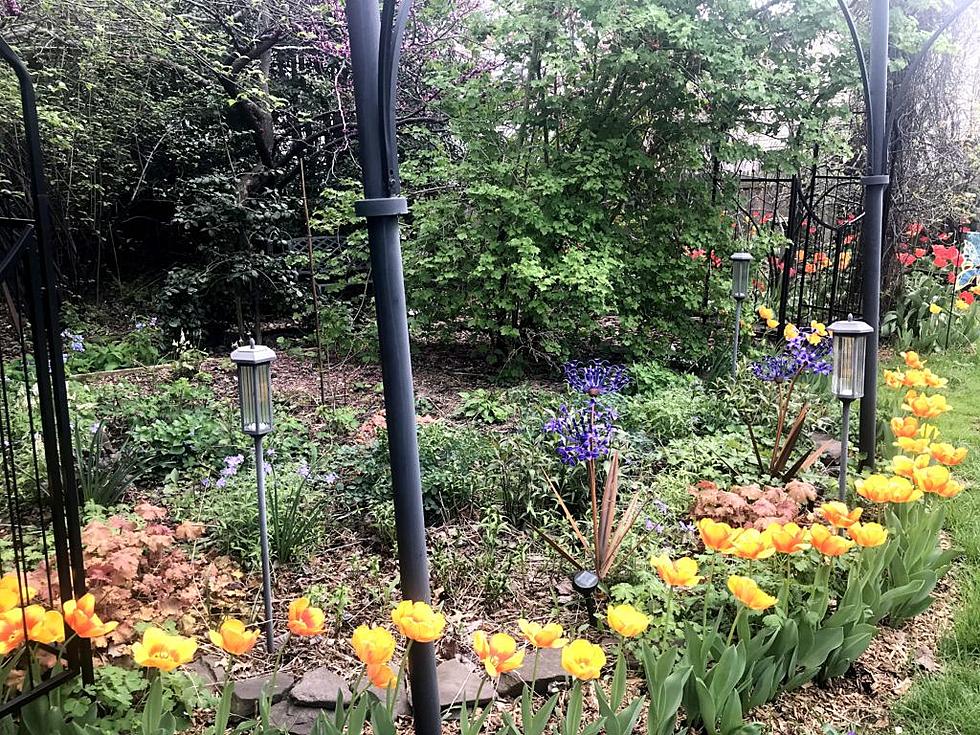 Gardening for life: the season to prepare your garden for summer is now
Tidy up your garden for a beautiful summer. COURTESY JOSE GERMAN
By JOSE GERMAN
For Montclair Local
Jose German is a New Jersey environmental activist, Essex County certified master gardener and Montclair resident. He is the founder of the Northeast Earth Coalition.
If you have been procrastinating on garden tasks, now that tax season is over it's the
perfect time to work in the garden and relax.  
Here are some basic tasks for your spring gardening schedule.
Cleaning flower beds:
Did you procrastinate about cleaning up your garden beds last fall? Good for you! Hungry birds and overwintering beneficial insects owe you a debt of gratitude. By this point in the season though, it is clean-up time. Remove dead plants and leaf debris from your flower beds and add them to your compost pile. Don't forget to add compost to fertilize your soil. Decide what plants to relocate or reduce.
Weed prevention:
Be proactive to avoid spending the most beautiful weekends of the spring and summer weeding. If you did not install a permeable fabric liner in your flower beds to block weeds last year, you might want to do this at this point of the season. Don't use a plastic liner since it will overheat your flowers' roots and cut them off from water. Applying a generous layer of cedar mulch to your flower beds is another way to suppress annual weeds without using harmful chemicals. Mulch vegetable beds with straw.
If you want to keep a beautiful lawn without herbicides, you are a little bit late but you can use corn gluten, an organic pre-emergence herbicide that also serves as a fertilizer for your lawn. Ask your landscaper to aerate the lawn, and get a Northeast mix of grass seed to improve the quality of your lawn and reduce empty spaces that invite weeds to spread. Keep in mind, the thicker your lawn is the less opportunity there is for weeds to grow.
Be aware that when your landscaper adds herbicide to your lawn, the poisonous residues can contaminate you if you are barefoot. Even your pets can be affected, not to mention young children playing on the lawn.
_______________________________________________________________________
READ: GARDENING FOR LIFE; YOUR GARDENING AND PLANTING TO-DO LIST
READ: GARDENING FOR LIFE; HOMEGROWN VEGETABLES SPREAD LOVE AND HEALTH
_______________________________________________________________________
Watering:
At this point of the season, the only plants that need some watering are the newly installed plants and seedlings.  So, turn off your sprinklers to save money and save water. Water is a limited resource. We are extremely fortunate to have it in relative abundance most of the time in this part of the country, but we should still use it mindfully.
To reduce water use year around and start transitioning to a drought-tolerant garden, start planting drought-tolerant plants native to this part of the country. Once established, they will not need watering.  You can also reseed your lawn with drought-tolerant grass seed. Another way to reduce water use is by grouping your plants according to their water needs. That way, you can water selectively. Mulching also helps keep the soil moist, which means less watering.
Trimming, pruning and thinning:
Trimming hedges now means that you may need to redo the work again within two weeks. If you wait until the second week of May, you will save time and money. Don't prune your evergreens until they have produced a new foliage.  If some flower beds look crowded, you can remove plants and replant where there's more space. If you do not want to keep them, you could exchange them with neighbors for plants you do not have.
Seeding your vegetable garden or buying seedlings:
It's early enough in the season to plant many veggies from seed, but if you're in a hurry or feeling flush with money it's faster (but a lot more expensive) to buy seedlings rather than start from seed. Be sure your seedlings are organic and try to avoid genetically modified (GMO) plants or seeds. Heirloom vegetables are best since they are not GMO and produce varieties of vegetables often hard to find commercially. Some experts in nutrition say that heirlooms have more nutritional value than non-heirloom varieties.
When planting spring vegetables, remember the official last frost day for our area is around May 5, so wait until then to plants frost-sensitive vegetables and herbs, and as tomatoes, peppers, eggplants, and basil. It is already safe to plant hardier vegetables, such as lettuce, arugula, peas, chard, and cabbage-family plants.
Work, enjoy and relax:
Gardening is therapeutic. It has physical benefits and is associated with mental clarity and feelings of satisfaction. Food gardening is even more rewarding, particularly during the harvest. In addition to its therapeutic value, it offers a safe source of the freshest possible produce.
Enjoy each step of the process, but take time to sit and relax as you watch your garden masterpiece growing and producing positive effects for you and your family. Being proactive will keep your garden in top form and allow you to enjoy the spring weather in a pleasant and productive way.