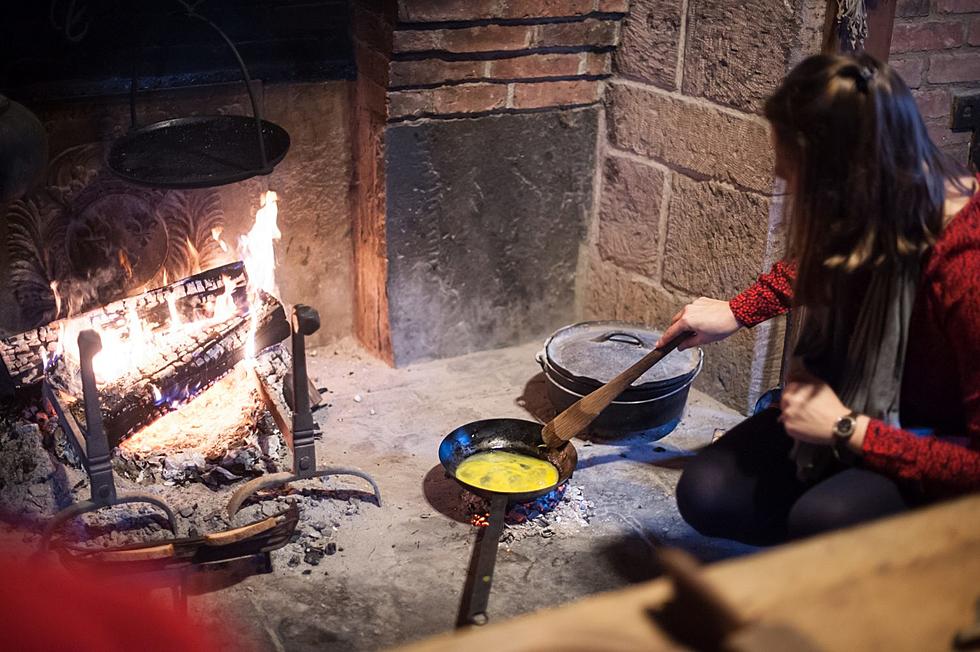 Go back in time with these apple recipes from founding Montclairians
Early settlers took advantage of the apple harvest and used the fruit in baked goods and drinks.
KATE ALBRIGHT / FOR MONTCLAIR LOCAL
By JAIMIE JULIA WINTERS
winters@montclairlocal.news
Apple and cider season is here. Whether you head to the Montclair Farmers' Market to shop for apples and cider or out of town for a day of apple picking, there are plenty of choices for creating delicious drinks and desserts. 
Erin Benz, collections manager at the Montclair History Center, offered up some options that date back to the early Montclairians.
"A surprising amount of the recipes involve alcohol (or maybe not so surprising!)," Benz said, such as the "Potent Applejack," or "Jersey Lightning," which was made in Cranetown stills. "Two cups and a man can leap a stone fence," she said.
Apple brandy drops were a popular fall sweet made by Fanny Pierson Crane, who was married to Israel Crane, Cranetown's most prominent citizen in the 18th century. Her cookbook is available at the Montclair History Center.
Apple butter was a fall and winter staple of the 17th and 18th century.
New Jersey 
Stone Fence Punch
1 quart applejack
1 quart fresh sweet cider
1 quart cold sparkling water
Lemon or orange slices
Cloves
Pour all liquid ingredients over an ice ring or block of ice into a punch bowl and stir until well-mingled. Garnish with lemon and orange slices stuffed with cloves. Serve in punch cups. Makes 30 servings. 
From "The Thirteen Colonies Cookbook," by Mary Donovan, Amy
Hatrak, Frances Mills and Elizabeth Shull, 1982
Apple Brandy Drops
1 cup light brown sugar
½ cup shortening
1 egg
1½ cups sifted flour
½ tsp. baking soda
½ tsp. salt
1 tsp. nutmeg
1 cup chopped unpared apples
Brandy
Cream sugar and shortening. Beat in egg, sift dry ingredients and add; beat well. 
Fold in apples. Form into balls, place on a greased cookie sheet
and bake at 375 degrees for 12-15 minutes. 
Straight from the oven pat
each little cake with a linen cloth dipped into a generous amount of brandy. 
From "Fanny Pierson Crane: Her Receipts, 1796," compiled by Amy Hatrak, Frances Mills, Elizabeth Shull and Sally Williams, 1974
Apple Butter
3 quarts sweet cider
8 pounds ripe apples, peeled, cored
    and quartered
2½ cups brown sugar, packed
2 tsp. ground cloves
2 tsp. cinnamon
1 tsp. allspice
½ tsp. salt
Sassafras bark (optional)
Cook the cider over high heat, uncovered, for 30 minutes, or until reduced by half. Add apples and cook over low heat until tender. Work through a food mill and return puree to the kettle. Stir in sugar, spices and salt. Cook over low heat, stirring almost continuously, until the apple butter thickens. Ladle into hot sterilized jars and sink a small piece of sassafras bark (optional) into each jar. Seal. Makes 6 pints. 
"The Thirteen Colonies Cookbook," by Mary Donovan, Amy Hatrak, Frances Mills and Elizabeth Shull