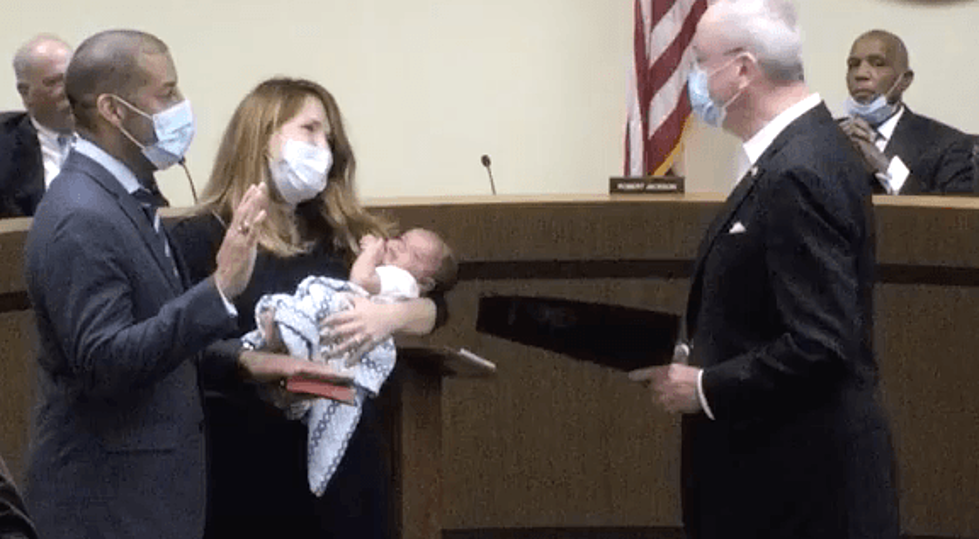 Governor swears in Montclair's new mayor
Gov. Phil Murphy swearing in Montclair's new mayor Sean Spiller today, July 1.
BY JAIMIE JULIA WINTERS
winters@montclairlocal.news
Gov. Phil Murphy was a special guest in Montclair today, swearing in Sean Spiller as Montclair's next mayor. In addition to Spiller, six Township Council members — at-large councilors Peter Yacobellis and Bob Russo, First Ward Councilman William Hurlock, Second Ward Councilwoman Robin Schlager, Third Ward Councilwoman Lori Price Abrams, and Fourth Ward Councilman David Cummings — were also sworn in today, July 1.
In other business at the new council's reorganization meeting, acting township manager Timothy Stafford was appointed as permanent manager, Schlager was assigned to the planning board, and Hurlock, Price Abrams and Schlager were assigned to the Board of School Estimate. 
The new council's first scheduled public meeting is Tuesday night, July 7.
Murphy made the trip to Montclair to welcome Montclair's new council at its reorganization meeting. The governor called Montclair one of his "favorite communities in the whole, wide world, and one of New Jersey's true treasures as a vibrant and diverse community."
Referring to Spiller as a "dear friend," Murphy said that "the voices of our state's municipalities are vital in charting our course going forward."
Spiller, who has served as Third Ward Councilman for the past eight years, thanked the governor saying he has learned much from his leadership and friendship including "good policy for the people, how to lead in difficult times and I have seen your character and who you are as a person."
To residents, Spiller said work was to be done to get Montclair through the pandemic and to emerge even stronger than the town was pre-COVID. He also promised to lead in meaningful dialogue in the fight against racial injustice. Calling the new council a diverse and committed group, Spiller said he was excited to get to work.
Schlager said she is looking forward to working with Spiller, calling him a professional, fair and thoughtful councilman, all the qualities she said will carry over as mayor. But the council can't run the town alone, she said, they will be depending on partnerships with community leaders.
Yacobellis, one of the three new faces on the council along with Abrams and Cummings, quoted Harvey Milk in his address: "The American dream starts with neighborhoods. If we wish to rebuild our cities we must first rebuild our neighborhoods, and to do that we must understand that quality of life is more important than standard of living." He challenged the community to stay informed and to show up to have their voices heard. 
Price Abrams said she sought to "tap the creative strengths" of Montclair residents in a collective effort.
Hurlock, a third-term councilman who was appointed deputy mayor at the meeting, said it was time for "council members, staff and citizens to do their part and work together."
Cummings said that COVID-19 has put a pause on all lives and the council needs to remain steadfast to get the pandemic under control. Speaking on racial injustice, he said he worked in the South and has made the "drive through the Mississippi delta, and the smell of cotton is something I know deeply. Here in Montclair, we are not immune to this."
Russo, a former mayor of Montclair who is in his third consecutive term on the council, promised to answer every email, text and phone call as he has done in the past 20 years staging no one has a longer tenure on council. 
The council released proclamations for service to the council's outgoing members, Mayor Robert Jackson, Councilwoman Renee Baskerville and Councilman Rich McMahon. Jackson and McMahon decided not to rerun, while Baskerville lost her run for mayor against Spiller.