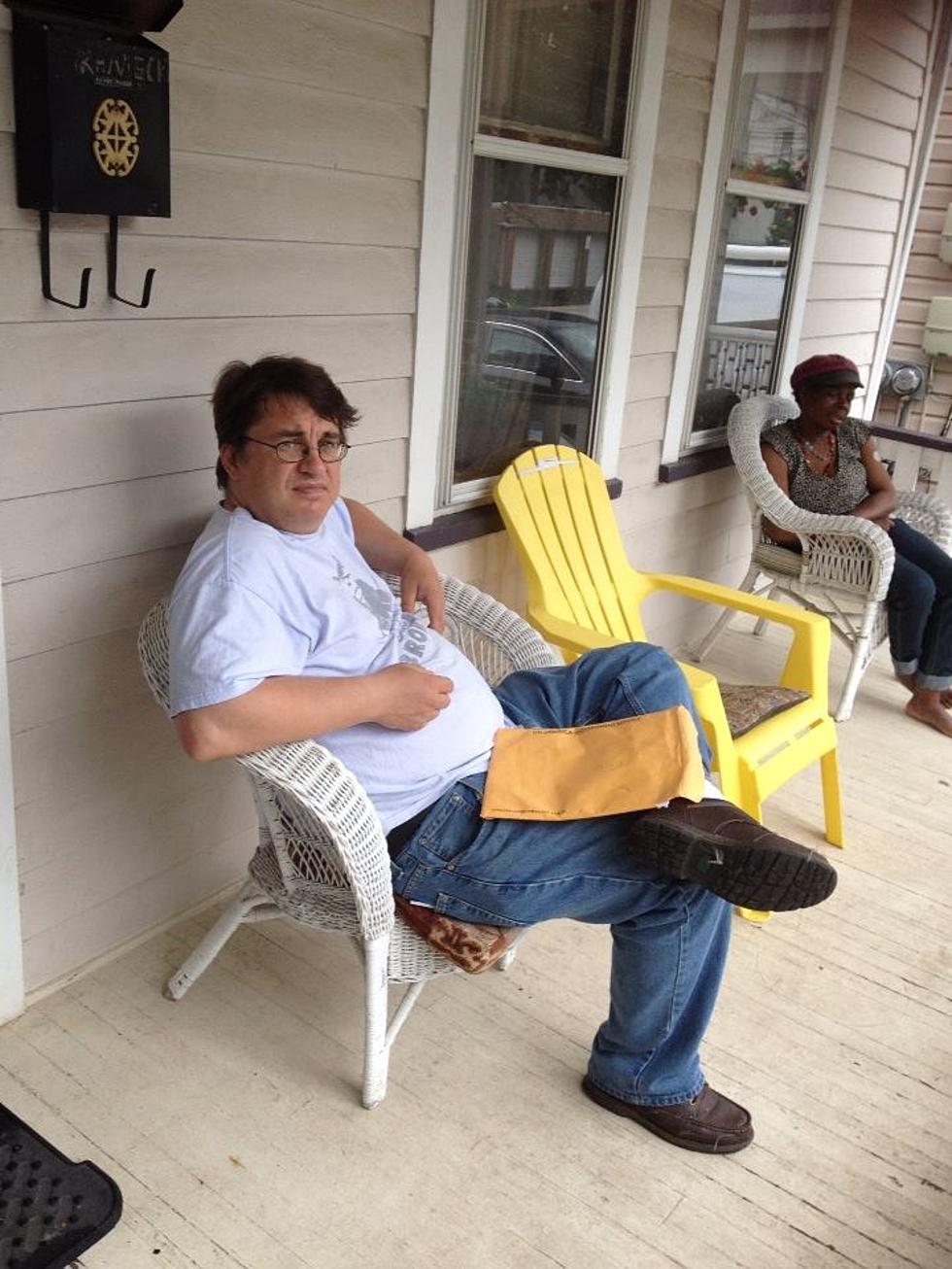 Awaiting green card renewal, Montclair couple hopes for happy ending
John and Sylvia Kaniecki on their front porch in Montclair. John is hoping that a one time transgression for his wife who has dementia will not affect her green card renewal.
COURTESY THE KANIECKIS
By Jaimie Julia Winters
winters@montclairlocal.news
This is the story about watching someone you love battle with dementia, the fear of deportation, faith in God and above all love. John and Sylvia Kaniecki are holding on for their happy ending.
Sylvia and John met at the Montclair Church of Christ and were married over 14 years ago. Since that time they have resided in Montclair, Sylvia working in childcare and John in customer service and in Newark doing missionary work.
About four years ago, Sylvia began a job in as a nanny in Montclair. One day she called John asking for help finding her way home from her job. That job lasted only two weeks, and John soon realized that his wife was in the early stages of dementia.
"Looking back, the signs were there, but you find excuses," he said, as he talks about Sylvia and his life together, sitting in a school desk with Sylvia nearby in a hospital bed watching the evening news in their Montclair home.
"It is not easy to see the person you love the most in life slowly fade away into death," John said.
Today, Sylvia is mostly confined to bed, can no longer speak beyond one word (although some things on the evening news gets her attention and she reacts), incontinent and in need of round-the-clock care. At times she does not recognize her own husband, who now writes novels from home so he can care for Sylvia full time.
As the symptoms of dementia set in, Sylvia, a native of Grenada and a green card recipient as a native of Grenada, would wander the streets of Montclair looking for Caribbean hometown, John said.
"Part of Sylvia's problems with dementia was that she got delusional. During this time we had many encounters with the local police. They would find Sylvia and return her to home. I found the Montclair Police Department to be professional and helpful at the time," John said.
But in September 2016, as Sylvia was attempting to leave the house at night, John tried to stop her. She became combative and John called the police, and now wishes he hadn't.
"What happened was that she was getting restless and wanted to wander away at night, which was unusual. Since I thought this was dangerous, I physically tried to restrain her. This resulted in an altercation. As a result, Sylvia was arrested for simple assault. The person she assaulted was me," said John, who did not want to press charges.
According to the police report, Sylvia was in a "bewildered state, did not know the day of the week, who the president was or her birthday at the time." She was also confused about who John was. John had a bite mark on his hand and knot on head, the report reads.
"From Sylvia's deranged point of view, she was defending herself from a stranger," John said.
The report reads that based on her altered mental status it was determined that she be transported to Mountainside Hospital for a psychiatric evaluation. John was taken to police headquarters, and when asked if wanted to file a restraining order, he said no and left to pick up Sylvia.
The couple went to court 13 days later and the charges were dismissed. No other acts of domestic violence were recorded prior or since the 2016 charge.
Last month, John began the process of renewing Sylvia's green card with the United States Citizenship and Immigration Services (USCIS). Immigration Services requires that a non-citizen renew their alien registration card or green card every 10 years unless in the interim they apply for and become a U.S. citizen.
To renew a green card, an I-90 application is filed with the appropriate fee with USCIS. After receipt, USCIS normally schedules a biometrics appointment at an Application Support Center where they take his or her fingerprints and a background check is then conducted. If the prints indicate an arrest or conviction, USCIS can then request additional information from the non-citizen before they will renew the 10-year card, said Clifton-based immigration attorney William E. McAlvanah.
In Sylvia's case, John sent the I-90 checking off the box precluding her from the biometrics visit due to health reasons. USCIS excused Sylvia from the biometric test, but only pending a letter from her doctor concerning her health condition, John's power of attorney and a "clearance letter" from local police from where she has resided over the last 10 years.
They were given 87 days from Dec. 17 to complete the required paperwork.
For more than a month, John has been attempting to get the letter from police. He was told no by both the records department and the captain due to the arrest, and was instead referred to the Essex County Prosecutor's Office, who in turn referred him back to the local police or prosecutor, he said.
"Unfortunately based on this sole issue, the Montclair Police Department would not give Sylvia her letter of clearance," said John. "My basic problem is why would Sylvia based on her condition get rejected for police clearance in these exceptional circumstances. I do not believe an arrest alone should constitute an automatic rejection by the police for a clearance letter."
Frustrated, John sent off an email Monday, Jan. 14, to Mayor Robert Jackson explaining his dilemma. John then received a phone call from Police Chief Todd Conforti, who said he couldn't write a letter of clearance, but he could write a letter with an explanation of what happened.
Later in the week, John received a letter containing the arrest date, the charge and the dismissal date to be forwarded to immigration.
"I was frustrated and stressed by the system, but I am very happy with the result," he said.
Police did not want to comment on the Kaniecki's situation, only saying, "We were assisting those residents with a personal matter they were facing."
Convictions that are considered crimes involving moral turpitude or aggravated felonies can result in not only a denial of the renewal, but also a referral to the Immigration Court for possible removal from the United States, McAlvanah said.
"A simple assault conviction is generally not considered a crime involving moral turpitude so that should not result in a referral to the Immigration [and Customs Enforcement ICE] Court and should not affect renewal of a green card. However, a conviction under the domestic violence statutes is a deportable offense and should result in a referral to the Immigration court and possible removal from the United States," McAlvanah said.
However McAlvanah said, speaking in general terms, arrests that are dismissed should not affect renewal.
USCIS officials would not comment on Sylvia's application due to privacy protections.
But, the USCIS official wrote, "A green card holder's Lawful Permanent Resident (LPR) status remains even if the card is lost or expired. The card is simply the proof of that status. Therefore, when someone submits an I-90 (form to renew or replace a green card), USCIS will approve it as long as the applicant's identity is confirmed and the applicant is currently an LPR. Each decision on referrals to ICE are made on a case-by-case basis considering the totality of the evidence."
John is keeping optimistic about the renewal of Sylvia's green card, which will terminate next month. But he worries about others having to get through the system.
"I plan to do everything moral and legal in this situation to ensure that Sylvia is taken care of. Why should Sylvia be penalized for an arrest when the charges were dropped?" he said. "But sometimes the devil gets in your mind and you have a fear of the system and you think the worst."