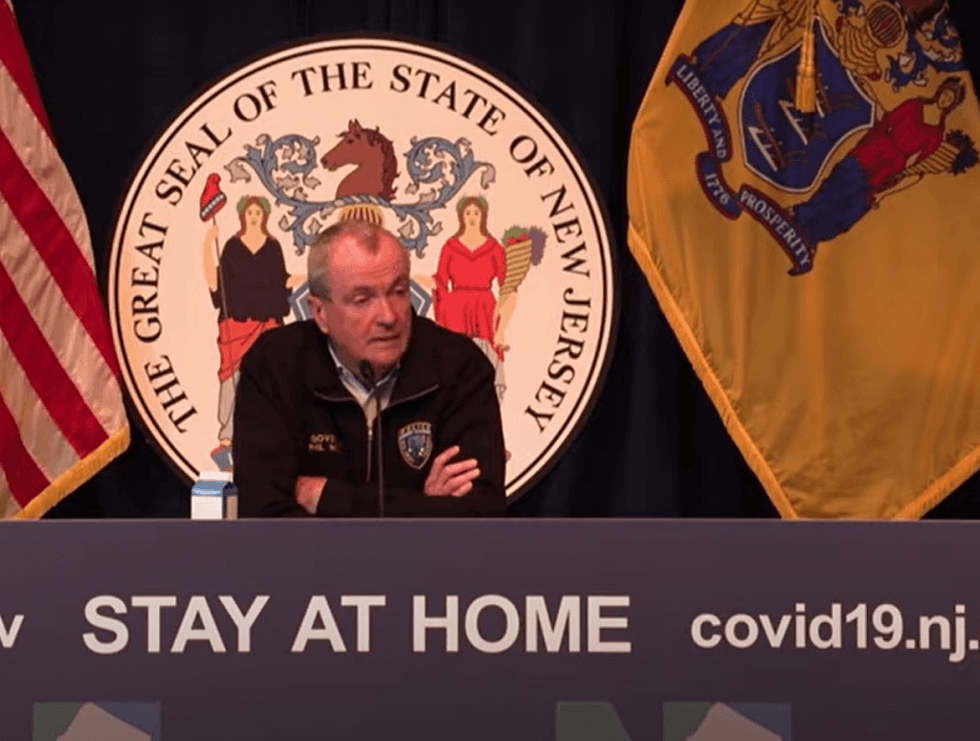 COVID-19: New Jersey presents guidance for outdoor dining, retail
COURTESY STATE OF NEW JERSEY Gov. Phil Murphy speaks during a Thursday, June 4 press briefing.
By ERIN ROLL
roll@montclairlocal.news
State officials Thursday presented additional guidance for restaurants and bars planning to offer outdoor seating, when it is allowed starting on June 15, and guidance for people planning to shop at non-essential retail stores.
"COVID-19 doesn't care whether you're in a supermarket or a bookstore. Social distancing must remain routine," Gov. Phil Murphy said during his June 4 press briefing in Trenton.
Non-essential retail stores may resume allowing in-store service, but stores will be limited to 50 percent of total capacity, and employees and customers will both have to wear face masks. There must also be regular sanitizing of common areas, stores must provide adequate training and materials for sanitization and safety, and if feasible, a barrier should be set up at checkout counters between customers and clerks.
Murphy said that towns and counties will not be allowed to institute additional restrictions beyond what the state requires, so that every jurisdiction will be operating under the same rules.
"I know that all of us are looking forward to dining outside at our favorite restaurants," Health Commissioner Judith Persichilli said.
Customers are asked to wait in their cars or away from the dining area if they are waiting for a seat. Customers are also advised to make a reservation, due to the likelihood of high demand.
Buffets, salad bars, self-serve drink fountains and other communal items may not be made available.
No one may be admitted to the interior section of a restaurant without a mask on, unless they are a child under the age of two, or have a medical condition that precludes wearing a mask.
Protests
Murphy said that 100 protests have taken place in New Jersey since protests began over George Floyd's murder, and he said 19 were scheduled in New Jersey for Thursday. The protests have been overwhelmingly peaceful, he said.
Murphy urged participants to wear masks and personal protective equipment and to practice social distancing.
Unemployment
As of Thursday, New Jersey has issued $5.2 billion in unemployment benefits, officials said, including $1.8 billion in state aid and $3.4 billion in federal aid.
Last week, Murphy said the state received 26,752 new claims. That number is down from the 34,410 received the week before, though still very high. He also emphasized that the Department of Labor staff was working to get claims processed as quickly as possible to get benefits out to those who had applied.
Today's numbers
New Jersey reported 603 new cases of COVID-19, down from 652 on Wednesday, bringing the state total to 162,530.
The state also reported 92 new deaths, down from 112 on Wednesday, bringing the state total to 11,970.
"We are closing in on 12,000 lives lost in New Jersey," Murphy said. "That is nearly an unfathomable number."
Persichilli said the state has also reported an additional case of multisystem inflammatory syndrome, bringing the total number of children and teens affected to 35. No deaths have been reported from the condition.
There were 1,982 people hospitalized Wednesday night, June 3, compared to 2,252 at 10 p.m. Tuesday. Murphy said that this is the first time, since the pandemic began to gain strength, that the hospitals have reported fewer than 2,000 people hospitalized. At the height of the pandemic, there were more than 8,000 people hospitalized at a time.
There were 537 critical care patients and 406 ventilators in use Wednesday night, compared to 612 patients and 459 ventilators the night before.
Hospitals in the northern and central regions of the state did not report any new hospitalizations at all on Tuesday, but Murphy issued a caveat that the zeroes may be due to incomplete data.
At 9 a.m., Essex County reported 95 new cases and eight new deaths, bringing the county total to 17,813 cases and 1,685 deaths
Montclair reported one additional case on Thursday, bringing the township total to 421. The number of deaths remained at 50 as of that time.