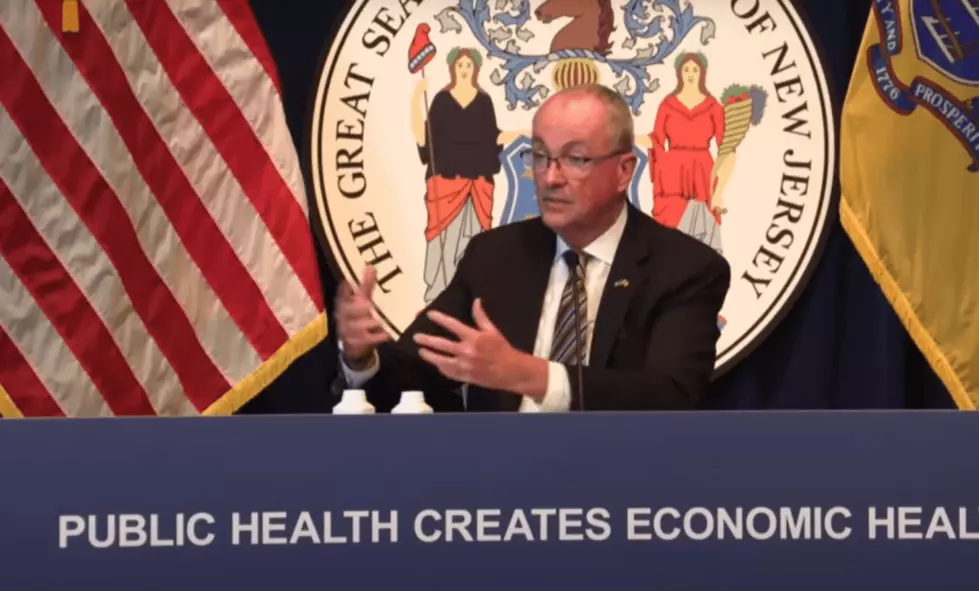 COVID-19: Halloween safe to go ahead in New Jersey, but with alterations
COURTESY STATE OF NEW JERSEY Gov. Phil Murphy speaks at an Oct. 5 press briefing in Trenton.
By ERIN ROLL
roll@montclairlocal.news
Halloween has been given the go ahead in New Jersey amid the COVID crisis, but state officials are urging caution when celebrating.
The Department of Health released guidance today on holding Halloween activities such as trick-or-treating and parties. 
Trick-or-treat groups and hosts are required to wear masks, but those masks must be protective face coverings as costume masks do not provide the needed level of protection.
"No, Pat, that Jabba the Hutt mask you were considering is not an acceptable substitute," Gov. Phil Murphy joked to State Police Superintendent Pat Callahan at today's debriefing on Oct. 5. 
Hosts are encouraged to arrange individually-packaged candy for trick-or-treaters to "grab and go," rather than giving out candy at the door. 
Trick-or-treating groups should be limited to people from the same household, and groups should limit the number of houses they visit, Health Commissioner Judy Persichilli said. 
For trunk-or-treat events, where candy is distributed out of car trunks, organizers are asked to arrange vehicles in a line rather than a circle, to encourage social distancing. Persichilli also said that trunk-or-treats should have scheduled visiting times as well. 
"You may wish to dress as a knucklehead this Halloween, but we don't want anyone to act like one," said Murphy.
CUBAN PETE'S CITED AGAIN
Callahan said Cuban Pete's in Montclair was cited over the weekend, but did not cite the exact date, for being "well in excess" of seating capacity limits on indoor dining. 
The restaurant on Bloomfield Avenue was cited twice, during the prohibition on indoor dining, for patrons being seated inside. On Aug. 7, police and health department staff went to the restaurant on receiving a tip about diners being seated inside, and outdoor tables being spaced too close together. The owner, Dominick Restaino, told police the diners had seated themselves inside when it began to rain. The second citation was issued on Aug. 23, when police responding to a noise complaint found at least 15 people seated inside the restaurant. 
The Montclair Police Department did not immediately respond to a request for information about the citation, including the exact date. 
TRUMP IN NJ
An investigation is ongoing into a Republican National Convention fundraiser held at the Trump National Golf Club in Bedminster last week amid news that President Trump, First Lady Melania Trump, and several senior-ranking Republicans have tested positive for COVID-19. 
The news came less than a day after the Oct. 1 fundraising event. 
On Monday, Oct. 5, Gov. Phil Murphy offered his prayers and good wishes to the Trumps and all others who had tested positive, including former governor Chris Christie, and wished them a full recovery. "This is not a matter of politics, but a matter of humanity," he said.
At the same time, Murphy denounced the event as an example of a lack of leadership by example. "To put it bluntly, the actions leading up to, and including, this event, have put lives at risk," said Murphy, adding that the president and the out-of-state attendees all acted recklessly in coming to New Jersey. 
State authorities, including the New Jersey Department of Health and Attorney General Gurbir Grewal, are working with the Republican National Convention leadership, White House staff and the Centers for Disease Control to track down all of the attendees, but Murphy said that more assistance and cooperation from the federal government is needed. As of Monday, 184 of the 206 attendees at the event had been contacted. The attendees included a "significant" number of non-New Jersey residents, including Texas, Arizona, Indiana, New York, Connecticut and Minnesota residents, and their responses to being contacted by state officials ranged from positive to "not so positive," 
said Persichilli.
Attendees at the event are urged to seek testing this week, and to self-quarantine for 14 days. 
The 19 staff members of the Trump National Golf Club who were at the event have all been notified and are being closely monitored. 
State and county authorities, including the attorney general's office and the Somerset County Prosecutor's Office, are also investigating whether the event violated crowd capacity limits for indoor events. Additionally, Murphy said those authorities are looking into reports that food was served buffet-style at the event, which is still prohibited in New Jersey. Murphy said any specific sanctions or legal action would be for the attorney general and the prosecutor's office to decide. 
Murphy emphasized that the fundraiser should not have gone forward. "We're having enough trouble dealing with what we're dealing with inside the four walls of New Jersey," he said. 
FACILITIES HOSTING PODS 
The New Jersey Department of Children and Families (DCF) is allowing facilities that are not usually child care centers, but are hosting school-age children in learning pods during remote learning, to register as child care centers on an emergency basis. Those facilities will be able to serve as child care centers through the end of the public health emergency or the end of the school year, whichever comes first.
The DCF is also raising the income limit for families to apply for assistance with child care tuition. Families with incomes up to $150,000, up from the previous threshold of $75,000, will now be able to apply through the DCF's website. 
TODAY'S NUMBERS
On Monday, Oct. 5, health officials reported 522 new positive cases, compared to 796 new cases on Friday, Oct. 2, bringing the state total to 208,713.
Ocean County continued to have the largest number of new cases: 119 of the 522 new cases, and 86 of Ocean County's cases were in Lakewood. 
Monmouth County, another county under close monitoring, had the second highest number of new cases of any county at 48. 
The positivity rate sits at 2.62 percent, down from 3.0 percent on Wednesday, Sept. 30, while the rate of transmission continues to rise, from 1.19 on Friday, Oct. 2, to 1.27 on Monday, Oct. 5. 
New Jersey's central region has the highest overall positivity rate at 3.3 percent, followed by the southern region at 2.18 percent and the northern region at 2.18 percent. 
Officials reported two more deaths, compared to four on Friday, Oct. 2. The death toll is at 14,351, while the number of probable deaths is 1,787.
Hospitals reported 507 patients last night, Oct. 4, and Murphy said that day marked the third day in the past five that hospitals had more than 500 patients. The patient count included 102 patients in critical care and 34 ventilators in use. By comparison, hospitals reported 528 total patients, 94 critical care patients and 36 ventilators in use on Thursday night. 
Essex County officials reported 40 new cases, compared to 48 on Friday, Oct. 2, bringing the total to 21,342. The number of deaths has gone up by one since that time, bringing the total to 1,901. 
Montclair health officials reported an increase of three cases since yesterday, now totaling 574. The number of deaths remains at 57.