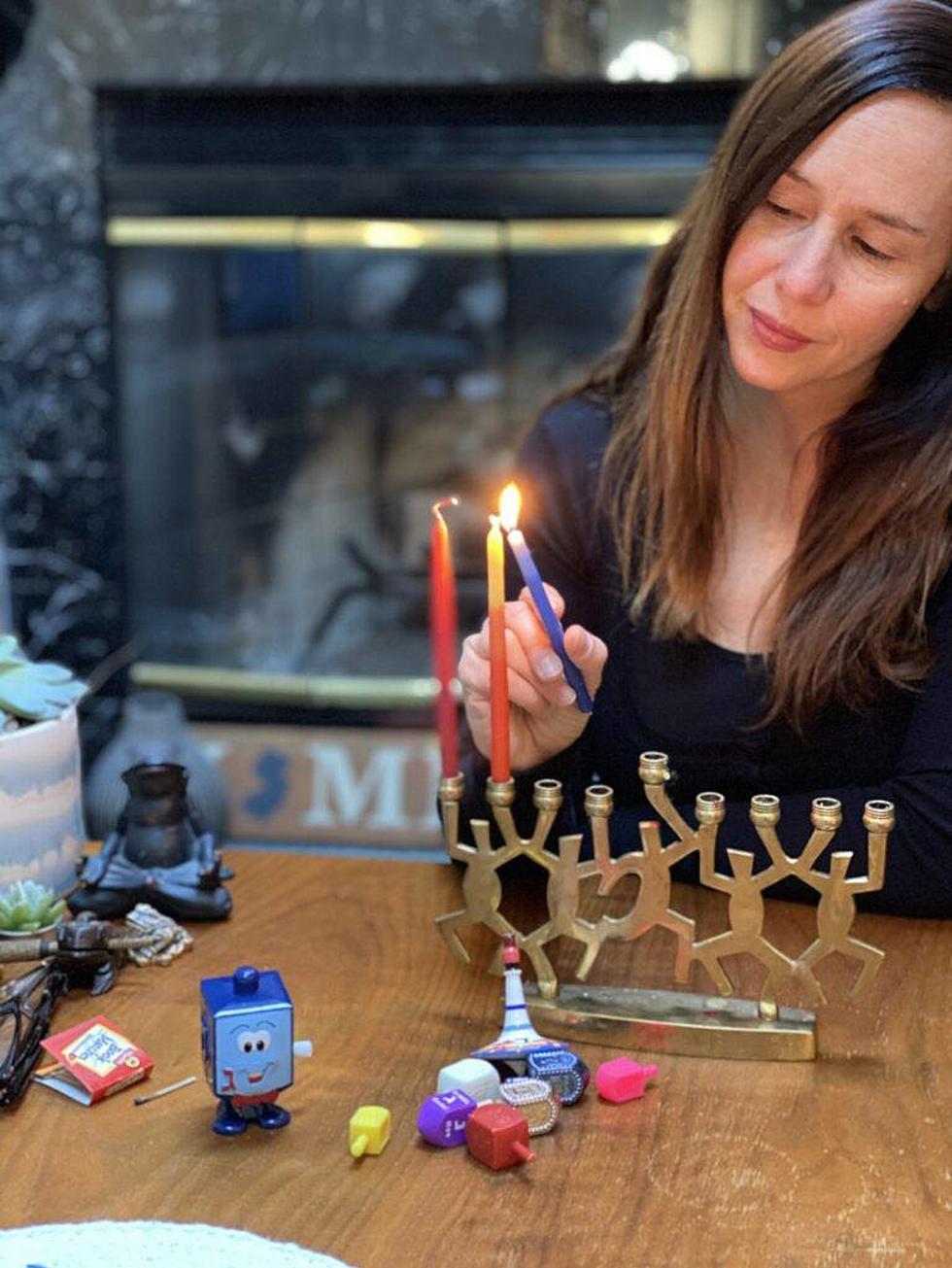 A Hanukkah menorah brings light in darkness
Jessica Maarek, of Temple Sholom of West Essex in Cedar Grove, lights a menorah given to her by her parents, who live in Arizona. Using dreidels and decorations from friends and family helps her feel close to them, Maarek writes. COURTESY JESSICA MAAREK
By GWEN OREL
orel@montclairlocal.news
The menorah that symbolizes the Jewish holiday of Hanukkah, which starts tonight (it always begins on the 25th of Kislev) and continues through Friday, Dec. 18, is actually called a Hanukkah menorah, or a Hanukkiah. A menorah itself is a seven-branched candelabrum; a Hanukkiah has nine branches.
The seven-branched menorah, the one often seen in a synagogue year-round, has a central stem, with three branches on each side: seven for the days it took God to create the world, says Congregation Shomrei Emunah's Rabbi David Greenstein.
Hanukkah commemorates the end of a battle, one in which the Jews, led byJudah Maccabee (literally "the hammer"), revolted in 165 BCE against the Syrians, who had ordered, among other things, a statue of Zeus to be put up in the temple in Jerusalem.
When the Jews went to relight the menorah, they found there was only enough pure olive oil to light it for one night. 
And yet the oil lasted for eight days.
The miracle of the oil lasting is why it's traditional to eat dishes fried in oil, particularly latkes (potato pancakes) and sufganiyot (doughnuts).
It's also why the holiday is known as the Festival of Lights.
A meme going around gives a perfect modern analogy:
Your phone is at 10-percent of power.
And yet it keeps working for over a week.
Hanukkah menorahs can have all different shapes and designs, so long as there is a separate branch for the shammash, the lighting candle or oil.
________________________________________________________________________
READ: GIFTS AND GELT: THE MIRACLE OF HANNUKAH INCLUDES TOYS, IN MONTCLAIR
READ: PROGRAM NOTES: CHRISTMAS ENVY, HOLIDAY OF LIGHTS
________________________________________________________________________
Rabbi Yaacov Leaf of Chabad Montclair points out that it's a mitzvah (commandment) to publicize the miracle. So large menorahs (menorot, in Hebrew) for the public to see, with electric bulbs, can fulfill that mitzvah (commandment), while at home people should use actual fire. 
"It's all about commemorating that miracle," Leaf said. "It's really that idea of the power of the individual making a difference in the world, and being that light."
Both Leaf and Greenstein use oil-burning menorahs.
Leaf likes the variety of menorahs that are out there, including Mickey Mouse- or Disney-themed menorahs. "It really tells you a story, in a certain way, because you know, I think as Jews we've been dispersed and exiled in so many different lands. And yet we've been members of those societies." A pop-culture menorah incorporates the idea that "being a Jew doesn't necessarily mean that you have to hide."
The large menorah outside Bnai Keshet on South Fullerton Avenue demonstrates that desire not to hide: It is about 6-by-8 feet and in rainbow colors, celebrating the name of the congregation, Keshet, rainbow, the name literally meaning "Children of the rainbow" and also tying the congregation to "the diversity of community and also to broader humanity," said Bnai Keshet's Rabbi Elliott Tepperman. The rainbow also is the sign God gave Noah that he would not destroy the world again, and acknowledges that "all people are connected to God, not only Jews," Tepperman said.
Bnai Keshet will have drive-through lightings by sign-up, maintaining social distancing. This year's Latkepalooza is drive-through and offers takeout orders only.
A menorah Tepperman is fond of is one he gave to his wife when she was converting to Judaism. "It's made out of faux copper, the bolts never worked, it doesn't stand up straight, but we use it anyway. I was a student, and when I bought it it was within my price range," he said.
At the Tepperman home, everyone lights their own menorah: It began as a practical thing when his two children were little and wanted to light their own menorahs. Tepperman said with a laugh, "By the end of Hanukkah it's a big fire hazard."
For info on Hanukkah events, including community Hannukiah lightings, visit shomrei.org, bnaikeshet.org and chabadmontclair.org.