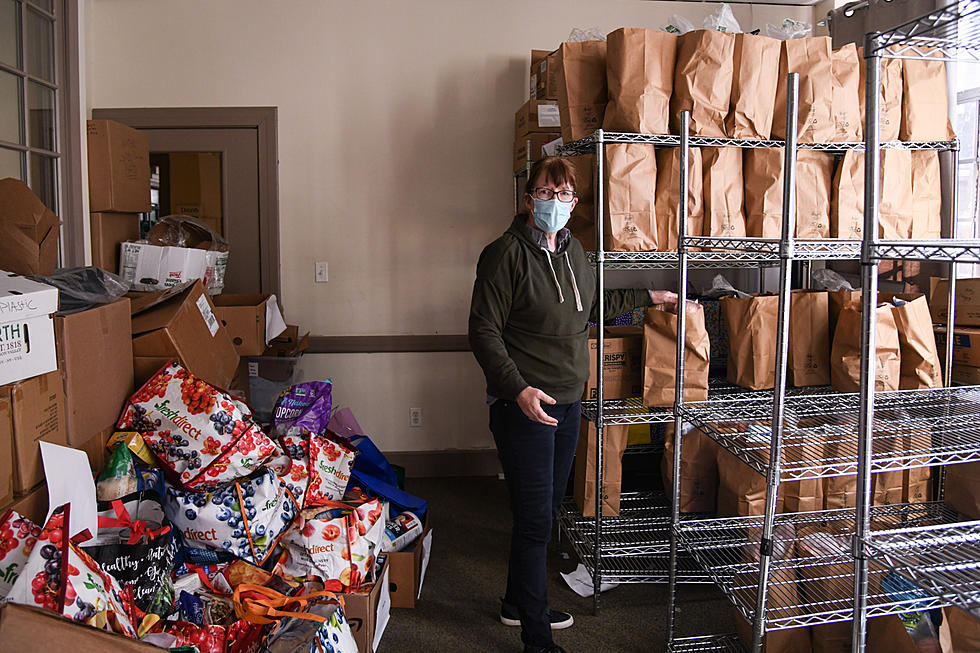 Helping the helpers: Ways to serve others in Montclair for the 2021 holiday season
Toni's Kitchen director Anne Mernin said the group could use donations of food and winter clothes. (KATE ALBRIGHT/File Photo)
By DIEGO JESUS BARTESAGHI MENA
bartesaghi@montclairlocal.news
Several organizations in Montclair are working to help those needing assistance this holiday season — and could use your help. 
Toni's Kitchen, the food ministry of St. Luke's Episcopal Church at 73 South Fullerton Ave., will give families special meal kits for Thanksgiving. 
Toni's Kitchen director Anne Mernin said the organization is collecting items to include in those kits, such as cranberry sauce, stuffing and turkeys. Food donations can be dropped off at Toni's Kitchen Tuesdays through Fridays from 9:30 a.m. to 1:30 p.m., Saturdays from 9:30 a.m. to noon and Sundays from 3 to 5 p.m. Monetary donations can be made through Toni's website, toniskitchen.org.
The group is additionally collecting warm clothes for its Toni's Closet program. Mernin said the group doesn't have an immediate need for volunteers, but those interested in helping can still sign up through the website.
Human Needs Food Pantry of Montclair, located at 9 Label St., recently collected Thanksgiving goods for a food distribution scheduled for today, Nov. 18, executive director Mike Bruno said. It's still looking for donations for further distributions and its usual services. 
Donations can be dropped off at the pantry Tuesdays and Thursdays from 8:30 a.m. to noon. Canned goods are always useful, he said.
Bruno said the pantry's Upstairs clothing program is well-stocked, but there is a need for baby wipes. Winter clothing will be collected throughout January. 
Winter clothes can also be dropped off at Balonze Barbers at 616 Valley Road from Monday through Saturday from 9 a.m. to 5 p.m.; Succeed2gether at 11 Pine St. Monday through Thursday from 9 a.m. to 3 p.m.; Union Congregational Church at 176 Cooper Ave. Monday through Friday from 12:30 to 7 p.m.; and Sotheby's Prominent Properties at 32 Valley Road Monday through Saturday from 10 a.m. to 4 p.m. 
Monetary donations can be made through the organization's website, humanneedsfoodpantry.org, or by mailing a check directly to the pantry. Anyone interested in volunteering with the pantry can sign up through the website.
Northeast Earth Coalition's Free Little Pantry Project provides free pantry items, including canned goods, at several locations. Its free pantries are similar to the free little libraries seen in many communities (including Montclair).
The project needs items to restock the pantries, Northeast Earth Coalition founder Jose German-Gomez said.
Anyone interested can drop off canned and pantry items directly at the little pantries. There are seven in Montclair, two in Bloomfield, one in Cedar Grove, one in Clifton and one in East Orange. 
The pantries in Montclair are at 40 South Fullerton Ave., 67 Church St. (at the end of the driveway), 86 Elm St. (in the front yard), 119 Elm St., 115 Greenwood Ave., 84 Maple Ave. and 67 Park St. A complete list of locations can be found at the organization's website, neearth.org, where anyone interested in volunteering can also sign up.
Large donations can be coordinated with the organization. It also accepts monetary donations.
Montclair Mutual Aid, a network of neighbors helping neighbors through collection drives and events, is hosting drives to collect diapers and baby wipes, winter clothing and toiletry items. 
The organization recently partnered with Guerriero Gelato on Bloomfield Avenue for the diaper and baby wipes drives. Those items can be dropped off at a home at 176 Midland Ave. (look for the house number on a wooden post on the sidewalk, drive all the way up, and when the driveway splits, the house is on the right).
Winter clothing can be dropped off at homes at 13 Woodland Ave. in Montclair, 325 Grove St. in Clifton and 79 Brunswick Road in Cedar Grove. Toiletry items, such as menstrual products, soaps, deodorant and toothpaste, can be dropped off at 176 Midland Ave. in Montclair and 79 Brunswick Road in Cedar Grove.
The group holds frequent distribution events in Glenfield Park.
Monetary donations can be sent through Venmo to @MontclairMutualAid. Donors can write in the accompanying note if they want to help pay for toiletries, winter clothing or diapers and baby wipes — or if the funds should be used for other purposes.
"The most-needed things that I've heard about are affordable housing or additional money for rent and inexpensive, free or donated automobiles, especially for uninsured Hurricane Ida losses," group member Jonathan Marshall said.
Interested volunteers can get in touch with Montclair Mutual Aid through its website, montclairmutualaid.org.
The Community Outreach Program, a volunteer group of parishioners from Our Lady of Mount Carmel Church, is collecting nonperishable food items, co-chair Raffaele Marzullo said. 
Items can be dropped off at Montclair's three fire department locations — 1 Pine St., 588 Valley Road and 151 Harrison Ave. Turkeys and hams are also accepted. 
Marzullo said the items will be distributed on Monday, Nov. 22.  The outreach program will also be delivering more than 100 turkeys and fixings to Toni's Kitchen on that day. 
Marielena Marzullo, co-chair of the program, said it will continue its weekly delivery of food items to First Montclair House, which provides affordable housing to senior citizens.
She said the program will also deliver desserts and pastries during the holidays to first responders, firefighters and police officers.
"It's a way to say thank you to them, since most of them will be working while the majority of us are celebrating with our families," Marielena Marzullo said.
The outreach program is also looking for toys for next month, she said. The program will partner with the Montclair Citadel of the Salvation Army for its toy drive, she added.
"It's wonderful when kids receive items, but it would be nice to open something in their own home," she said.
Marielena Marzullo said the last day to donate toys as well as wrapping paper will be Sunday, Dec. 19. Items can be dropped off at the fire department locations, at the Montclair Police Department headquarters at 647 Bloomfield Ave. and at the San Vito Society at 79 Pine St.
Anyone interested in volunteering can contact the program through its Facebook page, FaceBook.com/COPOLMC.
The Montclair Citadel of the Salvation Army, located at 13 Trinity Place, which provides services including a food pantry and shelter for the homeless, will be hosting its 38th annual Thanksgiving dinner on Thanksgiving day, director of volunteers Anamarie Goglia said. 
"We will be providing 200 meals that day, and the day before we will deliver meals to our homebound clients," Goglia said. "There will be takeout meals as well."
The most-needed items for the dinner are desserts such as pies and pastries, and turkeys. Items can be dropped off at the building from 9 a.m. to 4 p.m.
For December, Goglia said the citadel is in the process of collecting gifts and clothing items. She said toys are welcome, but items for older children are also needed.
"Basketballs, hats, gloves, sweatshirts or any toy for older children are needed," she said. "Gift cards are also welcome."
Anyone interested in volunteering for the next toy drive can contact Goglia directly at 973-718-5208. Individuals can sign up to hand out toys or fill out applications to be connected to specific families to receive gifts.
Goglia said other items that are most-needed include toiletries and gently used clothing such as T-shirts, jeans and sweatpants. The group also needs underwear (mostly for men). She said the Citadel provides showers daily to homeless individuals and clean clothing after each shower.
Anyone in need of shelter or other assistance, or interested in referring someone, can contact the Citadel at 973-744-3312. While the Salvation Army can't house every person who may need a place to say, it can provide referrals. 
United Way of Northern New Jersey, which has an office at 60 South Fullerton Ave., is running its annual United Way Gifts of the Season program, where residents can purchase holiday gifts for individuals in need. 
Anyone interested can fulfill a specific gift request or purchase a gift for general donation. United Way also accepts gift cards and donations through Dec. 6 to fulfill remaining gift requests. Gifts can be purchased online and donations can be made at unitedwaynnj.org. 
Outpost in the Burbs will be collecting nonperishable items for Thanksgiving for the Human Needs Food Pantry during its upcoming Jayhawks concert on Nov. 19 at the  First Congregational Church on South Fullerton Avenue. It's seeking packets of gravy or canned gravy, canned cranberry sauce, canned sweet potatoes, yams and green beans, boxed mashed potatoes, pie crusts, canned pie filling, canned salmon, canned chicken and canned tuna. More information on the show is at outpostintheburbs.org.