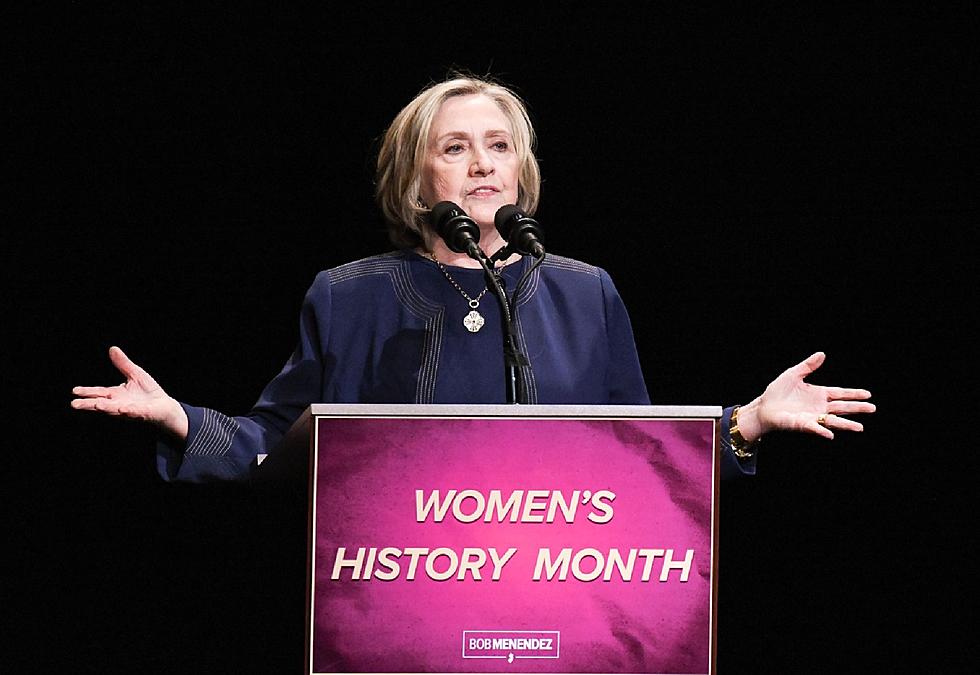 Speaking at Montclair State, Hillary Clinton warns of attacks on women's rights
Hillary Clinton delivered the keynote speech for the 12th annual Evangelina Menendez Women's History Month Celebration and Trailblazer Awards at Montclair State on Sunday, March 26. (KATE ALBRIGHT/FOR MONTCLAIR LOCAL)
Former Secretary of State Hillary Rodham Clinton celebrated Women's History Month at Montclair State University on Sunday, March 26, by delivering a message of hard-fought success and a warning.
"Instead of celebrating and advancing the opportunities and the rights of women and girls, there are powerful interests and people actively pushing backward," Clinton said at the 12th annual Evangelina Menendez Women's History Month Celebration and Trailblazer Awards, founded and hosted by U.S. Sen. Bob Menendez.
Clinton reminded the audience that it was not very long ago when women had very few rights.
"When I was in college, when I was in law school even, I could not get a credit card in my own name," she said. "I could not have borrowed money in my own name. If I had gotten pregnant, I would not have been guaranteed employment. There was no Title IX. There were schools that I could not be admitted to, jobs that I could not be given."
Many of the advances for women have taken place in a relatively short period of time, she said, adding, "It has been exciting to play a small role in that."
She also had a call to action, making it clear that she thinks women and men need to keep fighting for equality.
"I come today with a sense of concern about what lies ahead, what lies ahead for Bob's granddaughter, my granddaughter, for the young people here with us," Clinton said, "because for every advance that we have made – and thank goodness they have been so quick and so positive over so many years – we are living now at a time when there is a concerted effort to push women aside."
The overturning of Roe v. Wade by the U.S. Supreme Court is not the only sign that women are seeing efforts to reduce their rights, said Clinton, a former first lady, a former U.S. senator and the first woman to run for president as a major party's nominee.
"There is so much happening in the real world and online that is designed to undermine the very virtues and achievements of those who we honor today," she said, referring to the five women who received Evangelina Menendez Awards on Sunday. 
"So we come at an incredibly important moment in our country's history to not only lift up these honorees, but to ask ourselves, 'What will I do to make sure that we don't get pushed back?'"
Long a voice for women's rights, Clinton made headlines around the world in 1995 when, as first lady, she spoke at the United Nations' Fourth World Conference on Women in Beijing and said, "Women's rights are human rights."
"It was a clarion call that shouldn't have had to be said," she remembered on Sunday, "but it was needed to be said, and now we have to act on it."
More than 25 years later, Clinton finds herself reiterating those words.
"We have to do everything in our power to make sure our daughters and granddaughters don't live in an America that sees them as second-class citizens," she said.
"So there's a lot to celebrate in this Women's History Month. But there's also a lot of challenge attached to it."
While challenges were acknowledged, the event had a spirit of optimism.
"Hope is a woman" was echoed throughout Montclair State's Memorial Auditorium as two performers from Newark Arts High School danced along to the words of Alice Walker's poem.
Menendez spoke of his mother, who immigrated to the United States from Cuba.
"My mother grew up in Havana, Cuba, a firsthand witness to the oppressive dictatorship of the Batista regime," Menendez said. "Like most people she dreamed of stability and safety for her children, at that time that would have been my brother and sister. But to her those dreams didn't involve Fidel Castro's empty promises and false hope.
"So in 1953, after winning a long-running battle to convince my father to leave, my mother did the most courageous thing I think any mother can do. She set out as a refugee toward unknown shores and an uncertain future, arriving first in Puerto Rico and later New York City. 
"I can't imagine the remarkable bravery she needed to start over all over again. Leave everything behind and come to a place she had never been, a country with a foreign language to her, far away from family and friends, with no one and no job waiting for her on the other side. Simply put, there were no guarantees."
After moving to Union City, she worked as a seamstress, eventually becoming a floor supervisor – who was paid less than her male counterparts. After a long day working, she would come home to cook and clean. Then she would tell young Bob to read his homework to her. He would protest that she didn't understand English. She would reply in Spanish: "That's what you think. Sit here and read your homework to me."
Choking up a bit, Menendez said his mother lives in everything that he does.
U.S. Rep. Mikie Sherrill, a Democrat from Montclair, said that as a woman in public office she was inspired by Clinton. "I watched you ascend first to the Senate and then to secretary of state," Sherrill said. "I watched you go from being Bill Clinton's first lady to simply Hillary – like Madonna."
Jonathan Koppell, president of Montclair State, said the university was an appropriate place to celebrate Women's History Month.
"Like so many universities that began as normal schools, the very premise of this institution was to be one that recognized that if we as a society were not to cultivate the talent, intelligence, dedication and resilience of women, we as a society would be deeply harmed and would not come close to achieving our potential," Koppell said.
Mayor Dahlia O. Vertreese of Hillside was the emcee for the program and offered a bit of a history lesson.
"One hundred seventy five years ago on a hot summer day in Seneca Falls, New York, more than 300 people called a convention to order and began the women's rights movement," Vertreese said. 
"Notable attendees from Lucretia Mott to Elizabeth Cady Stanton filled the room, signed a declaration and proclaimed in one voice, we hold these truths to be self-evident: that all men and women are created equal. 
"With this simple phrase, they corrected a fundamental omission of our founding document. With this simple phrase, they launched a campaign for women's suffrage. And with this simple phrase, the attendees of the Seneca Falls convention widened the circle of freedom, doubling the number of Americans entitled to the blessings of life, liberty and the pursuit of happiness."
Recipients of the Evangelina Menendez awards were Lourdes Cortez, the president of the Totowa-based North Jersey Federal Credit Union; Amanda Devecka-Rinear, founder of the New Jersey Organizing Project to help victims of Superstorm Sandy; Christine Girtain, a high-school science teacher and the 2022-23 Teacher of the Year; A'Dorian Murray-Thomas, the youngest woman elected to the Newark Board of Education; and Debbie Walsh, director of the Center for American Women and Politics at Rutgers University.
Also appearing onstage were the Elements of Style Dance Company and Prince-ton University's Tigerlilies. 
The theme carried throughout. As Clinton said: "We speak up, we stand up, we vote and we make it very clear – we're not going back anywhere."