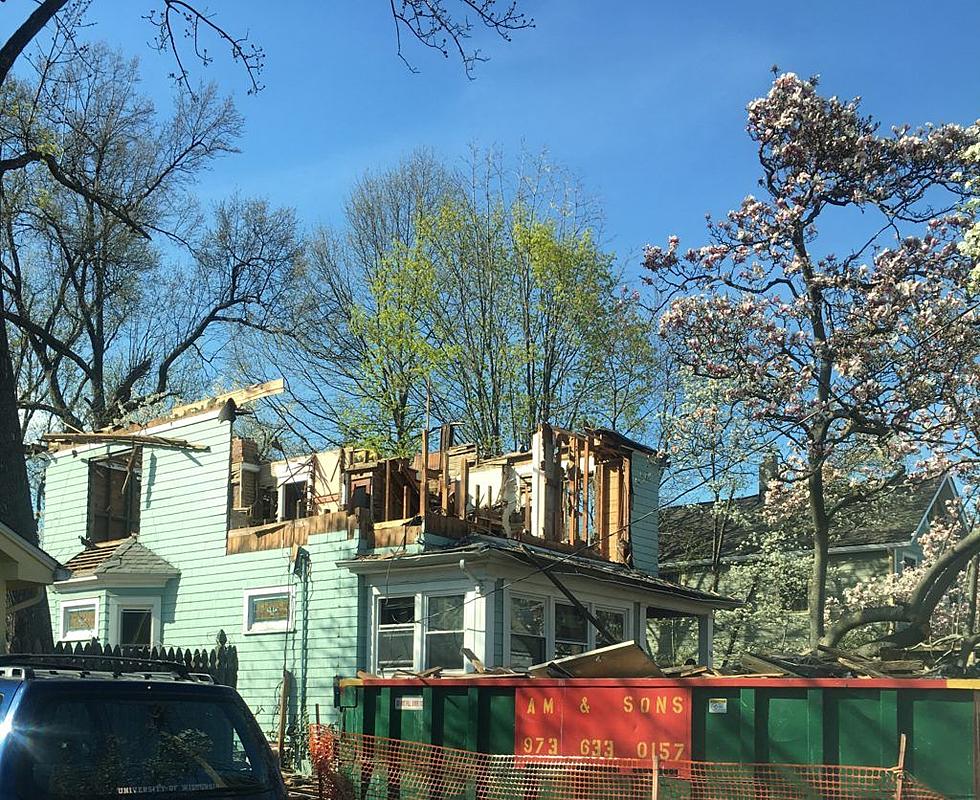 House razed last week was never issued demo permit
COURTESY CENTRAL AVENUE RESIDENT
Demolition began on this Central Avenue home last Thursday. Town officials said no demo permit was issued.
BY JAIMIE JULIA WINTERS
winters@montclairlocal.news
Contractors who began razing a Central Avenue home last week without a permit have been issued a stop work order, violations and fines, according to township officials.
No demolition permit was issued for 10 Central Ave., however the township had granted a permit for an addition and interior renovation on Jan. 10, said Brian P. Scantlebury, Deputy Township Manager.
The town is currently under a moratorium on the demolition of homes.
"Our code enforcement came upon the instance [10 Central], and analyzed it, and took action," said Township Manager Tim Stafford. He would not comment further, in anticipation of an appeal by the property owners.  
The 55-by-180-foot property, containing a home built in 1907, was purchased by HM4Realty LLC in August 2018 for the price of $412,500. The current taxes are $13,370. 
Future plans for the lot are unknown. The planning department did not respond to inquiries concerning any applications that may have been filed for 10 Central Ave. No applications for 10 Central Ave. were listed on the town website. The name of the contractor was not made available. 
Central Avenue neighbors said they came home last Thursday, April 18, to the house half dismantled, contending contractors were razing the home by hand, not using machinery.
Officials first issued the moratorium on the razing of one-, two-, three- and four-family homes mid-February due to public outcry following the razing of two older homes on Undercliff and Lloyd roads. Plans for the now-cleared properties include a 60,000-square-foot megamansion to be built by billionaire Melih Abdulhayoglu, a Turkish-American entrepreneur and CEO of Comodo Group, an Internet security company.
The 30-day no-demolition moratorium, first issued Feb. 15, has been extended twice by town officials since the council rejected a demolition-review ordinance penned by township attorney Ira Karasick, directing him to draw up a stronger a no-knockdown law instead.
At the April 23 council meeting, Karasick gave council members a draft of an ordinance he has drawn up stating they should be ready to discuss it at the next council meeting.
"Over timely research and review of other town ordinances, I do believe you can adopt an ordinance that in cases that deserve it, the building can't be demolished unless someone goes to court," he said.
Karasick said if the ordinance had been in place and the owner had applied for a demo permit, the Central Avenue home would have fallen under a demolition review.
"The home is within a Historic Study District and would have required it to go through a process," he said.
A request for records on any structure awaiting demolition that was issued a demolition permit before the moratorium was denied by the township.