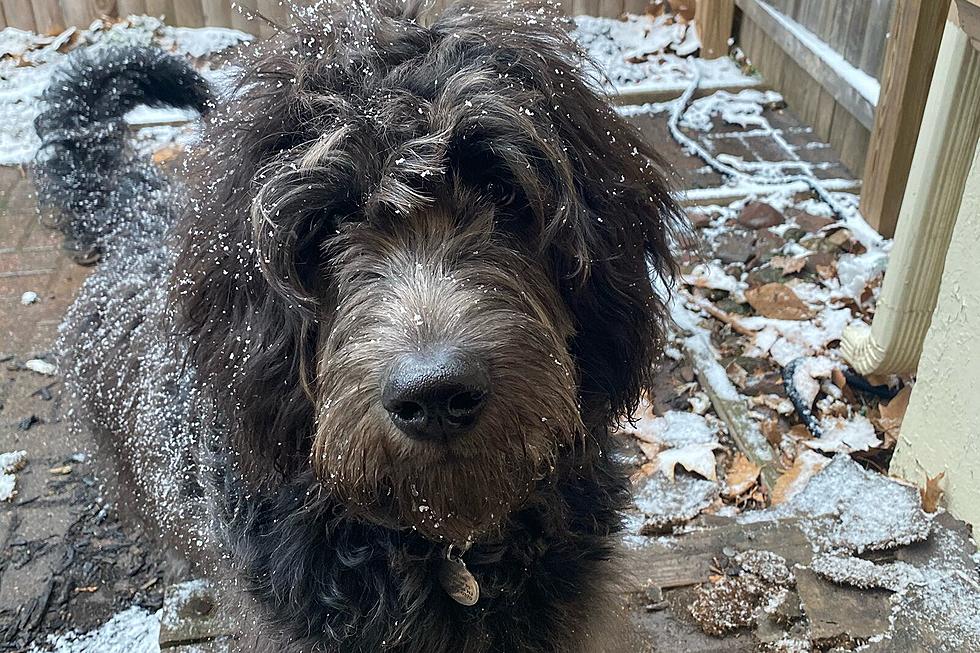 How Montclair pet owners get vets' help in the pandemic
Ruthie is an adventurous eater with a delicate stomach. COURTESY AMANDA CROWELL
Adoption of pets has gone up during the pandemic as residents spend time at home. But the new remote universe has created anxiety around keeping those animals healthy, especially in the case of an emergency.
Pet owners report that they have been sent to expensive animal hospitals when their vets were overbooked.
But in Montclair, veterinarians and pet owners seem to have found a rhythm: Vet offices are saving spots for emergencies, while dog and cat owners have become used to waiting in the car. 
"Waiting" is the operative word: If your vet visit is not a true emergency, schedule it in advance as much as you can, veterinarians say.
Every veterinary office and hospital is cautious about COVID-19, and delays are the norm.
NEW ADOPTIONS, 
NEW PROBLEMS
Liz Morgan, director of Montclair Township Animal Shelter, says adoption has gone up by 80 percent during the pandemic. An adoption event that lasted two days this past December saw seven out of 10 dogs adopted, with the three remaining needing specialized homes. Eleven cats were adopted out of 25.
The increase in adoption could be why some people are having a longer wait for routine appointments, Morgan said.
"When a puppy leaves a rescue organization, that puppy is usually about 10 weeks old," she said. "At that time, it can only get two distemper vaccines. It needs a set of four to be well-protected.
"Puppies and kittens can clog up the system." 
Dr. Elizabeth Houston, of Cameron Animal Hospital, agreed. Houston added she is seeing many senior cats adopted, too. 
Amanda Crowell of Glen Ridge adopted a Newfie-poo (Newfoundland-Poodle mix) puppy during the pandemic. Ruthie has had to go to the vet to be spayed, for shots, and also because "she ate a foxglove," Crowell said. The plant almost sent the puppy into a coma, and Ruthie had to be rushed to the Oradell Animal Hospital in Paramus. It was a Sunday, so, Crowell said, she would have been sent to the hospital before COVID-19.
Another time, Ruthie got ticks after hiking with Crowell in upstate New York. Crowell's vet, Dr. Brenda King of Montclair, saw Ruthie the next day.
Pets, like people, have adjusted to the pandemic.
Some animals are getting more exercise as their people are home to walk them — but they also get far more treats. "We're calling it the 'Quarantine 15,'" Houston said with a laugh. "With everybody at home, and one or two treats from every person in the family every day, it adds up."
She has not seen stressed cats. "They either like having you home or go do what they want and take a nap anyway," she said.
Crowell agrees. Her cats have not had to see a vet since COVID-19 started. Instead, "they have been living large," she said with a laugh. "They eat their food and sleep."
NEW PROTOCOLS
To accommodate the extra time needed to debrief at a car and to talk on the phone, Houston schedules fewer appointments. She said that the late Dr. George Cameron Sr., who founded Cameron Animal Hospital in 1936, had a policy, which the hospital continues, to see a patient that comes in with an emergency and delay other appointments. 
"If because of the severity we feel an animal needs to be referred to an emergency clinic for specialized care, we call around to make sure it can be admitted to the hospital, and that the hospital has all its records. We make sure it will be receiving care somewhere," she said.
Fortunately, Houston said, there are several emergency clinics near Montclair: Animal Emergency and Referral Associates in Fairfield, Oradell in Paramus, and hospitals in Clifton and Red Bank.
Sonia Rapaport's dog Teddy was bitten by a raccoon, and he was seen at Marsh Animal Hospital in Verona. "They make room for emergencies," Rapaport said.
Among the protocols animal owners can expect: 
Curbside drop-off of their pets, with a conversation afterward. Some vets, like Houston, ask for a note detailing concerns. 

Billing done over the phone, no contact with credit cards.

Routine appointments needing to be booked in advance. 

Some medications can take longer to get, Morgan said.
GOING 'OVER THE BRIDGE'
Pet owners need not fear that they will have to say goodbye forever to their cats or dogs at the door of veterinary offices when the day comes.
When a cat or dog has to be put down, Houston said, its people are allowed in, though they must wear masks and have their temperatures checked.
"The hardest thing is that a lot of people want to take their masks off to kiss them one more time, and we have to say no to that," she said. 
Dr. Sandra Simko of TLC In Home Vet conducts in-home euthanasia. Offices that allow families in with pets often limit the number of people who can go in, which is hard on families, she said.
Simko has been conducting in-home euthanasia for seven years, and full-time since 2017. She had realized that decisions for euthanasia are often made in haste. The environment was sterile and the animals were anxious, she said. 
In a home, the whole family can be present.
"Nothing makes it easy," Simko said. "But it's a little easier on the families to have a little bit of control over the situation, to know who will be there."
She too asks people to wear a mask, but she allows them to kiss their pets and wipe their eyes.
Her job is hard — but only on the surface, she said.