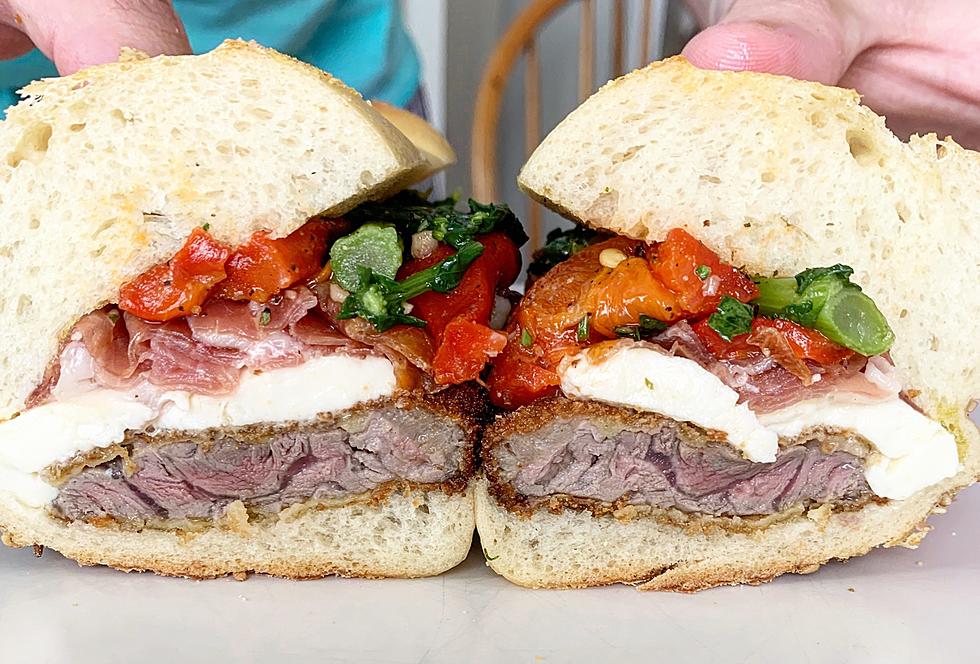 How to make a nearly-from-scratch Italian sub (Recipe of the Month)
By STEVEN DESALVO
for Montclair Local
While there is no shortage of exceptional sandwich spots in Montclair, I take great pleasure in making a sandwich as much "from scratch" as I can. 
By that I mean roasting peppers, cooking broccolini, frying my own cutlet. You could even make your own fresh mozzarella if you want to! 
I didn't go that far this time around, and the leg of pork for my own prosciutto is still aging (I'm only joking about that, for now). The best thing about this is that the components (except for the cutlet) can be made well in advance and kept in the refrigerator until you need them. 
For the cutlet I use beef; I prefer it to veal because I think it has infinitely more flavor and less objectionable production methods. You can substitute any protein you want, though, or even omit it entirely. 
Obviously feel free to purchase your roasted peppers and broccolini, but I am still including my recipes for them should you care to try.
HOMEMADE 
ITALIAN SUB
Ingredients for the roasted peppers
3-4 red and yellow bell peppers

1 clove garlic, crushed, but still whole

2 tablespoons minced parsley

1 tablespoon olive oil

1 teaspoon balsamic vinegar

Salt and pepper
Instructions for the roasted peppers
Turn your oven to the high broil setting, place the peppers on a baking sheet and put them under the broiler. Turn them frequently, but be sure to get the skin on all sides black and blistered.

Remove them from the oven and place them in a bowl; cover the bowl with plastic wrap and let it cool. The moisture will make the peppers easier to peel.

Peel the peppers, remove the seeds and inner parts and discard them. Tear the peppers into strips.

In a bowl add the pepper strips, the crushed garlic clove, parsley, olive oil and balsamic. Stir together and add salt and pepper to taste. These can be kept in the refrigerator for up to five days.
Ingredients for the broccolini
I prefer broccolini to broccoli rabe because if broccoli rabe isn't cooked correctly it can become quite bitter, whereas broccolini has a delicious sweetness to it, and I think it is much more forgiving in the cooking process. If you prefer broccoli rabe it can be swapped into this recipe without any changes.

Vegetable oil for the pan

1 bunch broccolini, washed and broken into pieces

2 cloves garlic, finely minced

1 teaspoon red chili flakes

Salt and pepper to taste

¼ cup white wine
Instructions for the broccolini
Heat vegetable oil in a pan; once it is hot, add the broccolini pieces. Cook for about a minute over medium heat.

Add the minced garlic and chili flakes. Season with salt and pepper, and cook for another minute. Add the white wine and cover the pan. Let it steam for 3-4 minutes. 

Remove the cover and adjust the seasoning, if necessary. Once the broccolini cools, chop it into 1-inch pieces. It can be kept in the fridge for up to five days until use. 
Ingredients for the cutlet
8 ounces beef, preferably

¼

-inch-thick slices. I would use a cut such as strip or tri tip. The butcher should be able to slice it this thin for you.

Salt and pepper

1 cup flour, in a bowl

2 eggs, whipped and in a bowl

1 cup panko bread crumbs, in a bowl

Vegetable oil, for frying
Instructions for the cutlet
Take the beef slices and pound them with a mallet until they are about ¼ of an inch thick. This will also tenderize them.

Season them liberally with salt and pepper.

Coat each piece of beef with flour, then the whipped egg, then the panko bread crumbs. This job is a lot easier if you designate one hand as the "wet" hand and one as the "dry" hand so you don't need to constantly wash your hands.

Heat about ¼ of an inch of oil in a large pan, preferably cast-iron. Once the oil is shimmering and hot, fry the cutlets until they are golden brown on both sides.

Take them out and let them rest. At this point you can assemble your sandwich.
I used fresh mozzarella, prosciutto, roasted peppers, broccolini, all heaped onto a seeded semolina roll. The best part about a sandwich is you can add as much or as little as you would like. There are no rules! Let us know what you make!
In Recipe of the Month food writer Steven DeSalvo shares a recipe Montclairians might enjoy making. DeSalvo has a degree in hospitality business management from the University of Delaware and has worked extensively in restaurants and hotels. If there is something you want to know how to make, or if you've eaten a dish at a local restaurant that you are dying to make at home, drop us a note at culture@montclairlocal.news.