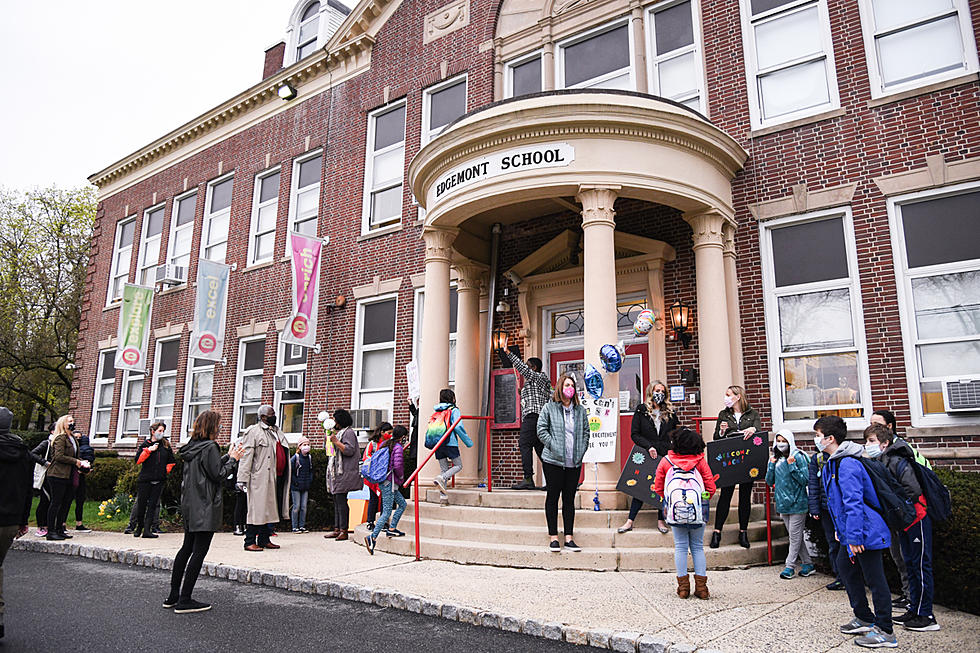 Hybrid was an OK 1st step. Now, get Montclair schools full-time (Town Square)
First day back at Edgemont School, April 12, 2021. KATE ALBRIGHT / FOR MONTCLAIR LOCAL
I am the parent of a third grade Charles H. Bullock School Bulldog, and my family is thrilled that he is finally back in the building and in a classroom with his peers and his teachers, and all the staff that make school so special.  
But it's not enough. He knows it. We know it. And I suspect all the Board of Education members, administrators, teachers and staff know it as well. 
A hybrid model was a fine first step. But now we need to start walking and running to get our district back to full-time, in-person instruction and give families confidence that next school year will look very different than this one.
The Board of Education, administrators and the Montclair Education Association should make the transition to full-time instruction a top priority. Five full days of school across all grades this year should be the goal — five partial days for our elementary schools should be the absolute minimum.
While I appreciate the superintendent's statements about reopening full-time in September, words are insufficient. We need to make real progress now. And we can do it. It took eight months, but the district got elementary and middle school students back with successful hybrid reopenings, and high schoolers are on their way back, too. 
When the MEA revealed its public support for following federal and state guidance for 3 feet of distancing, the district moved desks and schedules to implement it. Many special needs students are now in school five days a week. 
Other districts have made progress. The federal Department of Education reports that through March, 56% of schools serving fourth graders offered five days a week of in-person instruction. Data provider Burbio estimates that as of this past weekend, 68.6% of K-12 students in the U.S. were in districts offering five days a week of in-person instruction. For K-5 students alone, that number jumps to 75.3%. 
Right here in New Jersey, NJ.com reported last week that 45.9% of school districts, more than 370, were fully in-person for all grades. Nearby districts including Verona and South Orange-Maplewood have all managed to get at least elementary school students back five days a week. 
Glen Ridge is particularly illustrative. The district opened the year in a hybrid model, dealt with a COVID outbreak midyear, and then just a week ago announced all grades would start five days of in-person learning this week. Next week, they move to full days.  
Getting to five days a week this school year is critical because it allows the district and staff to demonstrate to the community, and to themselves, that they can make all of this work.  This will be complicated. We have five weeks left this school year to figure this out. 
And we do have to figure this out. What do classrooms look like? Do extra rooms need to be utilized? How does eating lunch work? Yes, I said lunch because we need full days of instruction, too. Stub schedules that cut short instruction time are not enough for children and teachers. And they are certainly not enough for parents and caregivers struggling to continue working while managing children who come home early, or don't go to school at all on most days. 
I recognize that there is not much time to plan this out. I recognize that full days of instruction with lunch periods may seem out of reach. But I also recognize five days of school is absolutely achievable, and imperative, to do this school year. 
Teachers and staff have had vaccine access for months. Parents and caregivers, and many of our high schoolers and middle schoolers, are also eligible. Community spread in Montclair, and even in Essex County and the state, is low — by some metrics, as low as it has been since the onset of the pandemic last March. We are running out of reasons not to do this now.
For nearly an entire school year, this community has watched the Board of Education, administrators and MEA wrangle publicly and privately over the logistics and even the feasibility of reopening our schools. We have seen last-minute changes from the district, alleged work actions by MEA members and lawsuits brought by parents and the Board of Education. Most of all, we have seen broken promises. 
The district and the MEA cannot expect parents, caregivers and students to rely on promises again. We need action. We need results. We need our schools opened five days a week, now. 
Eric Kim and his family have lived in Montclair since 2013. He and his wife are parents of two young children, including one in the public school system. He is also a member of the Charles H. Bullock School PTA.
---
Montclair Local's Opinion section is an open forum for civil discussion in which we invite readers to discuss town matters, articles published in Montclair, or previously published letters. Views expressed and published in this section are solely those of the writers, and do not represent the views of Montclair Local.
Letters to the editor: To submit a letter to the editor, email letters@montclairlocal.news, or mail "Letters to the Editor," 309 Orange Road, Montclair, NJ, 07042 (email is preferred). Submissions must include the name, address and phone number of the writer for verification. Only the writer's name and town of residence will be published. Montclair Local does not publish anonymous opinion pieces.
Letters must be no more than 500 words in length, and must be received by 5 p.m. Monday to be eligible for potential publication in that week's Thursday print issue. Letters may be edited by Montclair Local for grammar and style. While our goal is to publish most letters we receive, Montclair Local reserves the right to decline publication of a letter for any reason, including but not limited to concerns about unproven or defamatory statements, inappropriate language, topic matter far afield of the particular interests of Montclair residents, or available space.
Town Square: Montclair Local also accepts longer-form opinion essays from residents aiming to generate discussion on topics specific to the community, under our "Town
Square" banner. "Town Square" essays should be no more than 750 words in length, and topics should be submitted to letters@montclairlocal.news at least seven days prior to publication.