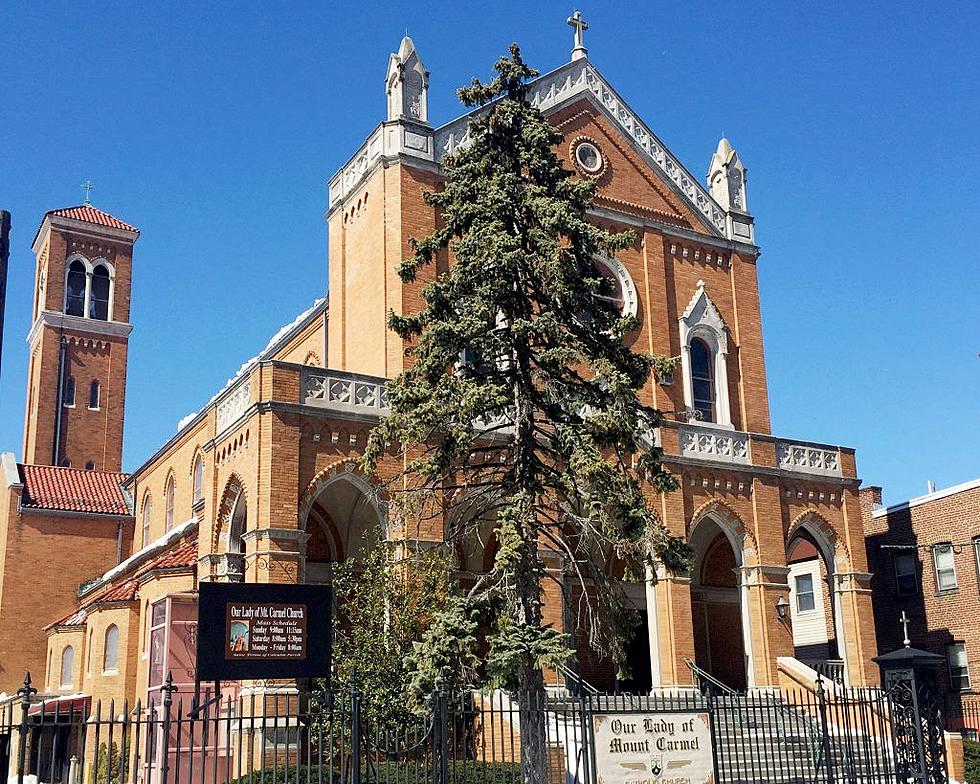 I'm grateful for honor to Montclair's immigrant families (Letter)
Our Lady of Mount Carmel Church at 94 Pine St. FILE PHOTO
Our Lady of Mount Carmel Church, since its inception, built by Italian immigrants from southern Italy and Sicily, has been the bedrock of Montclair's Fourth Ward, a predominantly Italian American and African American neighborhood. It's been a community of Black and white families who shared the same struggles, dreams and goals. The feasts of St. Sebastian and Our Lady of Mount Carmel were the centerpieces, always with fireworks bursting in the air, as the saints were accompanied by young children and the American and Italian flags being carried from the church, the girls dressed in their communion dresses and veils, and the boys dressed in their alter boy tunics.
Our Lady of Mount Carmel Church today is a wounded, limping parish, struggling to keep our doors and our hearts open to those who practice the Roman Catholic religion.
The previous and present Township Council's efforts and support of our community outreach program have, in my opinion, played a big part in the Archdiocese of Newark keeping us open. Two years ago, then-Mayor Robert Jackson and the council established a sister cities connection with Aquilonia Italy, with Mayor Sean M. Spiller and members of the present council honoring the sister cities agreement by a simple act of kindness designating the intersection of Pine Street and Grant Street Aquilonia Way. This intersection houses the club Aquilonese San Vito Martire. This club has a history of welcoming Italian immigrants for the past 100 years.
The community outreach program of Our Lady of Mount Carmel goes beyond her doors in helping the needy in our community. The heart, lungs and oxygen of this outreach program is Marie Elena Marzullo and her brother, Raffaele Marzullo, who through their efforts make this program someone's miracle.
Aquilonia is a town in the province of Avellino, part of the Campania region of southern Italy, while Montclair is a truly unique community identified by its diversity and proximity to New York City. It should be noted that Our Lady of Mount Carmel Church is the only Catholic church that I know of in the Archdiocese that honors four societies and their patron saints with feasts: Saint Sebastian, Our Lady of Mount Carmel, San Vito Martire and St. Donato.
Kudos to the mayor and council for this great honor to the original immigrants who came to this great country with little more than the clothes on their backs, by building on the designation of Pine Street and Sherman Street as St. Sebastian Way a number of years ago.
Thomas J. Russo
Former chief of police and director of public safety
Montclair
---
Montclair Local's Opinion section is an open forum for civil discussion in which we invite readers to discuss town matters, articles published in Montclair, or previously published letters. Views expressed and published in this section are solely those of the writers, and do not represent the views of Montclair Local.
Letters to the editor: To submit a letter to the editor, email letters@montclairlocal.news, or mail "Letters to the Editor," 309 Orange Road, Montclair, NJ, 07042 (email is preferred). Submissions must include the name, address and phone number of the writer for verification. Only the writer's name and town of residence will be published. Montclair Local does not publish anonymous opinion pieces.
Letters must be no more than 500 words in length, and must be received by 5 p.m. Monday to be eligible for potential publication in that week's Thursday print issue. Letters may be edited by Montclair Local for grammar and style. While our goal is to publish most letters we receive, Montclair Local reserves the right to decline publication of a letter for any reason, including but not limited to concerns about unproven or defamatory statements, inappropriate language, topic matter far afield of the particular interests of Montclair residents, or available space.
Town Square: Montclair Local also accepts longer-form opinion essays from residents aiming to generate discussion on topics specific to the community, under our "Town
Square" banner. "Town Square" essays should be no more than 750 words in length, and topics should be submitted to letters@montclairlocal.news at least seven days prior to publication.