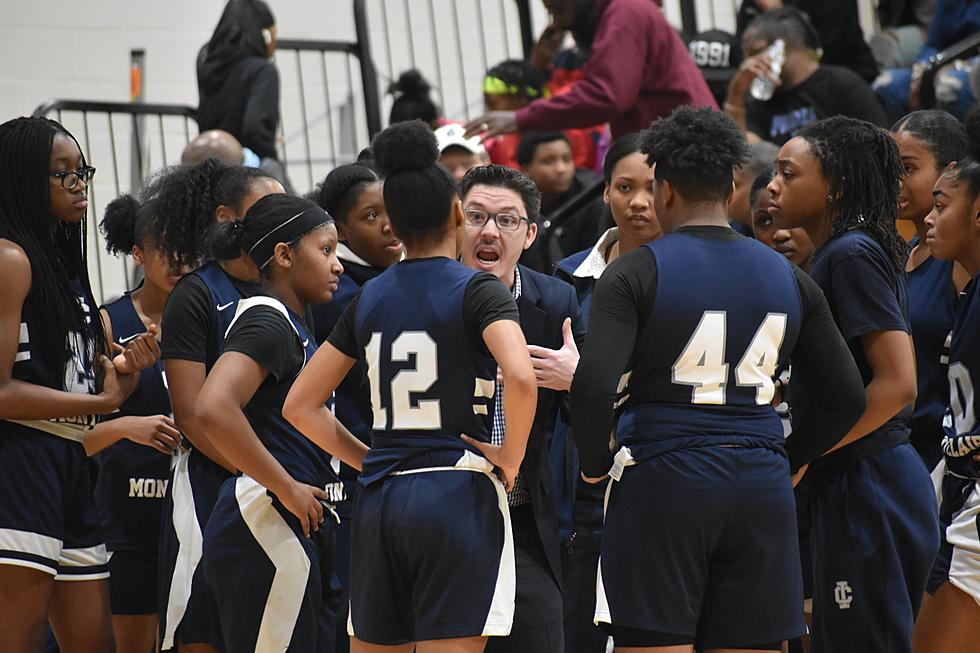 Immaculate Basketball: ECT, NJSIAA finals losses fuel Lions this offseason
ICHS' head coach James Kreie tries to fire up his team during a break in the second half of their Essex County championship game against University. The

Lions fell short in two finals in his first year as Immaculate girls basketball coach, but they are using those losses to focus as they work towards the 2021 season.


ANDREW GARDA/STAFF
by Andrew Garda
garda@montclairlocal.news
The Immaculate Conception High School girls basketball team has some unfinished business. 
Despite compiling a 21-9 record for the 2019-20 season, ICHS lost two games that left a bad taste. First, the girls dropped a 61-34 loss to University in the Essex County Tournament finals. Then they lost a tight game in the NJSIAA Non-Public B Tournament to Saddle River Day, 66-50.
That might break some teams, but it just focused Immaculate.
The team practiced at every opportunity all summer and fall, as long as it could do so safely outdoors.
"We were at the park at 7 o'clock in the morning because we weren't allowed inside," said head coach James Kreie. "And we did that eight days a week, 25 hours a day. We were at the park and we worked and worked and worked."
Kreie said the team members were happy to get inside so they could worry less about scraped knees and more about installing plays. The coach said it's been the best start to the season he's had in 16 years, and it's largely due to his players. 
"To be honest, I haven't had to do anything. They're starving," he said. "They're foaming at the mouth. They come in every single day ready to go, and we've had seven of the best practices that I've ever had."
That the Lions have hit the court at a full sprint is all the more impressive because they saw the departure of their two leading scorers due to graduation. Nasira Williams (371 points) and Azatah Lawrence (334 points) aren't players easily replaced in most programs, and they will be missed even at ICHS.
However, while they led the team in scoring, they weren't the only ones piling up points. 
Senior Bukky Akinsola was third on the team in scoring with 273 points, and led the team with 99 two-point baskets and 16 blocked shots. Sydney Echevarria-Briscoe, also a senior, was second on the team with 130 rebounds. Akinsola, Echevarria-Briscoe, junior Niyah Whitten and seniors Tahirah Kelley and Olivia Wooten all put up triple-digit points.
Kreie had high praise for all of his returners.
"Olivia Wooten played a pretty big part of what we did last year," he said. "She's our starting point guard, smart, intelligent and the valedictorian of her class, hardworking. She's one of the kids that came with me from Newark Tech."
Kelley returns after a solid junior year. Kreie said she is key in all phases of the game, whether it's scoring, assists or ball movement, but the biggest thing she brings to the Lions comes on defense.
She has 37 steals and 7 blocks in just games, and with only 12-15 games this season, her contributions could be huge.
"She's our defensive identity," Kreie said. The Lions can score, but pinning teams down will be the difference in a lot of games this year, and Kelley brings that to the table for her team.
Kreie called Akinsola the Lions' "killer" and said she is already taking over during the preseason. 
"In our last four games, she's shooting 13 for 26 from three," he said. 
That's against teams like a Montville squad that was ranked in the state last season, another top-10 team in Gill St. Bernard and a potential top-20 team in Pope John — and all Akinsola did was shoot 50 percent from the arc and go 26 of 59 on two-point shots. 
"We have Sydney [Echevarria-Briscoe]," Kreie said. That's our 6-foot senior, and she's smart, hardworking and she can score. She fixed her form a little bit, and it's going in more consistently."
Kreie said Whitten might be his MVP for the last week of practice. 
"She's come back with a lot of energy," he said, adding that Whitten has also worked hard to improve her defense. "She just brings a lot to us right now."
One name people won't be as familiar with is senior Kyra Brant, who missed most of last season with a torn ACL.
"[She] is the head of the snake, she's the vocal one," Kreie said. "She is getting closer and closer and inching back to where she needs to be. We have a couple of sets that we run off of, so she can drain the three, using screens and stuff like that."
She plays an even more important role than scorer, though as Brant is a leader whether she is healthy and playing or not.
"She's the enforcer. She's the kid that created the standard for us, and she holds everybody accountable," Kreie said. "She's our top leader, our head captain."
There are new faces, too, like junior Tiara Bellamy, a transfer from Trenton Catholic, where she scored 44 points off the bench in nine games last year.
"Very, very good athlete and a very, very good scorer," Kreie said. "She's a junior and she's about Niyah [Whitten's] size, so we're getting bigger and more athletic."
---
READ: MHS BOYS LOOK TO TAKE OVER LIBERTY DIVISION IN 2021
---
Another transfer from Trenton Catholic is sophomore Ore Ogunwolere, who Kreie said plays very fast and very hard on defense.
Kreie also has some freshmen to watch out for, either in small bursts on varsity or in more consistent minutes in junior varsity games, including Renee Anglin from Bloomfield, whose sister played well enough at Gill St. Bernard to hitch a ride to Georgetown, and 6-3 Taylor Thomas, who debuted in a summer league called No Boyz Allowed with a double-double against St. John Vianney, a Shore team that has been about as dominant as a team can be over the last decade, with only one season of double-digit losses over that span.
"So that was one hell of a debut from her," Kreie said. "She is going to be one of the best recruits in the state by the time she's a junior."
With that roster, it not only appears ICHS has a shot to be dominant in this COVID-19-shortened season, but a force to be reckoned with for years to come.