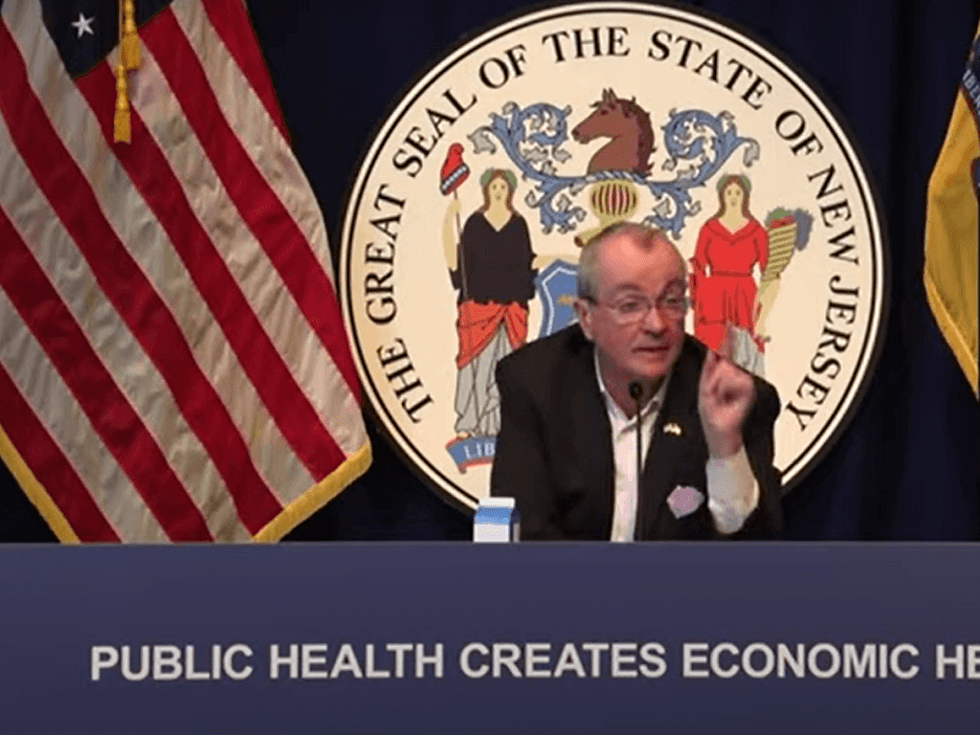 COVID-19: New Jersey releases guidance on indoor entertainment facilities
COURTESY STATE OF NEW JERSEY Gov. Phil Murphy speaks during a Friday, June 26 press briefing.
By ERIN ROLL
roll@montclairlocal.news
With indoor dining and recreational facilities set to reopen on July 2, state officials have released additional guidance.
Indoor recreational and entertainment businesses will reopen at 25 percent capacity only. However, this does not extend to gyms, fitness centers, movie theaters, performing arts centers, other concert venues, and indoor amusement and water parks. In addition, dance floors at venues must be closed off.
For indoor dining, eateries must limit the number of patrons in indoor areas to no more than 25 percent of the total capacity, not counting employees. Tables must be set six feet apart from any other table or seat, and patrons must wear a face mask except when seated. Additionally, patrons may only order food when they are seated, and they must remain seated to consume their food on the premises.
For all indoor recreational and entertainment businesses that are allowed to open, including libraries, museums, aquariums, and public and private social clubs, capacity is also limited to 25 percent, and will be subject to many of the same requirements for retail businesses.
Gyms will be allowed to offer individualized instruction only, including to individuals, families, romantic partners and people who are otherwise from the same household. If multiple instruction sessions are taking place in the same building, they must take place either in separate rooms, or separated by a floor-to-ceiling barrier.
Guidance is forthcoming on the eventual reopening of casinos.
"As we enter into the latter phases of stage two of our restart, we ask New Jerseyans to continue to answer the call of personal responsibility that has gotten us this far," Gov. Phil Murphy said. "We have been actively working up to this point for weeks and are confident that the health metrics we needed to see are in place."
Testing facilities
Essex County residents can get tested at three satellite testing locations this week:
Verona Community Center, 880 Bloomfield Ave., Verona, Tuesday, June 30 from 4 to 6 p.m.
St. Philomena's Church, 386 South Livingston Ave., Livingston, Wednesday, July 1 from 4 to 6 p.m.
Millburn/Short Hills First Aid Squad/Commuter Parking Lot, 188 Glen Ave. Millburn, Thursday, July 2 from 4 to 6 p.m.
Residents taking the saliva test should not eat, drink, smoke or chew gum 30 minutes prior to arrival.
Nasal swab tests continue to be offered at the Weequahic Park testing site every Monday, Wednesday and Friday from 9 a.m. to noon. The test is drive-through only, and appointments are required. To make an appointment, visit EssexCOVID.org or call 973-324-9950.
Today's numbers
On Saturday, New Jersey officials reported 34 new deaths, compared to 44 on Friday, bringing the state total to 13,094 confirmed deaths. Once a week, the state will release numbers of probable deaths. As of Saturday, that number stands at 1,854.
Officials reported 289 new cases, down from 524 on Friday, bringing the overall total cases to 170,873.
The positivity rate and virus transmission rate were 2.1 percent and 0.86, respectively, on Friday. Data for positivity rate and virus transmission rate were unavailable on Saturday.
On Friday evening, hospitals reported 1,103 patients, compared to 1,118 on Thursday night, with 236 in critical care and 200 ventilators in use, compared to 234 critical care patients and 206 ventilators on Thursday.  Hospitals discharged 111 patients Friday, and admitted 96 new patients, compared to 108 discharges and 56 new admissions.
On Saturday, Essex County officials reported 22 new cases, up from 17 on Friday, bringing the county total to 18,681. The death count was revised downward from 1,775 to 1,771.
Montclair health officials reported an additional case on Saturday, bringing the total number of cases to 443, while the total number of deaths remains at 51.