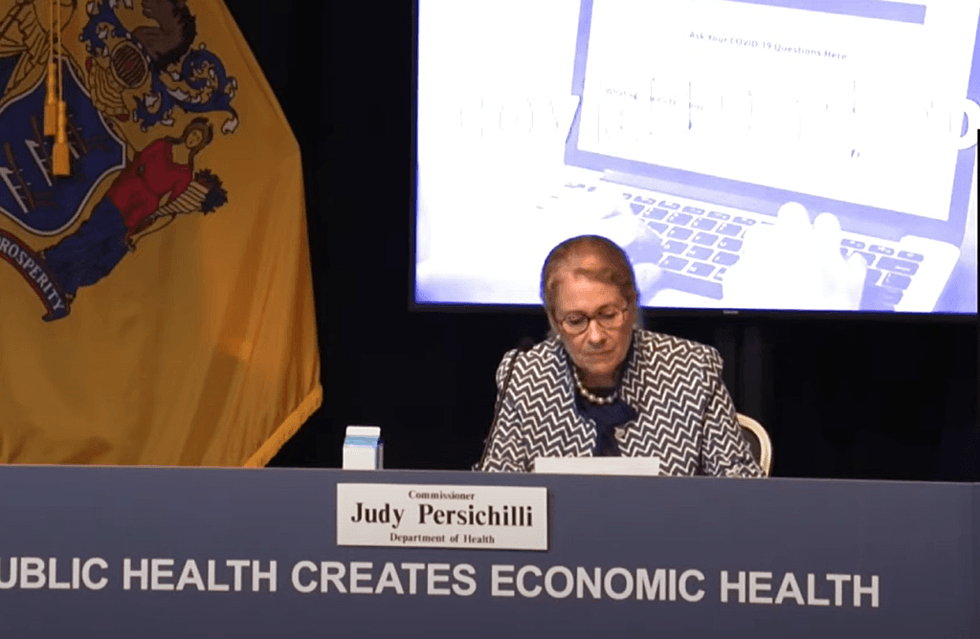 COVID-19: Indoor gatherings clamped back down to 25 people
COURTESY STATE OF NEW JERSEY Health Commissioner Judith Persichilli speaks during a Monday, Aug. 3 press briefing.
By ERIN ROLL
roll@montclairlocal.news
As New Jersey's transmission rate of COVID-19 continues to climb, Gov. Phil Murphy has scaled back the number of people allowed at indoor gatherings.
In response to parties and gatherings associated with COVID-19 outbreaks throughout the state, Murphy announced today, Aug. 3, that indoor gatherings would be restricted to 25 percent of a room's capacity, or no more than 25 people, down from the 100 person restriction.
The restriction does not apply to religious services or political gatherings, or weddings, funerals, or memorial services. Those events are also limited to 25 percent of a room's capacity, or no more than 100 people. 
Murphy said that the majority of New Jersey residents were doing the right thing and following protocols on social distancing and mask wearing. "Unfortunately, the actions of a few knuckleheads leave us no other choice," he said. 
The virus transmission rate has continued to climb, and stands at 1.48. On Friday, it was 1.35, up from 1.14 on July 30, rising from 0.70 in early June. Officials had expected the transmission rate to go up as the number of tests increased, but Murphy said the increase in rate has been associated with house parties and other gatherings. For health officials, it is a matter of concern if the virus transmission rate exceeds 1 at any point.  
If the virus transmission rate continues to stay at this level for a prolonged period of time, the state will take action, though Murphy said he did not yet have specifics on what those actions would involve. 
In the last two weeks, authorities received reports of graduation parties in Middletown, and police in Jackson broke up a 700-person party at a rented mansion. 
Airbnb removed 35 postings, including one in Montclair, according to media reports. The mansion in Jackson has also been removed from Airbnb's listings. 
Murphy praised Airbnb for taking such action.
Health Commissioner Judith Persichilli said that New Jersey residents had been called upon to flatten the curve of the virus, when the pandemic was at its height in the spring. "We asked for your help, and you did the right thing," she said. "I know we all want life to return to normal. But COVID-19 is still circulating, and now is not the time to be complacent." 
Christina Tan, the state's epidemiologist, said it was hard to predict if New Jersey is going to see a second wave of COVID-19. Authorities had hoped there wouldn't be a second wave, since people are more aware of what steps need to be taken to limit the spread. New Jersey was likely on the opposite end of the first wave, but Tan said it was difficult to tell what the baseline for a second wave would be. 
"We had some curveballs thrown at us. Some of them are within our control, some of them are out of our control," Murphy said. "Don't lose your optimism in this. Let's keep doing the right thing. We thank the millions of you who have done that, and continue to do that." 
School reopenings
The Department of Education will issue a checklist to county educational authorities listing steps needed to allow school districts to reopen.
On July 31, the Montclair public schools released further details of their own reopening plan, and more details are expected later this week. 
Murphy said that all students will be required to wear a mask while inside school buildings at all times. However, he said, exceptions will be made for certain students, including those with medical conditions or those with disabilities. 
Tropical storm
Tropical Storm Isaias is expected to arrive in New Jersey on Tuesday, Aug. 4. 
The storm is expected to bring "drenching" rain, as much as three to six inches, and wind gusts of between 40 and 50 miles per hour. State Police Superintendent Pat Callahan said that some rain bands could bring as much as five to eight inches of rain. 
Murphy urged residents not to drive in standing water, and to be alert for downed power lines. 
Today's numbers
Health officials reported 264 new cases on Monday, Aug, 3, for tests taken on July 28, down from 489 confirmed cases on Sunday, Aug. 2, for tests on July 27. The total number of cases now stands at 182,614.
Officials have also reported 10 additional deaths as of Aug. 3. There are now 13,971 total confirmed deaths, as well as 1,875 probable deaths. A total of 17 additional deaths were reported over the weekend, Aug. 1 and Aug. 2. 
The positivity rate for tests taken on July 28 stands at 1.88 percent, down from the 2.42 percent for tests performed on July 25, but up from 1.72 percent on July 24. 
Hospitals have reported an uptick in patients and ventilator use over the weekend. On Aug. 2, hospitals reported 738 patients, including 144 critical care patients and 49 ventilators in use. By comparison, hospitals reported 703 patients, 123 critical care patients and 45 ventilators in use the night before.
Essex County officials reported 59 new cases on Monday, now totaling 19,612. Nine new deaths were reported, bringing the total to 1,857. 
On Sunday, Aug. 2, Montclair reported the number of cases remained at 479 and the number of deaths remained at 54. Today's numbers were not yet available. 
Persichilli said that there have been no new cases of multisystem inflammatory syndrome in children, and that the number of cases remains at 55.