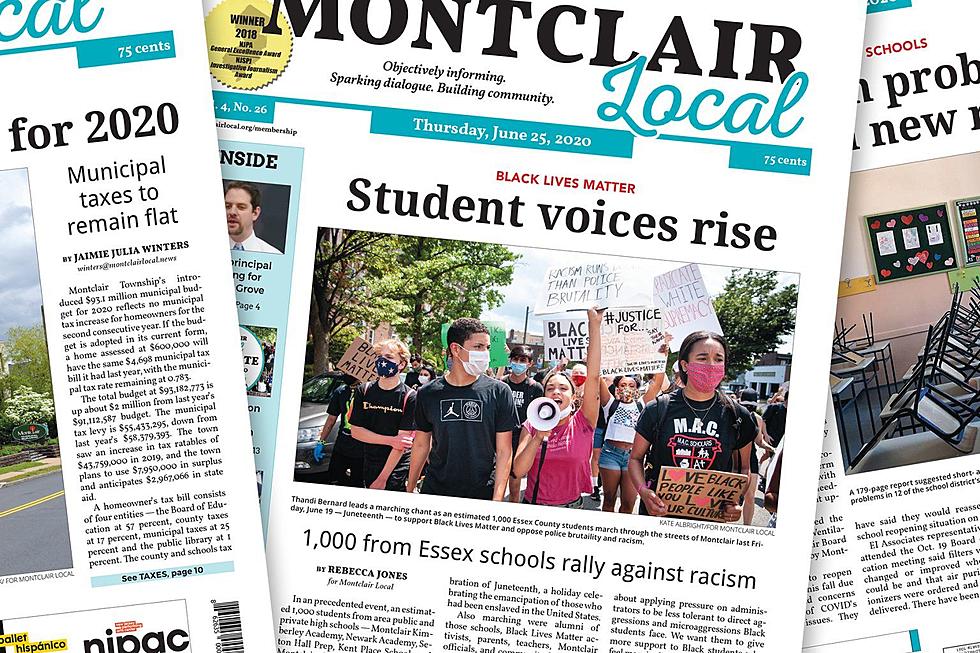 It's a time for renewal at Montclair Local (Letter from the Editor)
By LOUIS C. HOCHMAN
hochman@montclairlocal.news
It's fitting that this column appears in our first edition of the spring.
It's a time of renewal, more so this year than most. Montclair's public school students are about to attend in-person classes for the first time in a year. We're seeing more signs of vibrancy among Montclair's businesses, with recently increased capacity limits, nice weather allowing for outdoor seating and the ongoing rollout of coronavirus vaccines making people feel just a bit safer. There's a sense of change in the air — and with it, maybe more than a little bit of hope. 
We're undergoing something of a renewal here at Montclair Local, too. As some of you know, I became the Local's editor and CEO at the start of the year. We've closed out the LLC under which our founder, Heeten Choxi, gave the Local its start, transitioning entirely into a nonprofit. We're welcoming new contributors and collaborators to our mission of reflecting Montclair's complex, rich, vital community.
Joining us this week will be Diego Jesus Bartesaghi Mena, as our "human connections" reporter. Diego spent last summer reporting on national and local news affecting Latinx communities. He's produced multimedia projects about a New Jersey transgender activist helping other trans sex workers, about a female-led punk band, about his father's own immigration story. In another role, he interviewed clients in Spanish and English to help connect them with health care and services. In Diego, we see strengths that will help us enrich our storytelling, and a dedication to ethics of diversity, equity and inclusion — essential values to fairly, comprehensively and thoughtfully reporting on Montclair.
Soon, we'll also be wishing well to our longtime general assignment reporter Erin Roll, as she moves on from her full-time post to continue as a freelance reporter for the Local and other publications. Erin has helped make Montclair Local what it is, and we're tremendously grateful for her dedication. 
For the role she's departing and for others, we're seeking candidates who have a keen eye for detail, who are thoughtful and open-minded about the nuanced ways news can affect a diverse community, who are creative and sharp, who see reporting on issues and problems as a bridge to exploring solutions, who can draw from their own experience and who have the curiosity to look beyond it. We don't want reporters who think it's their mission to give voice to the voiceless — everyone has a voice. We want reporters who realize every voice is worth hearing. If that sounds like you or someone you know, message me at hochman@montclairlocal.news.
While we're engaging that spirit of renewal:
• We're working to connect me, personally, with more groups, institutions and individuals in Montclair. Some of that is in formal meetings with established organizations. Much of it is in informal calls. We're getting community listening sessions on the calendar. I welcome you to be a part of that process. Talk my ear off, please. Let us know what we're doing well, what we need to do more of, what we're missing. Again, hochman@montclairlocal.news.
• We're doubling down on our commitment to editorial independence. We've got a rare opportunity, as a nonprofit news organization, to obsess less than the average publication about clicks and circulation. But we can't blame you for wondering if big donors buy big influence. For that matter, we don't blame you for wondering if our governing and advisory board members' own community, political or financial interests direct our work. We've newly updated our Editorial Independence Policy, which says, in short, absolutely everyone's input is welcome but the editorial staff makes decisions about what we write, and how we write it — and that we'll be transparent about any notable connections we have. If you have thoughts on what it means for a local news source to be fair, transparent and trustworthy — well, one more time … hochman@montclairlocal.news.
• Our development director would kill me if I didn't talk about renewing — or starting — your membership. I'm unabashedly asking every resident in town to become a supporter of our nonprofit newsroom — really, of your nonprofit newsroom. You can renew or start a membership at montclairlocal.news/become-a-member, or by emailing membership@montclairlocal.news. Memberships of as low as $60 support the cost of printing and mailing a paper to your home. And we'd love it if you can help spread the word: Join Montclair Local on Facebook, and share or talk to us about the articles that connect with you, your passions and your interests in our community.
Louis C. Hochman is editor-in-chief and CEO of Montclair Local Nonprofit News