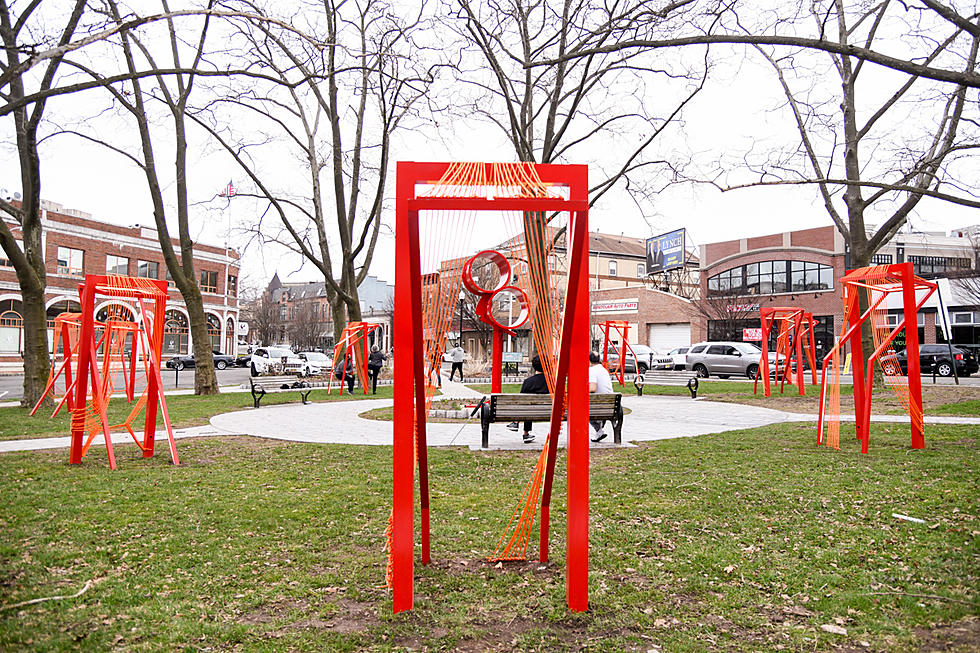 It's quite the exhibition at Crane Park
"Point of Action" at Crane Park, March 25, 2021. KATE ALBRIGHT / FOR MONTCLAIR LOCAL
BY JAIMIE JULIA WINTERS & KATE ALBRIGHT
winters@montclairlocal.news
Residents are being drawn to Crane Park to connect with a new interactive art installation by two local artists.
Montclair residents Nina Cooke John and Charlie Spademan brought the temporary installation — Point of Action — to Montclair's Crane Park at no cost to the township this week. Cooke John is the designer, while Spademan fabricated "Point of Action."
During the holidays, the public art installation was at the Flatiron Public Plaza on 23rd Street in New York. Designed by Cooke John's firm, Studio Cooke John, "Point of Action" addresses connectivity and community building.
It's stay in Montclair will be up to six weeks. 
"One of the big things that I wanted to be able to do is — how do we, during this threshold that is the pandemic, connect?" Cooke John said at a ribbon-cutting on Thursday, March 25 in which the public was introduced to the installation. "In New York city there are people from all different socio-economic, cultural backgrounds rubbing shoulders, never making eye contact. How can we, when we step into the spotlight, kind of be seen and see each other? So whether you're walking by, if you are framed by this threshold, are you now noticeable? Can I connect to you? Can I now connect to your issues because I'm now connected to you?"
The installation consists of nine aluminum framed pavilions on 6-foot concrete circles — illustrating the social distancing we have been adhering to — with ropes that are intertwined and part to allow people to step into the frame. In the center a spotlight illuminates the person and creates a safe connection to others inside other frames, as well as passersby. It took four months to construct all nine pavilions, said Spademan, whose art focuses primarily on ironwork, particularly on hand-forging.
"If this is a threshold and it gives us a moment of pause, our eyes are now open when we step out of this threshold do we act upon it?" Cooke John said. "So those are the big thematic ideas. And frankly, those are the same issues in Montclair. We are diverse socio-economically culturally, but our kids go to the same school, but do not connect on the same level that you would actually like them to, right?"
Snow postponed the installment, which will be managed and maintained by the Montclair Center BID. The BID also paid for the transportation of the installation to and from the site, Executive Director Jason Gleason said.
"They [the artists] had an aspiration to bring this piece home. And I thought that was just such a beautiful sentiment, considering that for six weeks it was living on like one of the biggest design stages in the world and became a very renowned piece last year in the time of COVID. It was sought after and very appreciated and very seen on that sort of international scale. So their idea of bringing this back home was so beautiful for me," Gleason said.
It was last year's winning design in a competition run by the Flatiron/23rd Street Partnership and Van Alen Institute, to choose an installation for Flatiron Public Plaza.
So on Tuesday after loading it into a truck, a group from the BID's Cleaning and Safety Committee "got in the dirt on our hands and knees and did the install," said Gleason.
Dylan Blackwell, ambassador supervisor at the BID, said the installation took eight hours. Trenches, about 4 inches deep, needed to be dug in which stakes were then placed to keep the structures stable. 
Gleason said Crane Park is perfectly situated to host the installation due to it being centrally located and the diverse community that surrounds it.
Councilman Peter Yacobellis, who worked with the community and the artists to bring the installation to Montclair, hopes it will draw residents and visitors to the park as spring sets in.
William Scott, member of Parks and Rec Committee, said the park was at one time neglected but credited Northeast Earth Coalition President Jose German-Gomez for bringing back the park. He said it was honor that Crane be chosen for the installation. 
"We don't have a lot of parks that have this level of art or any parks that have this level of artwork in it. And even though it will be changed over time, I think it's something that's going to set a new standard in how our parks are going to be viewed. And it's a combination of bringing the artists community together with the people that are concerned about open space. I think that it's a great park initiative," Scott said.
Spademan envisions Crane Park becoming a place to come and congregate. 
"It's never really been a place before. And I can imagine people walking in. You just get a glimpse of it from Bloomfield Avenue. And I think it will be bright enough. Actually, I think word of it will get around pretty quickly," Spademan said.
Just as everyone packed up to go on Thursday, Alvis Frederick and his two young sons, Andrew and Mason, were leaving the YMCA and noticed the sculptures. 
"What a breath of fresh air. It seemed to be glowing," Frederick said. It was dusk, and lights began to glow brightly. The boys ran around and played among the structure for a while, and Frederick said he was happy to see them enjoying the outdoors.