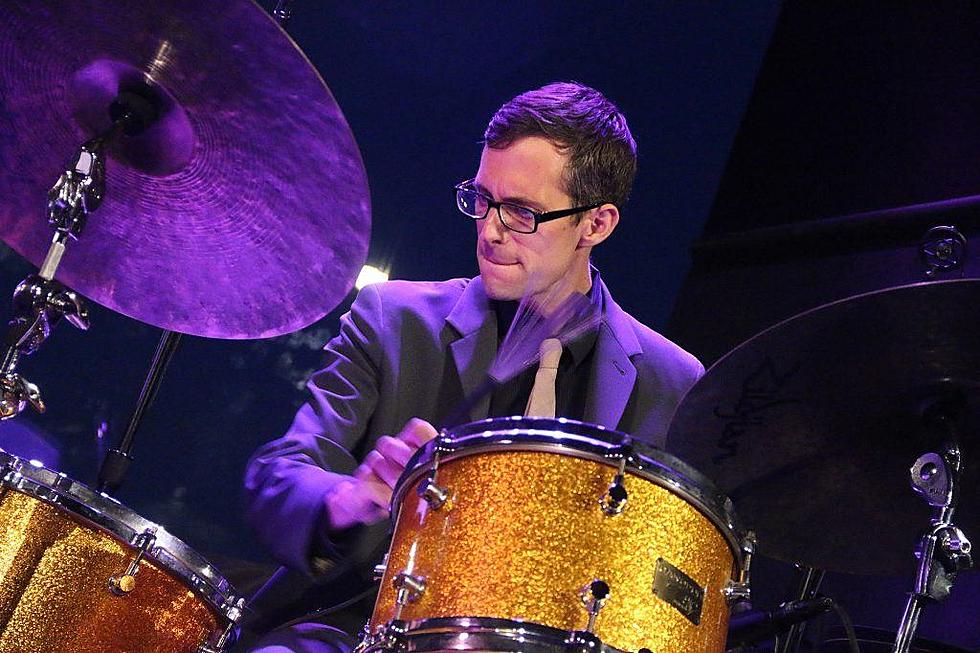 Jazz: Matt Slocum and the rhythmic melody
Matt Slocum loves the varied sounds he can make on the drums. COURTESY CHRIS DRUKKER
By GWEN OREL
orel@montclairlocal.news
When you think of jazz combos named for their leaders, you probably think of groups led by a bass player, a singer, a clarinetist.
But there have always been some led by drummers as well: Buddy Rich. Gene Krupa. Max Weinberg.
Montclair's Matt Slocum, jazz drummer, released his fifth album, "Sanctuary," on Friday, May 31.
He's worked with different players for different projects; this album features pianist Gerald Clayton, with whom he's worked for nearly 20 years, and bass player Larry Grenadier.
Slocum is a full-time musician, who also teaches jazz and percussion at Newark Academy. He begins a tour in June, in Minneapolis, and will play New York City on June 15. More details can be found on his website.
In the past, Slocum has written for musicians he knew he'd be playing with, but for this
one, he let himself write what struck him.
"These tunes aren't a suite, where it's just one piece with different movements, but they are related," he said. "A loft of these tunes are dealing with where I grew up in Wisconsin, thinking back to that, and also thinking of places in college, where I felt like there was a good vibe for writing and creating music."
"Star Prairie" is named for the village next to the one where the 37-year-old grew up.
The village is so small, it might even be unincorporated, Slocum said with a laugh.
He revised that tune after hearing it in rehearsal. "It was cool to have to do that quickly, and hear it take shape in a way that I then dug," he said.
Slocum wrote most of the eight tracks on the CD, composing on piano. He studied piano as a child, because it was a prerequisite for students who wanted to take percussion.
"My parents made all of us play piano. I'm glad they did. It's a foundation for whatever instrument you end up pursuing," he said.
What first attracted him about drums were the cadences in the marching band, and snare drums. "I was intrigued by the rhythmic energy and drive," he said. "I was very curious about learning it. Then I got into jazz, then it was like complete… I became more immersed. I'm really interested in musicians interacting and improvising in real time."
He began studying with drummer Phil Hey in Minneapolis, and went to the University of Southern California on a music scholarship. He stayed in California until 2007, playing with pianists Josh Nelson and Bill Cunliffe.
________________________________________________________________________
READ: 2019 MFF; MILES DAVIS, SOUNDS OF A JAZZ LEGEND
READ: BLUE NOTES; MUSICIANS ON TRUMPETS JAZZ CLUB CLOSING
_______________________________________________________________________
He's earned critical raves since then: JazzTimes has called him "a tastefully polyrhythmic drummer with a penchant for melodicism."
Something unusual about "Sanctuary" is that it's available not only as a CD, but also on vinyl. While it's a digital pressing, not an analog recording, it was made at a studio that is a master at pressing, Slocum explained.
"I like the listening experience on vinyl," he said. "There's something tangible." He likes the limitations of staying to 20 minutes a side, the way the medium shapes the music. And then, too, the uncompressed music simply sounds better.
"I remember the first time I tried to transcribe off an iPod, rather than from speakers with CDs. It's the sound of drums where you notice the difference the most, when you're dealing with compressed files."
If it was snare drums that first attracted him to drumming, it was their variety of sound that made him fall in love with them., he said. "I love all the textures you can create with a drum set — the brushes, mallets, layers of sound, the choices, the cymbals.
"The drummer in any group has the most ability to easily mess things up and ruin it for everyone.
"Finding these ways and subtleties to shade whatever the song needs is what I'm interested in discovering."