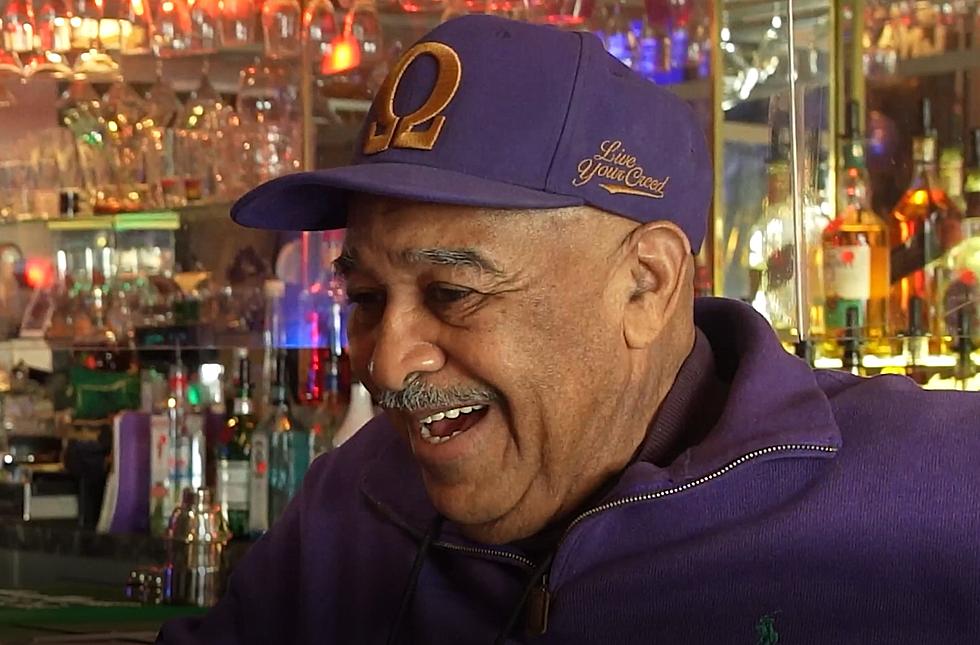 Jazz music, Black community and 50 years of Montclair's DLV Lounge (Our Montclair)
George Marable, 83, has been DLV's owner and operator since his family, which owned small clubs and bars in Newark, decided to open up a club in Montclair. It's named for Marable's parents — Dutch and Louise — and his daughter, Valerie. (From the latest episode of Our Montclair)
This article reflects just part of the conversation in the latest episode of "Our Montclair," a video and podcast series featuring the art, the activism, the outreach and the connections among people in Montclair.
Chat with Our Montclair host and producer Shane Paul Neil LIVE during the "Our Montclair" video premiere, Thursday, March 31 7 p.m., at Facebook.com/MontclairLocal — or find the video below in this post.
Find Our Montclair any time:
For nearly as long as there's been jazz music, there's been jazz in Montclair.
The connection is hard to miss. Last year's Montclair Jazz Festival took up a stretch of Bloomfield Avenue from Church Street to Lackawanna Plaza, attended by thousands of Montclarians and visitors — a boisterous celebration in a year where the coronavirus pandemic still muted so many gatherings. But jazz is in Montclair's air year-round, in its clubs, in programs such as Jazz House Kids (the festival's organizer), in the souls and talents and histories of so many people who make Montclair home.
Since DLV Lounge was established at 300 Bloomfield Avenue in 1972, jazz artists have been welcome — and over the years, the bar became known as one of the area's go-to jazz venues. It celebrated its 50th anniversary in March.
George Marable, 83, has been DLV's owner and operator since his family, which owned small clubs and bars in Newark, decided to open up a club in Montclair. It's named for Marable's parents — Dutch and Louise — and his daughter, Valerie. 
I spoke to Marable for the latest edition of "Our Montclair," Montclair Local's ongoing podcast and video series exploring the arts, activism, culture and life of Montclair. When I asked him why there was no G for George in the name, he laughed.
"I wasn't consulted," Marable told me.
But for many regulars, DLV is "George's Place."
When I arrived on a recent Saturday night, the place was comfortably full. Most of the seats at the bar were taken, as were the small tables on the opposite wall. I was told by everyone that the lounge was jam-packed the night before.
I found Marable sitting at the barstool closest to the lounge's entrance. He sipped brown liquor from a small cordial glass. I sat next to him and ordered a bourbon. The band was still assembling at 9 p.m., despite the sandwich board outside advertising music starting at 8:30 p.m.
"Musicians are never on time," Marable told me. From there, he began to introduce me to the regulars. 
DLV is reminiscent of a bar you might find in a Walter Mosley detective novel. It's a space where everyone seems to know everyone else, even if they've just met for the first time. It's easy to imagine DLV as the space where those who worked in fancier establishments went when they punched the clock and wanted to be among their own people, where musicians exchanged philosophies with poets and fueled one another's creativity. 
The space is narrow, with a long wooden bar that leads to the back of the lounge, where the small stage sits. The walls are adorned with gold records, photographs and movie posters illuminated by lights of various colors. The memorabilia points to the history of the music, the lounge, and the family that has kept it running for five decades. 
Patrons tell me stories about their years at the lounge. Most of the stories reflect a reverence for Marable — a reverence that seems universal. They get out of their seats to ensure Marable has a place to sit. He declines every time. 
The history of jazz in Montclair, as shared with me by percussionist and jazz historian Bruce Tyler, is long and storied — reaching as far back as the Prohibition era. In the 1920s, Montclair speakeasies would often play jazz music for their white audiences, he said.
Tyler, who grew up in Montclair and still lives in town, told me about seeing the remnants of one of the underground bars at a building at Claremont and North Fullerton avenues.
"I always heard rumors about it. When I moved into the building, the superintendent took me down, and actually, some of the glass from one of the raids is still down there," he said.
Tyler, who at one point led the DLV house band, has spent years archiving the history of jazz in Montclair. In addition to being a musician, Tyler studied anthropology at Montclair State University, and started the Montclair Jazz Project in 2003 with television producer Paul Brown and photographer Glen Friesen. The project's initial purpose was to photograph Montclair's many jazz musicians together, in the vein of Gordon Parks' photograph "A Great Day In Harlem." 
It grew into an archive of memorabilia and written records that now resides in the Montclair Public Library.
"This strange thing came to mind," Tyler told me, sitting alongside Marable at DLV. "There is no history of jazz here. I started thinking of Black history in Montclair. How well documented is this? And it led to the music thing."
DLV opened just five years after the 1967 Newark riots. It was a time when towns like Montclair were reckoning with issues of race and class. It was a transition that, at times, wasn't met with the warmest of intentions.
"Prior to my family ownership, very few Black people came to (Montclair). A lot of the places in Montclair during the early '70s, when Black people came in, they would break the glasses to let you know you really weren't welcome," Marable said.
But the musical contributions of Black people had long been welcome. Montclair and Tyler ran down a list of some of the jazz greats who've performed in Montclair: Cal Bassey, Johnny Lytle, Big John Patton, Ed Cherry, David Murray. The list goes on and on. Even before DLV became known as a jazz lounge, artists would hang out there between shows. 
"There were three Black-owned places in Montclair — The Sterlington House, The Willow and DLV," Marable recalled. "The artists would play at The Sterlington, but when they took a break, they would come here and to The Willow." 
Black residents and visitors had a trinity of clubs where they would be welcome and safe, he said. But there was a downside, he said — if crime happened anywhere near the clubs, it would be associated with the clubs themselves, even if there was no connection.
"I remember practically anything negative that happened, the papers would refer to it as happening in or near DLV," Marable said.
And so DLV and the other clubs developed a bad reputation, he said. He declined to provide specific examples. It's clear DLV's reputation is dear to Marable; conjuring up the ghosts of past incidents isn't worth it.  
Talking to Marable and Tyler about jazz, I'm reminded of my own hip-hop roots, growing up in the Bronx — and the parallels between the two genres, how they were received by the greater public. The world found hip-hop music fascinating, but was wary of proximity to those who created it. Both jazz and hip-hop were culturally unifying forces, and that unification scared a lot of people.
When I ask Tyler what he's gleaned from his years documenting the history of jazz in Montclair and from his time performing, he answers: "Montclair has always been a jazz community, and from what I've seen that community is rooted in the Fourth Ward and South End. I believe the music was a larger factor than sports, when it came to integration."  
At DLV, Marable maintains a strict code of conduct, he said. Cursing is to be kept to a minimum, while raunch and harassment will get you tossed.
"I come across harsh at times, but sometimes you have to be," he said. "You have to let people know what you stand for and what you want. If not, they will run you."
Montclair's history of race and class is as nuanced and complicated as the music itself. It's a town that prides itself on inclusivity in a way that can sometimes accentuate its ideals more than its reality, to the point the rougher edges of history get buffed down to a glossy sheen.
We can never forget that the makeup of the Fourth Ward, which Tyler credits for bringing jazz to Montclair, is itself a product of redlining and segregation. Montclair's progressive aspirations are, in part, motivated by a desire to correct the errors of its past — and that's OK. More than OK, it's admirable.
For the last 50 years, DLV Lounge has woven itself into Montclair's fabric, most of that time with Marable sitting at the stool near the front door. It's time we all stopped by and soaked in the history and community that sits behind its door. 
Just try not to curse while you're there. 
This article has been updated to correct the spelling of the Sterlington House's name.