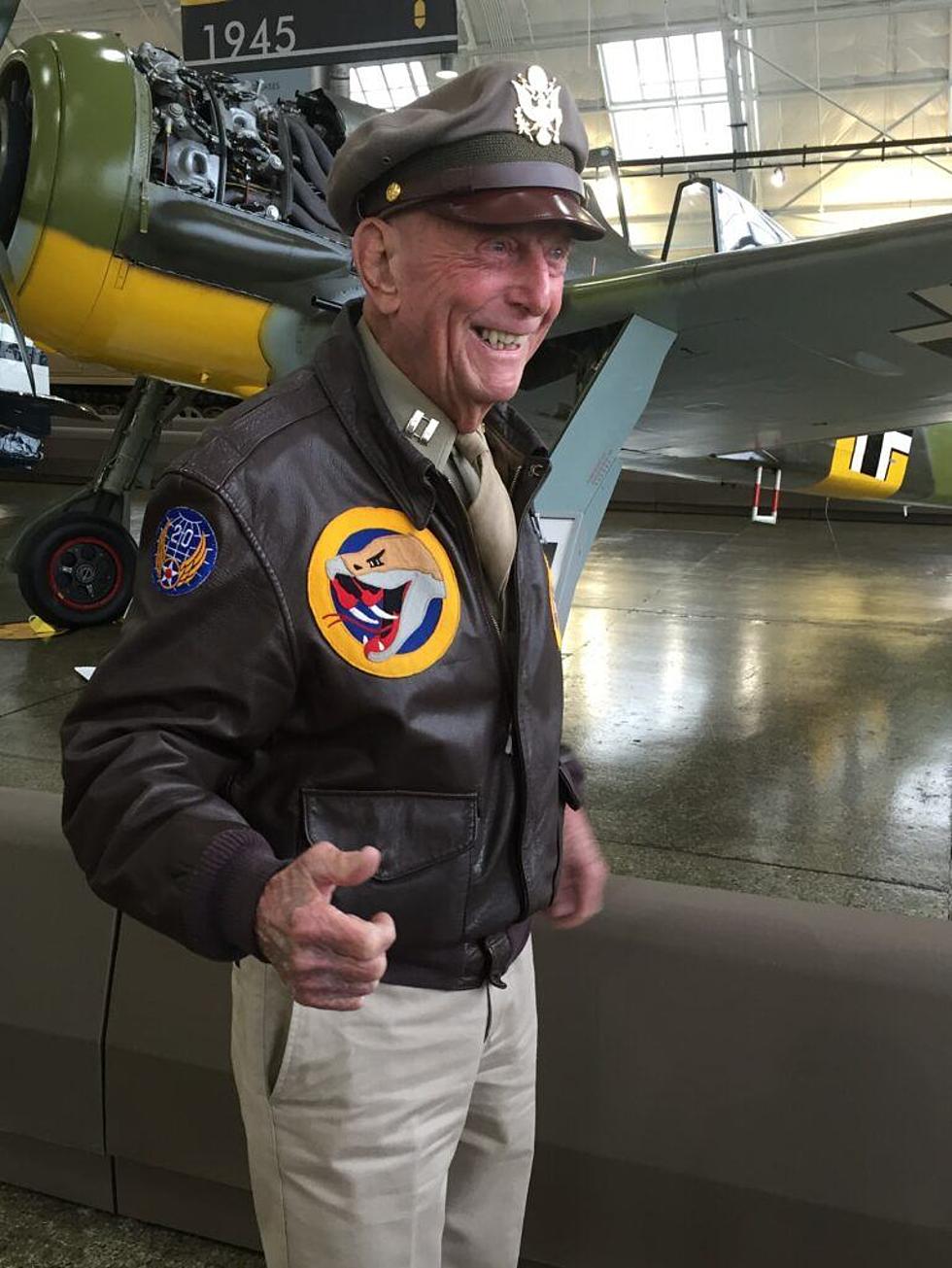 Montclairian's father, Jerry Yellin, a WWII hero
Jerry Yellin, a World War II hero, worked to help vets with PTSD. Here he is in 2015, at the Snohomish County Airport in Seattle. COURTESY MICHAEL YELLIN
By GWEN OREL
orel@montclairlocal.news
He wore his wounds on the inside.
But Jerry Yellin, who flew in the last World War II combat mission, had them all the same.
Yellin, the late father of Montclairian Michael Yellin, said that he was never really present for his four sons when they were growing up, because he was too damaged.
He died at age 93 in 2017. But long before that, he began to heal himself through Transcendental Meditation, and spent the last 20 years of his life writing books about his service and reaching out to heal other vets.
Now there is a new film about him, "Jerry's Last Mission,"  produced by Melissa Hibbard and Academy Award-winning documentarian Ed Cunningham ("Undefeated") and directed by Louisa Merino. Members of Yellin's family, including Michael Yellin, served as executive producers.
The film had a free sneak preview last week for Veteran's Day week, and the producers are in talks with streaming platforms to find it a home. Its trailer is online.
Not only did Yellin fly in the last bombing mission on Japanese airfields in a P-51 Mustang, on Aug. 14, 1945,  the day before Emperor Hirohito announced surrender, he later came to embrace Japan and its culture when his youngest son, Robert, moved to Japan and married the daughter of a kamikaze pilot.
BROKEN WINGS
In the film, Jerry Yellin talks about being the only one of his original 16-person squadron to survive World War II. He was discharged in 1945 as a captain, and received the Distinguished Flying Cross.
He thought about suicide every day, he says. In his head he talked every day to his buddies who did not make it out of Iwo Jima.
Michael Yellin and his brothers, Steven and Robert, said they were surprised to learn this, during a Zoom Q&A about the movie last week.
"I had no inkling he harbored such feelings," Michael Yellin said.
_______________________________________________________________________
READ: MONTCLAIR WWII VETERAN REFLECTS ON HIS SERVICE
READ: 73 YEARS AFTER THE END OF WWII, VETERAN TO RECEIVE BRONZE STAR IN MONTCLAIR
_______________________________________________________________________
Steven Yellin agreed. "He was always a good father, there when we needed him. When he says, 'I took you here and there but wasn't really there,' it was heart-wrenching."
His sister, Maxine Yellin Giannini, who lives in South Orange, recalled how when they went out to dinner, a crowd would gather around him. He always seemed gregarious and friendly.
But "when he came back he was broken," said Alex Novak, publisher for Regenery of Jerry Yellin's  bestselling book, co-written with Don Brown,  "The Last Fighter Pilot" (2017).
Yellin wrote four other books: "The Resilient Warrior: Healing the Hidden Wounds of War" (2010), a book about his struggle with post-traumatic stress disorder and how Transcendental Meditation saved his life; "Of War and Weddings"  (2011), an autobiography; "The Letter," a novel about divisiveness in religion and politics, and "The Blackened Canteen" (2011), a historical novel based on a true event on June 20, 1945, when two American bombers collided in mid-air. A Japanese farmer in Shizuoka took the risk to bury the remains of the airmen with the Japanese killed from the crash. In 1971 another Japanese citizen of Shizuoka began holding annual ceremonial services there. Yoko Ono blurbed the book, writing, "This beautiful story strikes a deep chord with me."
Yellin's story of healing was what attracted Merino, who met him in 2015. She followed him around for the last three years of his life as he spoke to veterans and civilians, including to Japan, where he poured half of his wife's ashes out in a temple. The other half are with Yellin in Arlington National Cemetery.
Yellin saw a rough cut of the film before he died, and was moved by it. 
CLOSETED PAIN
Yellin was originally from Newark, where he experienced anti-Semitism in the 1930s — the wall of his house was covered with swastikas. He spent the last few years of his life living with his son Steven in Orlando, Fla. 
One sign of his internal conflict was a desire to stay in motion, Michael Yellin said. The  family moved many times, including to Israel for most of a year, in the 1960s. For Michael Yellin, the moves were just a big adventure. But in retrospect, he sees them and his father's career switches — first a commercial pilot, then a furrier, then real estate, then working for an internet service provider — as part of his father's instability. 
Another clue was that his father never spoke of his time in the service, Michael Yellin said.
"The only thing I knew about it was that in a closet in his room, he had some souvenirs. He fought in Iwo Jima. He had a bloody Rising Sun Japanese flag, and I believe a bayonet and his medals. He also had some newspaper clippings about him and his squadron." One of the articles was about the brutal raid on Chichijima, an operation that became famous because it was where George H.W. Bush bailed out and almost got killed. 
When he moved to California, Yellin gave those items to the San Diego Air and Space Museum.
Michael Yellin recalled seeing that his father broke down at the movie "Platoon,"  when they are bulldozing bodies into a pit. "It was catharsis for him. In the end, all he talked about was the war, and trying to prevent future wars."
On his last mission his wingman, 19-year-old Philip Schlamberg, was shot down. After the war, Yellin took Schlamberg's belongings to his mother in Brooklyn. "She told my father, 'It should have been you who died, instead of my son.' He understood, but it scarred him for the rest of his life," Michael Yellin said. 
STILL IN SERVICE
As Jerry Yellin found peace, he made it his final mission to bring that peace to other veterans. In the film, he can be seen giving a talk, stating that 23 veterans die of suicide every day.
It was Michael Yellin's mother Helene who first suggested taking up Transcendental Meditation, in 1975. She was also the person who encouraged his father to visit Japan. Though she's not in the film, she's a presence in it, Michael Yellin said.
Jerry Yellin became friendly with a woman whose son had just come back from Iraq and was having a challenging time. His mother asked him to spend time with her son, so he did.
A few weeks later she called him up and asked him how to place medals on a uniform.
"You should ask your son," Jerry Yellin said.
That's when the woman told her that her son had just committed suicide.
That shook him to the core. He made a phone call to Bobby Roth, the CEO of the David Lynch Foundation. Roth had wanted to start a wing of the foundation to help vets overcome PTSD. The Department of Defense had just completed a multimillion-dollar study on the effects of Transcendental Meditation on PTSD, and concluded it was an efficient way to help vets.
So Jerry Yellin co-founded Operation Warrior Shield, to teach Transcendental Meditation to veterans and first responders, and traveled to talk about his experiences throughout the country.
"That was a huge part of his life in his last decade or so," Michael Yellin said. "He felt great camaraderie with those who served, in whatever war and service."
He became the national spokesman for Spirit of '45 Day, which is observed during the second weekend in August and coincides with his last mission. Congress unanimously voted for it in 2010, after Yellin worked with Sens. Daniel K. Inouye and Frank Lautenberg and actor Ernest Borgnine to get it passed.
One of the people he appeared with to promote the day is Scarlett Johansson, the grand-niece of Philip Schlamberg, Yellin's slain wingman. 
Michael Yellin said, "He had a life that influenced him that all humanity is one. That message is universal."