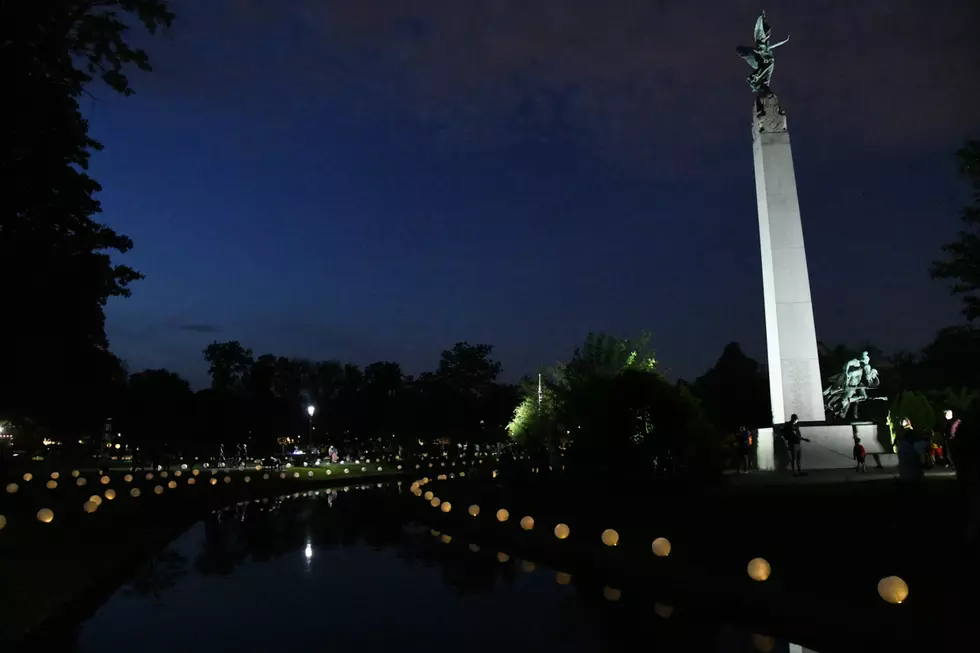 Join us in Montclair in standing against hate (Letter to the editor)
2021's Lantern Festival (KATE ALBRIGHT/FILE PHOTO)
Editor's note: The AAPI Montclair Lantern Festival described in the letter below has been postponed to June 5, from 6 to 9 p.m.
There are so many fires burning in this world. We wish we were ready to consider racial hate extinguished. And yet every moment people of color and marginalized communities have a brief respite to recover from the last hate incident, we are rocked by yet another vicious attack that hits our entire community at its core.
We write this letter just hours after learning about the horrific anti-Black attack in Buffalo — our country's worst racially motivated attack in recent history. Last week, three Korean women were shot at a hair salon in Dallas, adding to the toll of violence against Asian Americans, most of them women, over the past year. We mourn and stand with our neighbors, families, friends, and communities who must confront the viciousness of hate. An attack on one is an attack on all of us.
Hate is alive and it is deadly. It's also not a problem that only exists in "other" places. Here in New Jersey, anti-Black and anti-Jewish bias continued to account for the majority of reported bias incidents in 2021, with incidents against LGBTQ+ communities also climbing steeply. Anti-Asian hate crimes, far from receding with the pandemic, increased 87% in 2021.
We don't have to choose between the injustices we'll care about in a given year. If there's any hope, it's in listening to our hearts and letting ourselves care about it all. We do the most to combat hate when we come together as a community and work in solidarity.
As we recognize Asian American and Pacific Islander Heritage Month, we remember how in 1983, when a judge let Vincent Chin's killers off with probation and a small fine, a coalition of churches, synagogues and Black activists united with the Asian American community for protests that led to the first federal civil rights trial for an Asian American. This is just one striking example from a long, submerged history of solidarity that lives on today and inspires us as a constant reminder of our shared path forward.
AAPI Montclair's second Lantern Festival for Justice and Remembrance this Friday, May 20, at Edgemont Park at 7 p.m. will honor this history, as we again create a powerful setting — lighting 2,000 lanterns to remember those lost to hate — in which to renew our collective commitment to fighting for justice. The hate that not only scars, but kills, is still with us; please join us in standing against it.
Amber Reed, president, AAPI Montclair
Jeffrey Chang, advocacy chair, AAPI Montclair
Editor's note: Amber Reed is married to Justin Jamail, a member of the Montclair Local's governing board.
---
Montclair Local's Opinion section is an open forum for civil discussion in which we invite readers to discuss town matters, articles published in Montclair, or previously published letters. Views expressed and published in this section are solely those of the writers, and do not represent the views of Montclair Local. 
Letters to the editor: To submit a letter to the editor, email letters@montclairlocal.news, or mail "Letters to the Editor," PO Box 752, Montclair, NJ, 07042 (email is preferred). Submissions must include the name, address and phone number of the writer for verification. Only the writer's name and town of residence will be published. Montclair Local does not publish anonymous opinion pieces.
Letters must be no more than 500 words in length, and must be received by the Sunday prior to publication to be eligible for use in any Thursday print issue. Letters may be edited by Montclair Local for grammar and style. While our goal is to publish most letters we receive, Montclair Local reserves the right to decline publication of a letter for any reason, including but not limited to concerns about unproven or defamatory statements, inappropriate language, topic matter far afield of the particular interests of Montclair residents, or available space.
Town Square: Montclair Local also accepts longer-form opinion essays from residents aiming to generate discussion on topics specific to the community, under our "Town Square" banner. "Town Square" essays should be no more than 750 words in length, and topics should be submitted to letters@montclairlocal.news at least seven days prior to publication.