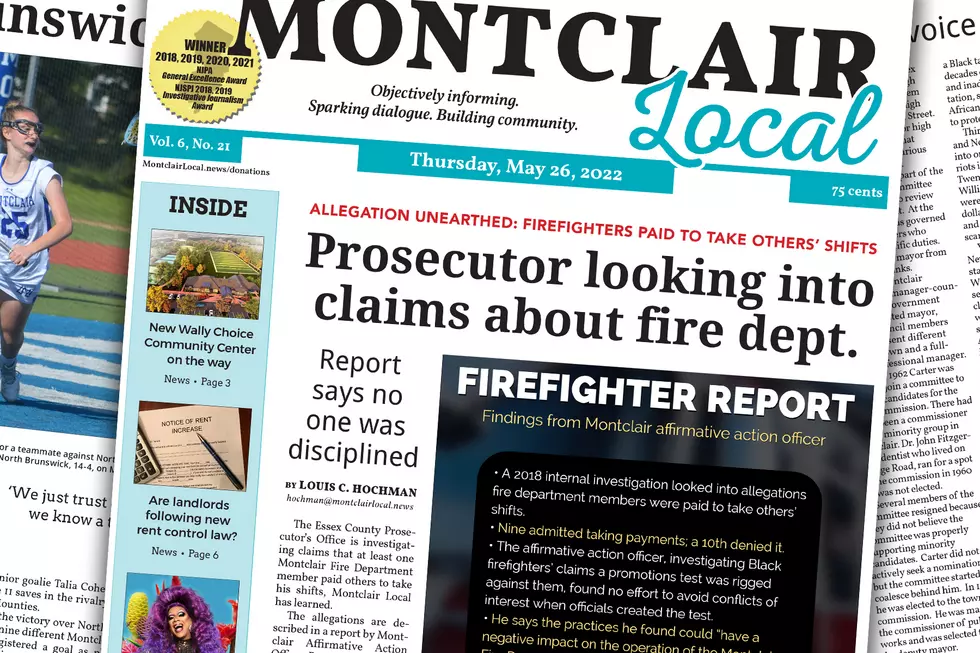 Journalism like this doesn't just happen. Montclair Local needs you.
There's a fact you're certainly aware of, but that we find doesn't always hit home when we talk to members of the Montclair Local Nonprofit News audience: The website you're reading now and the newspaper many of you receive every week don't just happen.
Of course, you understand this is the product of hard-working journalists. But many of those we encounter don't realize, at first, what a rare thing it is for a community in 2022 to have a full, independent team of reporters and editors at its service. There's a luxury in being able to take that for granted — and we hope Montclair Local will be able to serve you for years to come, as something you can depend on, something you know is always going to be a resource at your disposal.
In my 24-or-so years as a journalist, I've watched so many local publications wither and die. I've seen once-proud journalistic institutions ride high on their brands while giving audiences less and less. It's not, generally, about malice and greed (though some companies I won't name here might reasonably be accused of it) — it's that the time of dedicated professionals is expensive, and the old models for supporting their efforts just don't work anymore. 
We could blame the forces in play. New Jersey son Craig Newmark founded Craigslist, and, boom, the 40% or so of revenue most newspapers took in from classified ads dried up, seemingly overnight. 
Online advertising is a tough racket — it makes up just a tiny portion of our own revenue here — yet print advertising declines industrywide every year.
We could shake our fists at the sky and blame a changing world. But in 2017, our founder, Heeten Choxi, and a team of journalists decided to push back against the tide and double down on a commitment to the idea that an informed community is a better community. In the time since, we've become a nonprofit, and our board and present-day staff continue with that ethic.
A small publication with a staff spread thin, covering several towns, can do a great job getting you community announcements and calendar items. It can echo press releases, and keep you up to speed on those developments organizations and governments choose to celebrate. There's a valuable place for that sort of effort; there's so much information that affects a community, and any help distilling it is welcome.
But look at this week's front page — at our story shining light on an investigation into allegations of firefighters paying one another to take shifts, discovered against the backdrop of another investigation into allegations that a promotions test was stacked against Black department members.
Telling a story like that thoroughly, clearly, responsibly, takes time. It takes dedication. It takes a team of trained, professional, independent journalists, developing ideas together, checking each other's work, thinking through the implications of their findings, cultivating relationships with sources, relying on experience they've developed over years about how to handle complex and sensitive matters.
This particular story is mine, but at all times, every member of our team is developing work that takes ambition, thoughtfulness and expertise. I'm so intensely proud to be part of an organization that makes journalism like that possible so frequently. And I hope we can afford to for years to come.
So many times, we've taken to the pages of Montclair Local to ask you to donate — because our journalism depends on the good graces of a community that believes our work matters. Today, I'm asking you most specifically to become a sustaining member — which is to say, to sign up for a recurring membership of $10 per month or more. You'll get our paper as long as your payments continue. And as importantly, you'll give us the recurring, predictable base of income we need to plan for the future and bring you our next big story, and the one after that.
If you're already a supporter, consider renewing your membership with that ongoing contribution. And if you're already a sustaining member, we can't thank you enough.
Go to montclairlocal.news/membership2022 to start your recurring membership today.
Thank you, as always,
Louis C. Hochman, Editor and CEO, Montclair Local