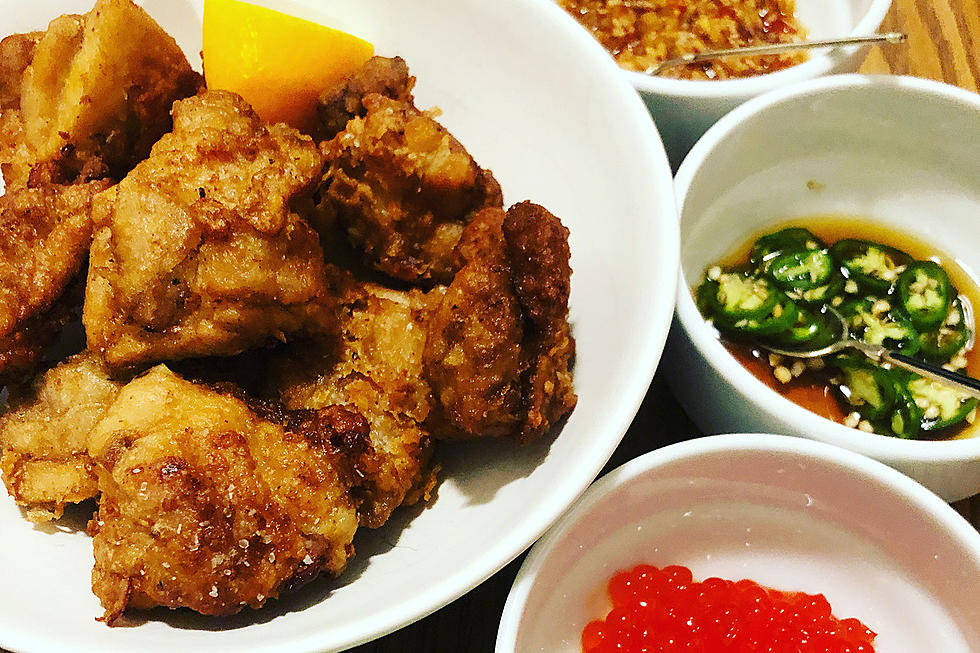 Karaage: Hot to make fried chicken, Japanese-style (Montclair Eats)
Karaage — a Japanese version of an American favorite, fried chicken — with sides and condiments. (Steven DeSalvo / For Montclair Local)
By STEVEN DESALVO
For Montclair Local
Karaage might not be a word you are familiar with. You also might not think to order it from a menu, but it is a Japanese version of an American favorite: fried chicken. 
Karaage actually refers to the cooking method in Japan; however, it is now synonymous with the fried-chicken preparation. It is not a new food, either, according to the Karaage Institute in Japan (still trying to figure out membership requirements): Karaage has been eaten in and around Japan for over 300 years. 
There are a few important characteristics to karaage that are key to its success. It is made pretty much exclusively from thigh meat. It is marinated up to overnight in a mixture of soy sauce, mirin (a sweeter cooking sake), ginger and minced garlic. It is not battered, but rather dusted in potato starch (corn starch will do), then deep-fried so it is crispy and juicy. 
This recipe is my own take on karaage that I've developed by eating and cooking my fair share. I also prepare it with some quick pickles and other components. These are of course optional. This dish is remarkably easy and delicious. Some Japanese restaurants have their own take on it. For a delicious example in Montclair, I would recommend Ani Ramen, to compare with your own. 
Ingredients
For the chicken
2 lbs. skinless boneless chicken thighs (8 thighs to serve 4); you can also use bone-in thighs and remove the bone, keeping the skin on. Less healthy but very tasty.
4 cloves garlic, minced
1.5 tbs. grated ginger
1 cup mirin (you can mix a tablespoon of sugar into 1 cup of sake in a pinch)
3 tbs. soy sauce
1 package potato starch (corn starch will work well, too)
1 lemon, cut into eighths for serving
At least 1 quart of vegetable oil for frying
For quick pickles
1 English cucumber
3 tbs. seasoned rice vinegar
For ginger soy condiment
1 tbs. grated ginger
1 tsp. chili paste (if you are sensitive to spice, add less)
1 tbs. soy sauce
1 tbs. seasoned rice vinegar
Instructions
For the chicken
1. Slice the chicken thighs into quarters and place them in a large bowl.
2 Add the minced garlic, ginger, mirin and soy sauce, mix very well, cover and marinate for at least an hour, up to overnight.
3. Pour a cup of potato starch into a flat-bottomed bowl.
4. Put the chicken in a few pieces at a time, tossing in the starch and being careful to avoid clumping. Be sure to tap away extra starch.
5. Heat frying oil 2 inches deep in a large pot to 350 degrees.
6. Fry the chicken until it is crispy and golden brown, 5-7 minutes. Remove and drain on paper towels. Season with salt shortly after taking it out of the oil.
7. Garnish with a lemon section.
For the quick pickles
1. Slice the cucumber thinly and transfer to a small bowl.
2. Pour on the vinegar, stirring to coat the cucumber evenly.
3. Let sit for 30 minutes to an hour.
For the ginger soy condiment
1. Mix the ginger, chili, soy sauce and vinegar in a small bowl.
2. Let sit for 30 minutes to an hour. 
I strongly suggest serving a component alongside the chicken. I really like the two listed here because of how much acid they have, which is important for balancing the fat in the chicken. Feel free to pickle basically any other vegetable using the same method as the cucumber. Also, you can add grated garlic to the ginger soy condiment for another level of intensity. Let us know how yours turns out!
In 'Recipe of the Month' food writer Steven DeSalvo shares a recipe Montclairians might enjoy making. DeSalvo has a degree in hospitality business management from the University of Delaware and has worked extensively in restaurants and hotels. If there is something you want to know how to make, or you've eaten a dish at a local restaurant you are dying to make at home, drop us a note at culture@montclairlocal.news.