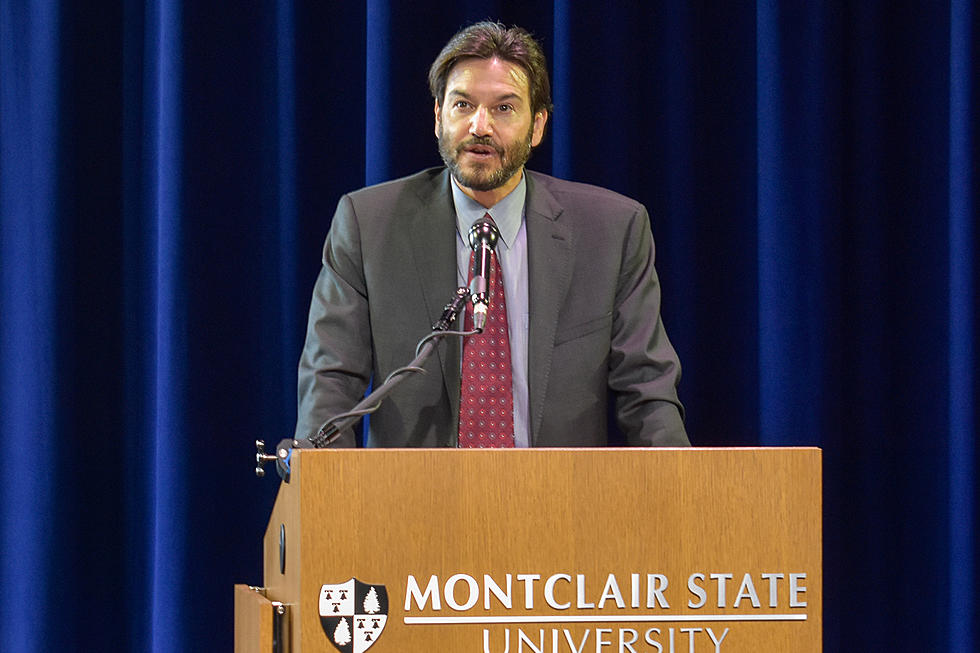 Koppell is new Montclair State University president
Jonathan G.S. Koppell will become the ninth president of Montclair State University on Aug. 2, succeeding Susan A. Cole. (DIEGO JESUS BARTESAGHI MENA / STAFF)
By DIEGO JESUS BARTESAGHI MENA
bartesaghi@montclairlocal.news
The next and ninth president of Montclair State University will be Jonathan G.S. Koppell, the school's board of trustees announced Tuesday. 
The school, in a written announcement, described Koppell as a "nationally regarded scholar of policy, organization and management who transformed the public affairs college at Arizona State University into one of the largest, best and most innovative in the nation."
He'll assume the role Aug. 2.
Koppell, in a press conference Tuesday, said he's focused on MSU.
"Like I said to the committee, discussing this opportunity: I don't want to be president of a university. I want to be president of this university," he said. "It is so moving to me to have this opportunity, to realize the vision of higher education in this country, through Montclair State University."
During his decade-long tenure as dean of Arizona State University's Watts College of Public Service and Community Solutions, enrollment doubled, making it the nation's larges public affairs college and serving more than 9,000 students, according to the MSU announcement.
It said under Koppell, the college "significantly" improved student retention and graduation rates through student support initiatives. The announcement also said Koppell quadrupled fundraising for Watts, securing one of the largest gifts in its history. 
Koppell on Tuesday said he believes "inclusiveness, diversity and excellence are non-negotiable intertwined values essential to delivering on the university's promise of opportunity and intellectual growth." 
He said community engagement is essential.
"It isn't about the university coming into the community and doing stuff," Koppell said. "It is about the university, its faculty and staff, and students becoming equal partners with members of the community, who together will take on our shared challenges."
Koppell will also meet with community leaders in Montclair, and surrounding communities, to create lines of communication between the university and the community, he said.
"I would like the community to feel a sense of pride by virtue of their connection to this university and that they feel a sense of ownership," Koppell said. "Whether they went here or sent their child here, they still feel a sense of ownership over it."
He said building and creating research opportunities for students can help them succeed well beyond their years at the school.
"It is not hyperbole to say that our democracy requires robust public universities functioning as engines of access, inclusion, achievement, and discovery in order to thrive," Koppell said.
Koppell will succeed Susan A. Cole, who is retiring after 23 years in the role.
The university, in its announcement, said Cole "recruited a highly diverse student body, hired hundreds of talented faculty members, opened four new schools and colleges, built some 4 million square feet of new academic space and modernized many teaching and research facilities, added housing for thousands of students, installed a highly efficient energy infrastructure that includes one of the few campus microgrids in the nation and added a train station providing direct access to midtown Manhattan."
Her last year as president was marked by the difficulties of the coronavirus pandemic — with Montclair's first known cases taking place on campus, and a quick transition to online learning for all students. The school froze tuition for 2020-2021 in response to the pandemic, but also saw students petition for tuition refunds.
Cole announced her retirement, to take place at the end of this academic year, in September.
"Over the past two decades, Montclair State has evolved into a large, highly complex research university, expanded our service to New Jersey and the nation and built on the historical values of this institution to create a welcoming and supportive university dedicated to serving students who aspire to lives of accomplishment and contribution to society," Cole said in the announcement. "I am confident that Jonathan Koppell understands this University and will work with the campus community to continue to secure a meaningful future for Montclair State and the students and the state it serves." 
Koppell will face some challenges as the incoming new president. 
Koppell will also oversee the return to in-person learning this fall, with required vaccination for students coming back to campus. And even though employees are not required to get vaccinated, Cole said most employees are getting the vaccine.
"So we will have a safe campus. And one that looks the way it did in 2019," Cole said during Tuesday's event.
From 2005 through 2009, Koppell was associate director and then director of the Millstein Center for Corporate Governance and Performance at Yale University. He was director of the School of Public Affairs at Arizona State University from 2010 until 2013.
At ASU, he's also been the vice president for public service and social impact.
Koppell has served on the boards of several community and nonprofit organizations and has been a visiting scholar at the Brookings Institution, a Markle Fellow at the New American Foundation and a Fulbright Lecturer in Shanghai, China, MSU said in its announcement Tuesday.
He's originally from the Northeast, having grown up in the Bronx. The MSU describes him as a "lifelong Yankees and Jets" fan.
He is the son of a former dean and professor at Ramapo College, Kathleen Sunshine, and former New York State Attorney General, state Assemblyman and New York City Council Member G. Oliver Koppell.