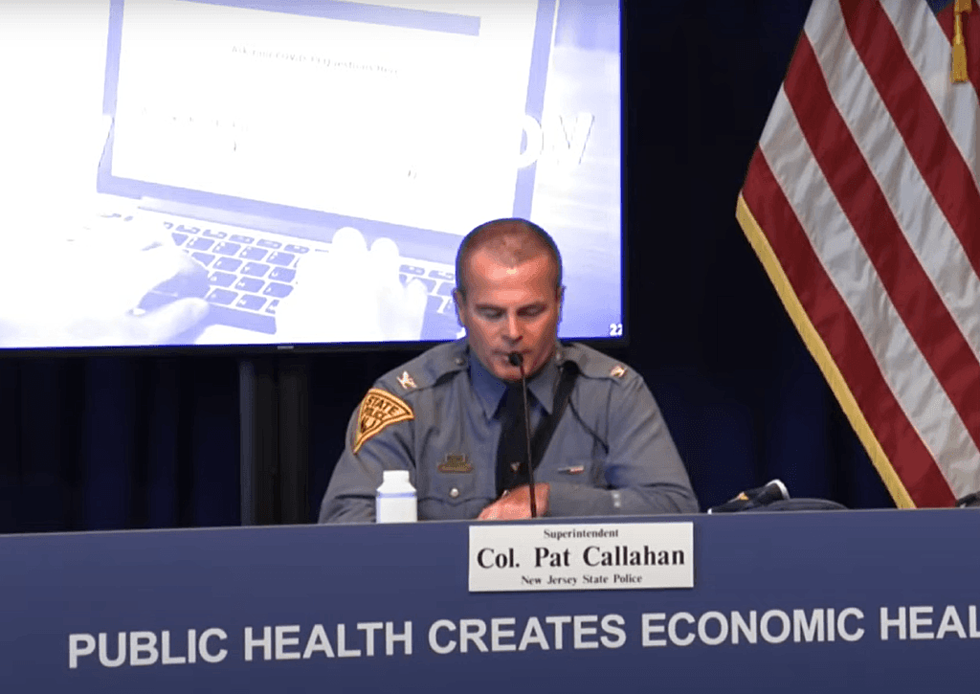 COVID-19: Officials warn against large gatherings, indoor parties amid virus transmission among young people
COURTESY STATE OF NEW JERSEY State Police Superintendent Pat Callahan speaks at a Sept. 16 press briefing in Trenton.
By ERIN ROLL
roll@montclairlocal.news
The positivity rate among teens and young adults has risen even higher state officials said today, Sept. 16.
The positivity rate among people ages 14 to 18 was 3 percent in mid-August, 4 percent last week and now stands at 7 percent, she said. For people ages 19 to 24, the positivity rate has gone from 2.7 percent in mid-August to 6 percent last week, to 7.1 percent as of today. 
Many clusters of COVID-19 outbreaks are the result of parties and social gatherings, Health Commissioner Judith Persichilli said. 
State officials rebuked a group of YouTube influencers whose appearance in Seaside Heights on Monday, Sept. 14, drew 1,500 young adults, many without masks, and required several different police agencies to break it up. 
Media reports indicated that YouTube personalities the Nelk Boys, known for making appearances at college campuses and other venues, and for doing prank-type acts, had come to Seaside Heights to make an appearance in front of the "Jersey Shore" house. 
At today's press briefing in Trenton, Gov. Phil Murphy condemned the event as "an extreme and most egregious display of knucklehead behavior. 
"It was irresponsible from top to bottom in every respect," Murphy said, saying that influencers need to be held responsible for consequences caused by their actions. 
Disorderly conduct charges were filed due to people throwing rocks and bottles at police officers and at least eight people were arrested, said State Police Superintendent Pat Callahan. 
"I know he [the mayor] is pulling his hair out over what happened on Monday, and so is the police chief," Murphy said about his phone conversation with Seaside Heights Mayor Anthony Vaz and other town officials.  
Persichilli reiterated that New Jersey health officials are concerned about transmission of COVID-19 among young people.
Earlier in the summer, health officials were concerned about graduation parties, such as one in Middletown where several attendees eventually tested positive for COVID-19. In July, Montclair postponed its in-person graduation due to COVID concerns after young adults held graduation parties.
"Now is not the time for indoor parties. These activities allow the virus to spread," Persichilli said. 
Murphy said that New Jersey is "not remotely close" to allowing people to resume gathering in packed numbers in bars. "So what makes people think that a house party is any different?" 
Long-term care
Murphy was expected to sign four bills into law related to long-term care facilities in New Jersey on Sept. 16. The new laws will set up an emergency operations center to address long-term care within the Department of Health, establish a task force on long-term safety and care, increase the minimum wage for long-term care staff and authorize a temporary rate adjustment for long-term care providers. 
Long-term care facilities have been hit especially hard during the pandemic, with roughly half of the total COVID-19 deaths being reported among residents and staff at facilities. 
Today's numbers
As of today, Sept. 16, New Jersey health officials reported 447 new positive cases, down from 498 new cases on Sept. 15, bringing the total to 197,792. Murphy noted that today marked the second day in a row with more than 400 new cases. 
The positivity rate has risen from 1.82 on Sept. 15 to 2.06 percent today. The virus transmission rate has remained flat for the past two days, staying at 1.06.
Officials reported nine new deaths, the same number reported on Sept. 15. Of the nine new deaths, seven occurred within the past four days. The total number of deaths now stands at 14,263, and the number of probable deaths has risen from 1,789 to 1,791. Hospitals also reported in the last 24 hours 13 new deaths, which have not yet been confirmed as COVID-19. 
Persichilli noted that the number of hospitalizations is spread out among 71 acute care hospitals in New Jersey, which therefore accounts for a small number per hospital. She also added that during the peak of the pandemic in March and April, as many as 8,300 people were in the hospital on a given day. 
Essex County officials reported 33 new deaths over the past day, now at 1,897. By comparison, last week the highest number of new deaths reported on a given day was 15 on Sept. 11. The number of cases increased by 235 and now total 20,687. By comparison, only 17 new cases were reported on Sept. 15. On Sept. 14, the case number was revised downward by 25. 
Montclair health officials reported no new cases today and the number remains at 545. The number of deaths remained at 57.