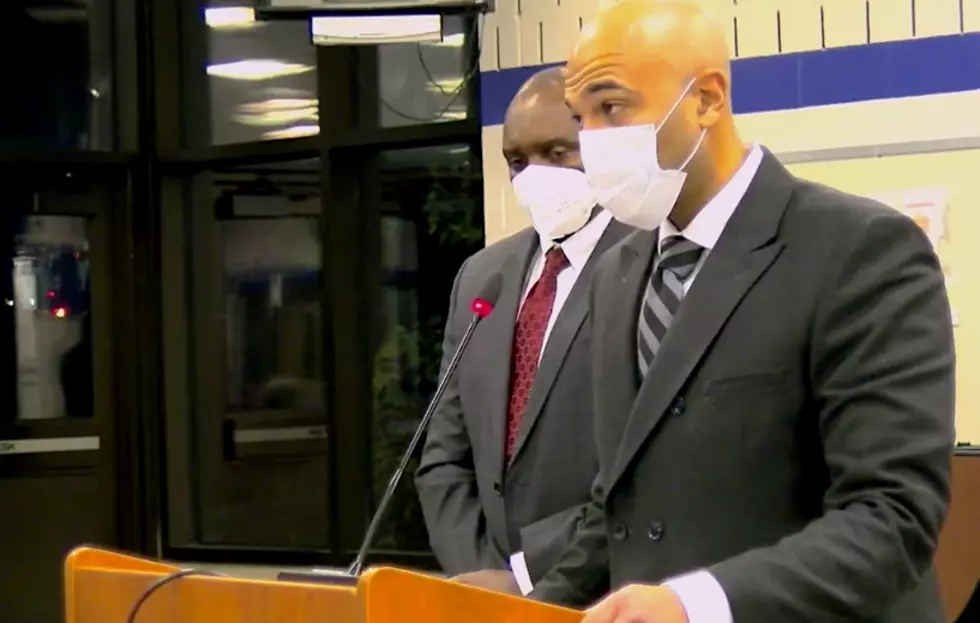 Last year's 'whistleblower' in touch on this year's Montclair schools investigation, too
Robert H. Kelley at a Montclair school board meeting
(FILE PHOTO)
The same Montclair schools employee who alleged years of unaddressed health hazards and an abusive work environment in a 32-page "whistleblower" letter last year has been part of correspondence on a new complaint — one regarding allegations of discriminatory statements made by a Montclair school district staff member.
Robert H. Kelley IV's letter in April 2021 set off an investigation — one that schools Superintendent Jonathan Ponds ultimately said found "unacceptable" behavior among some employees. He alleged buildings and grounds staffers were mistreated for years, and that in the process health and safety hazards were allowed to fester in district schools. The district hired former Wood-Ridge schools Superintendent Nicholas Cipriano in June 2021 to conduct the investigation, then in August hired him to by Montclair's new business administrator, succeeding Emidio D'Andrea — one of the officials he'd just investigated.
In emails dated Feb. 11 to 23, 2022, Kelley communicated with Damen Cooper, the district's director of personnel, Montclair Board of Education members and other district staff regarding another ongoing investigation, information provided by the district to Montclair Local in response to a public records request shows.
The district didn't turn over the correspondence itself, citing exemptions to the state's Open Public Records Act related to personnel matters and investigations. But it did provide a Vaughn Index — an accounting of what documents are being withheld. That reflects several email chains involving Kelley that were related to an "ongoing investigation, personnel matter and grievance."
An attorney working with Montclair Local had been in touch with the district's law firm regarding the records request. The attorneys agreed the district's response would be limited to correspondence regarding an investigation launched earlier this year that school board President Latifah Jannah in March described as about "a complaint alleging discriminatory statements made by a member of our staff."
Kelley has not responded to emails sent to his district address since March 20 asking about the investigation. Tyreek Hunter, the district's other buildings and ground supervisor, declined to comment on the investigation.
On March 2, the board approved a contract with Charles Ford to conduct the investigation, at a rate of $150 per hour, capped at $10,000 without additional board approval. No additional information about the investigation was provided in the agreement.
That meeting was also the last attended by Cipriano, who appears to have parted ways with the district. In April, the board hired acting business administrator Paul Roth at a rate of $835 per day, without explaining why the position was needed. Then, at a May 16 meeting — when board member Eric Scherzer questioned the state of the district budget, Ponds said he'd previously relied on assurances from "former" administrator Cipriano.
During an April 29 meeting with Buzz Aldrin Middle School science teacher Daniel Taylor, Ponds blamed Cipriano for errors made by the district, "calling his actions nefarious on several occasions," Taylor said at a May 25 board meeting. Update, June 7: He later clarified that was regarding a specific situation involving himself and communication from the central office, but not all errors made by the district.
Asked if Cipriano was still employed by the district, Ponds told Montclair Local last week he couldn't comment on personnel matters. As of May 31, the district's website still listed Cipriano as its business administrator, though he wasn't listed in the district's searchable staff directory (and Roth was).
Ponds has also said he can't comment on the investigation or Roth's hiring as personnel matters. Cipriano has not responded to emails sent to his district address or voicemails left on his office phone since March 3. Jannah, board Vice President Priscilla Church and Scherzer have all referred questions to Ponds.
In Kelley's 2021 letter, titled "The Price of Leadership," he cited dozens of instances in which he says officials bullied or sought to undermine employees they deemed disloyal, engaged in racist or sexist treatment of staff, refused to deal with urgent maintenance issues and lied to state health investigators about facilities problems.
The findings of Cipriano's investigation into that letter remain confidential, but the investigation found a disrespectful work environment that fostered negativity and cultural insensitivity, Ponds said at a Nov. 22 school board meeting. Cipriano was paid $28,930 for the investigation, according to an August bill report by the district.
An accounting by Montclair Local last year, based on contract dates and billing, suggests a very tight timetable between Cipriano's work as an outside investigator and his hiring as business administrator last year.
If Cipriano began working eight-hour days the day his contract was signed (June 22), skipping only weekends and Independence Day, he would have concluded his investigation on July 26. That's the same day he was approved by the Montclair board to be administrator, at a salary of $190,000, and it's 10 days after the Essex County Superintendent of Schools office separately signed off on his hiring, according to a board agenda.
The district checked with legal counsel to ensure no rules or regulations were violated when hiring Cipriano as business administrator, Ponds told Montclair Local in August.
Journalism like Montclair Local's is only possible because of the continued support of our members. Sustaining memberships of $10 a month or more entitle you to our print edition, and help provide us with the stable, predictable financial base that helps us plan to bring you important journalism for years to come. If you value this article or others from Montclair Local, consider becoming a sustaining member; sign up with the form below.