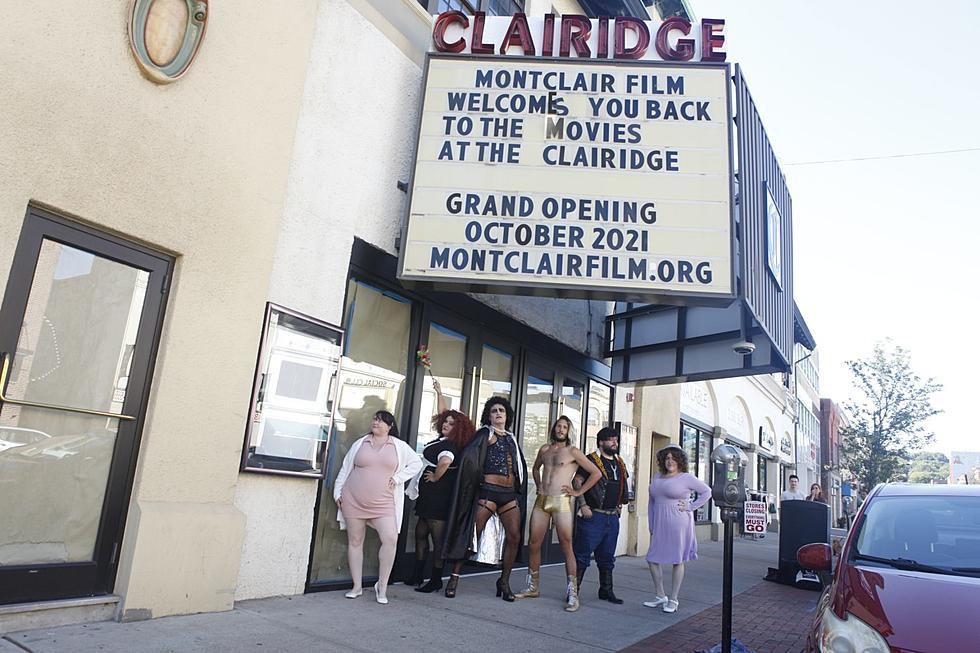 Let's do the 'Time Warp' again! 'Rocky Horror Picture Show' returns to Montclair
The cast of "The Rocky Horror Picture Show" outside of the Clairidge Cinemas. COURTESY OF THE ORDINARY KIDS
By DIEGO JESUS BARTESAGHI MENA
bartesaghi@montclairlocal.news
Just in time for Halloween, "Rocky Horror" fans will once again be able to don their fishnet stockings and high heels to do the "Time Warp." 
The 1975 cult classic "Rocky Horror Picture Show" returns to Montclair on Mischief Night after a four-year hiatus. 
The "strange journey" will happen at the Clairidge Cinemas as part of the Montclair Film Festival on Oct. 30 at 9 p.m. The show will also welcome the cast of The Ordinary Kids, a live performing troupe made up of diehard fans.
"Rocky Horror" will be one of several shows at Claridge Cinemas after the theater shut down at the start of the coronavirus pandemic.  In June, Montclair Film Festival officials announced they will be operating and reopening the Clairidge Cinemas.
"Rocky Horror" had a longtime presence in Montclair, from 2003 through 2017 at the Bellevue Theater, with many members of The Ordinary Kids playing at those shows. The troupe was officially formed in 2020. 
"Almost every single member of The Ordinary Kids at some point was part of 'Rocky Horror' from all over," Adrienne Gans, cast director for The Ordinary Kids, said. "As a group, if you will, it's the first time we're performing in Montclair." 
Gans, along with The Ordinary Kids' creative director, Paul DeLarge, and technical director, Michael Hambel, co-founded the troupe last year at the height of the pandemic. 
"It was right when everyone was doing everything virtual. I mean drag shows and concerts, everything was virtual," Gans said. "I wanted to do something slightly different. I reached out to a lot of my fellow 'Rocky' community friends, and I said that I wanted to do a show." 
DeLarge's apartment was turned into a studio with green screens and filming equipment Hambel brought. The group remade the whole movie using green screens, editing and audio to re-create the rumbling of the audience. The performance had almost 200 viewers. 
"It was a labor of love and a lot of sleepless nights to get it ready. It took about a month to do in terms of just editing alone," DeLarge said. "And I got to say, our people really are bringing such talent that I really haven't seen in quite some time. I am really proud of everyone in our group."
Once New Jersey began to reopen again and when Montclair Film announced it would take over the Clairidge, the group approached Montclair Film to bring back "Rocky Horror." 
"I was like it's a shot in the dark. Let's try to reach out. And the world, just everything collided and aligned perfectly. It was love at first sight," Gans said. "Tom [Hall] from Montclair Film has been nothing but a gem. So, we started working with him and the team." 
For the Oct. 30 performance, the group prepared content from mixed media to show before the movie. There will be a master of ceremonies, "Rocky Horror" style, who will introduce the show as well as going over COVID protocols.
In years past, "Rocky Horror" live performances have depended on audience members' participation, such as screaming at the screen and at the actors, singing their heart out to every song and throwing props such as rice at newlyweds Janet Weiss and Brad Majors or confetti at the end of the "I Can Make You a Man" reprise. 
The interaction will be there, it's "Rocky Horror" after all, but it will be slightly different due to COVID restrictions. 
Prop bags will be sold with instructions on when to use the props.
"So even if you've never seen the show before, you have at least an idea," Gans said, adding there won't be any touching.
One thing that is not changing is the dress code. Gans and DeLarge encourage everyone to show up in cosplay, as a favorite "Rocky Horror" character or any favorite character. 
"If you want to do a maid's outfit and you're saying, I'm Magenta, or if you just want to grab the craziest and hottest outfit, or if you have a wonderful suit or dress that you'd never got to wear during COVID, please wear it," Gans said. 
"We're encouraging everyone to dress up, to feel liberated and just let your freak flag fly. And just prepare yourself for a night of fun where nothing around outside the Clairidge doors matters." 
Oct. 30 might be their first performance, but it won't be their last. "It's also going to be our home theater, if you will," Gans said.
The Ordinary Kids will continue performing "Rocky Horror" live in-person each month on Saturdays for a year and will continue creating online content for people who are unable to see the performances live. 
Each monthly performance will be different, DeLarge said. The pre-show playlist won't be the same, and instead of videos being screened at the pre-show, The Ordinary Kids will bring live performances and even live music. 
"We're encouraging everyone in our group to do a performance as a different character throughout our 12 shows," DeLarge said. "We have one member that is part of three different bands. So, we may actually have live music at one of these shows at some point. If not, maybe a few times." 
There might also be drag performances in one of the pre-shows, and the group is thinking of doing an ultraviolet show where everything, even the audience, will be wearing black light-reactive costuming. Sort of a "Rocky Horror" neon show, Gans said.
"I want every single show to be different, where the audience has no idea what is going to happen," Gans said. "They know at the end of the day they're going to see 'Rocky,' but they don't know what they're going to expect. You're getting your money's worth, but also you're getting your experience's worth." 
Tickets for the Oct. 30 performance are available at montclairfilm.org. 
The Ordinary Kids is also looking for members who would like to participate in the upcoming shows. Visit ordinarykidsnj.com for more information.