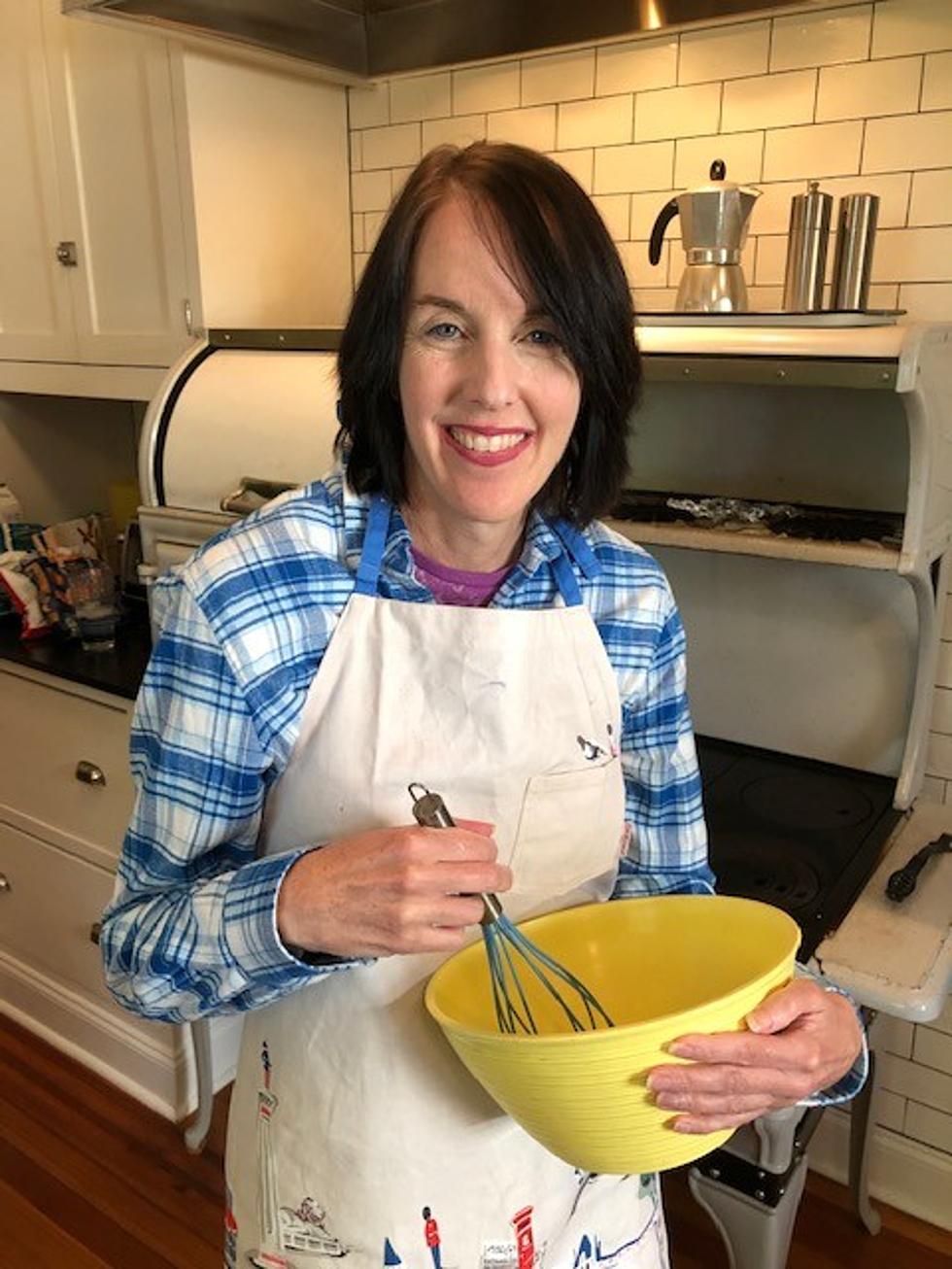 Life under lockdown: a recipe from Mina Edison, wife of Thomas
Beth Miller connects with museum-goers, from her home. COURTESY BETH MILLER
By BETH MILLER
For Montclair Local
My life has always been about the places I visit and the people who inhabit them. Even as a small child I would get up early while everyone else was sleeping, rearrange the furniture in the family room, and invent an imaginary family that lived there. In my made-up scenario I was joining them for Sunday dinner, to find out what they would serve for dessert. 
So it was no wonder that, as an adult, I was drawn to a job where I could work in a place where people visit. As the curator of Thomas Edison's Victorian home, Glenmont, I spent my days wandering through the 29-room mansion, caring for the museum artifacts that make up the fully furnished rooms, rooms that always give me that special feeling when I stand under their sparkling chandeliers and the sun peeks through their elaborate stained-glass windows. 
These spaces give me a sense of place and whisper to me secrets about how the Edison family lived, long before I was born. 
When the world changed and COVID-19 began to spread at an unimaginable rate, a place that had been my sanctuary for the past 30 years was closed down, the shades at Glenmont drawn tight while the world remains at home, anxiously waiting out the pandemic. 
_______________________________________________________________________
READ: LIFE UNDER LOCKDOWN: TENDING TO TURTLES
READ: RECIPE OF THE MONTH: FIRE UP THE GRILL, WITH SUMMER SALMON
READ: COCONUT CAKE AND HISTORY: BAKING TO FIGHT RACISM AND ANXIETY
_______________________________________________________________________
The rich smells of Glenmont, the beeswax on the furniture and the musky odor of old leather, so familiar and comforting to me, were now replaced with teleworking in my living room with the not-so-comforting smells of bleach and hand sanitizer. Overnight, I went from answering the questions of curious visitors at Glenmont to asking the serious and often scary questions raised by the local evening news.
Alone, I sat in my kitchen and drank my morning coffee, wondering how I could create a new sanctuary, form a place of respite, when I couldn't leave my own house. 
I looked around at our historic kitchen, the one that we had returned to its 1928 appearance, with bungalow-style cabinets that my husband had lovingly hand-crafted and the restored 1928 Ourway Deluxe Glenwood stove, complete with warming trays and an oven door that sounds that century-old creak of resistance when I open it.  
Maybe I could still connect with the Edison family and our museum visitors in a new way — even if we couldn't be at Glenmont. I thought of my own family and the comfort of our packed family gatherings, with my mother's army-sized troop of relatives. 
I thought of the comfort food that brought us together and how I cherish the family traditions of serving Aunt Doris' mini cherry cheesecakes and Uncle Jimmy's cucumber salad (which I am convinced my father would rob a bank for), and always eating one too many of Grandmom's cream cheese cookies. 
An idea came to mind. 
And so the "What's in Mina's Recipe Box?" project was born.
By cooking historic recipes from Mina Edison's recipe collection in my own kitchen, I could still share my perspective on history with others, even if I wasn't meeting up with visitors in person when they came to visit Glenmont. 
I realized that, instead of visiting the museum, virtual visitors could visit the museum's Facebook page to take a trip to my Montclair residence to see what was cooking in the kitchen of Mina Edison during the time she resided at Glenmont, from 1886 to 1947. 
Now viewers see me plowing through her old-fashioned recipes, which sometimes turn out great and sometimes leave something to be desired. And when I make these videos, I feel like the whole world is hanging out with me in my kitchen. And somehow this feels familiar and comforting, just like Glenmont.
And that's when I understood that the key to surviving the pandemic was not figuring out how to survive without my sanctuary, the place I could no longer visit, but by making my home someone else's sanctuary. 
Because in the end, the most important thing I was doing during my time at Glenmont was making connections with other people. The Persian rugs and the silk wall treatments, along with those incredible Edison-inspired light fixtures, were just an added bonus. 
And so I'll bide my time, creating my new sanctuary in my own home, until there comes a time when I can return to the place and the visitors that mean so much to me. And you can be sure that the next time I get a chance to stroll through Mina Edison's kitchen at Glenmont, I'll still be wondering what she served for dessert. 
Beth Miller is the curator of Thomas Edison's home, Glenmont, at Thomas Edison National Historical Park in West Orange. "Mina Mondays" posts, such as the historic recipes segment, can be viewed any time on the museum's Facebook page at facebook.com/ThomasEdisonNHP.  
MINA EDISON RECIPE FOR BRUNSWICK STEW
Ingredients
2 lbs. pork
1 medium onion
1 lb. beef
½ lb. butter
3 cans diced tomatoes
1 dozen ears corn
(or 2 cans)
1 teaspoon sugar
A little catsup
A little mustard
3 tbs. Worcestershire sauce
Directions
Cut the pork into cubes. Brown the onion, beef, and pork in a Dutch oven or stew pot with butter. Add the diced tomatoes and stew for 2 hours 15 minutes. Then add the corn and stew for another 45 minutes. Stir often after the corn is added. Add the sugar, catsup, mustard, and Worcestershire sauce at the end, before serving.
Serves 6.