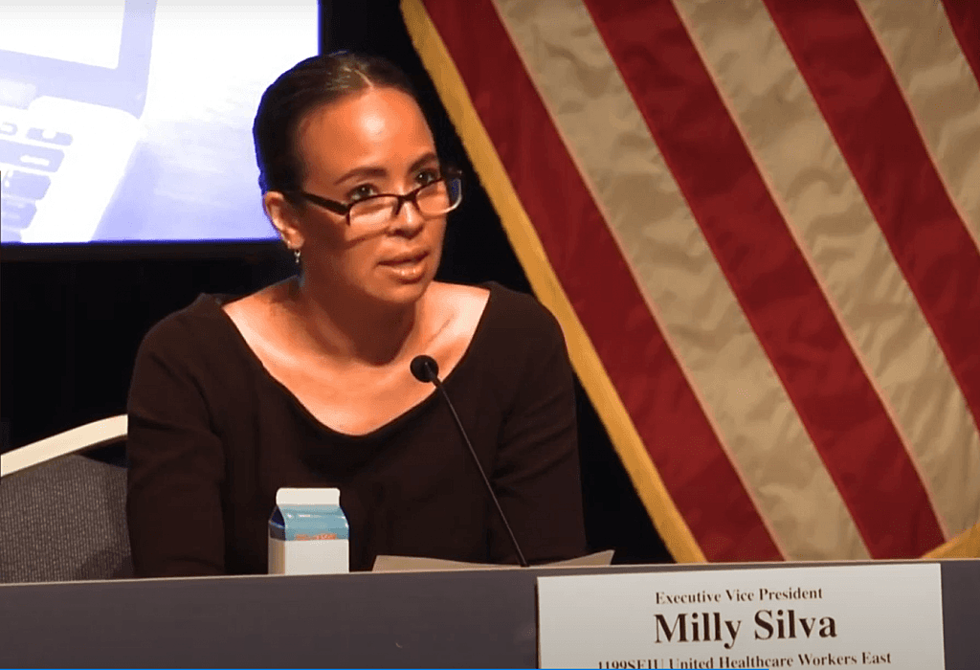 COVID-19: Report recommends overhaul of New Jersey's long-term care operations
COURTESY NJTV Milly Silva, the executive vice president of 1199 SEIU, United Healthcare Workers East, speaks during a Wednesday, June 3 press briefing in Trenton.
By ERIN ROLL
roll@montclairlocal.news
New Jersey's nursing homes and long-term care facilities, which have been particularly hard-hit during the COVID-19 outbreak, are in need of overhauls for health and safety, staffing, pay, and communication, according to a state government report released today, Wednesday, June 3.
"New Jersey is far from alone in this grim reality," Gov. Phil Murphy said, as he announced the release of the report during the day's COVID-19 press briefing. "It is a call for all of us to do better."
COVID-19 did not create the problem, the report said, but instead the virus "exacerbated long-standing, underlying systemic issues affecting nursing home care in New Jersey."
The report made recommendations in five categories: to strengthen nursing homes' emergency response capabilities; to stabilize facilities and bolster the workforce, including making sure that the facilities are sufficiently staffed and that staff are receiving needed pay and benefits; to improve transparency and accountability; and to make sure that nursing homes are sufficiently prepared to address infection control and prevention.
To date, 33,626 residents and staffers in New Jersey's long-term care facilities — which includes nursing homes, veterans' homes and state psychiatric hospitals — have tested positive for COVID-19, resulting in 5,232 deaths, accounting for 44 percent of the state's death toll.
In 2017, one-third of New Jersey's nursing homes were cited for infection control deficiencies, the report found.
After the outbreak of the pandemic, when long-term care facilities were discovered to have been hit hard by COVID-19, the Department of Health commissioned a panel of experts to conduct a review of operations and equipment in the state's nursing homes and to make recommendations.
The panel includes Cindy Mann, the former deputy administrator of Medicare and Medicaid Services, and who was also involved in the implementation of the Affordable Care Act during the Obama administration, and Carol Raphael, the former CEO and president of the Visiting Nurses Service of New York.
Health Commissioner Judith Persichilli praised the review team.
"As a nurse, I started my career as a caregiver, right here in Trenton," Persichilli said, noting that her work included major cities such as Newark, Paterson and Camden.
Milly Silva, the executive vice president of 1199 SEIU, United Healthcare Workers East, which represents nursing home staff in New Jersey, called the report "a very thorough jumping-off point for the road ahead."
Silva said that for the duration of the outbreak, caregivers have been helping their patients at the expense of their health, their safety, and time with their families. Furthermore, she said, when those caregivers do go home, they worry about whether they might spread COVID-19 to their families and neighbors.
"Nursing home residents are not second-class citizens, and neither should their caregivers," she said.
In Montclair, at least 32 people associated with long-term care facilities had died as of April 23, according to county-by-county data that the Department of Health released that month on COVID-19 cases in nursing homes. At least 14 people associated with the Family of Caring nursing home on North Mountain Avenue have died from COVID-19, including the facility's administrator.
The Department of Health ordered all nursing homes to close their doors to visitors and new admissions in March, just ahead of the peak of the outbreak.
Today's numbers
New Jersey is reporting 652 new cases Wednesday, down from the 708 reported yesterday, bringing the state total to 162,068.
The state is also reporting 112 new deaths, up from 51 yesterday, bringing the state total to 11,880.
As of 10 p.m. Tuesday night, hospitals reported 2,252 patients, up from 2,372 the night before. There were 612 critical care patients, down from 639 the night before, while the number of patients on ventilators remained identical, 459, marking the fifth consecutive day that ventilator use stayed below 500.
Hospitals discharged 193 patients and admitted 107 new patients on Tuesday, compared to 151 discharges and 151 new patients on Tuesday.
At 9 a.m. Wednesday, Essex County reported 52 new cases and 14 new deaths, bringing the county total to 17,813 cases and 1,685 deaths.
Montclair reported Tuesday that its total cases had increased from 417 to 420, and that the number of deaths has increased from 49 to 50. Those numbers were unchanged as of Wednesday, according to township officials.
Persichilli reported that two more cases of multisystem inflammatory syndrome in children had been discovered. The state's MSIS total is now 34, all of whom tested positive either for COVID-19 or for antibodies of the disease.
The children range in age from 1 to 18, and six children are hospitalized at this time. There have been no deaths associated with the syndrome to date.
On Tuesday, Persichilli said that the condition, which had initially been described as being similar to Kawasaki syndrome or toxic shock syndrome, is believed to be a new condition, with the common factor appearing to be children who have been infected by COVID-19 at some point.