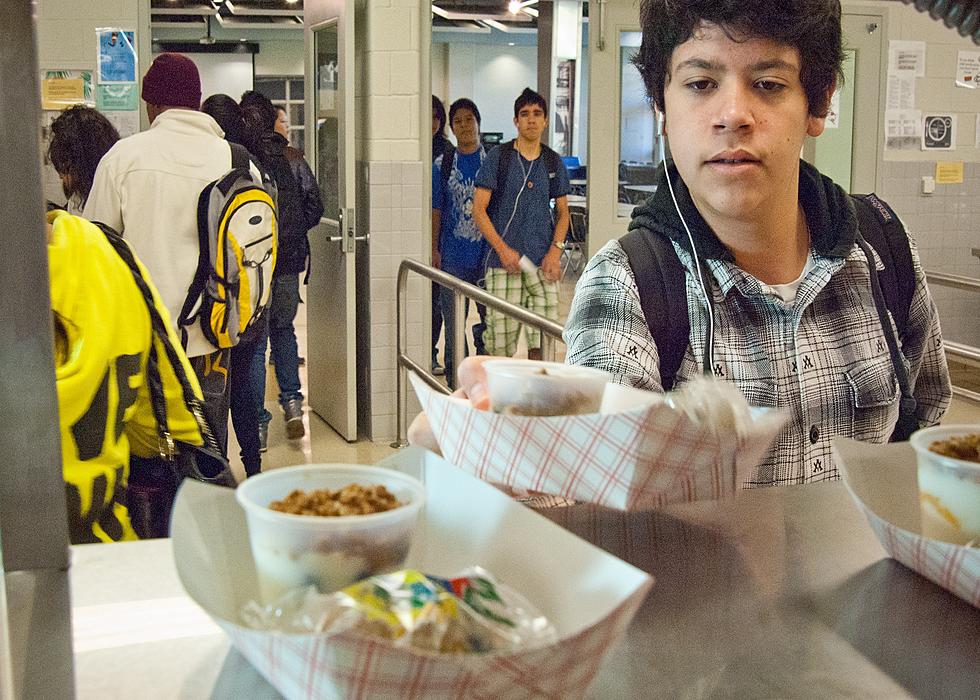 Lunch debt continues to rise in Montclair schools
IMAGE COURTESY WIKIMEDIA COMMONS Students at Washington-Lee High School select a healthy choice of a parfait of yogurt, fruit and granola along with a blueberry muffin for breakfast Wednesday, October 25, 2011, the school breakfast and lunch are prepared by Arlington Public Schools, Food and Nutrition Services for the National School Lunch Program. The National School Lunch Program is a federally assisted meal program administered by the United States Department of Agriculture, Food and Nutrition Service operating in public, nonprofit private schools and residential child care institutions. It provides nutritionally balanced, low-cost or free lunches to children each school day.
By ERIN ROLL
roll@montclairlocal.news
Student lunch debt continues to rise in Montclair, last year to the tune of 30 percent.
Montclair's students had almost $130,000 accrued for unpaid lunches, as well as breakfasts, at the end of the 2018-2019 school year, compared to the $100,000 in balances at the end of the previous school year.
Business Administrator Emidio D'Andrea said that as of June 30, the total amount of outstanding meal balances was $128,840. By comparison, the negative balances were $98,109 as of the end of the 2017-2018 school year.
The amount does include balances that carried over from one year to the next, D'Andrea said. The district did not have the number of students who had outstanding balances or the average balance, he said.
At the end of the 2016-2017 school year, a total of 1,568 students had outstanding lunch balances, with students owing an average of $52 each.
Whether the arrears exist due to economic hardship or students who didn't simply pay is unclear. However, any student who has up-to-date paperwork for free and reduced-price lunch on file with the district did not have an outstanding meal balance.
Each student has an online account through the website MySchoolBucks, and parents make payments into the account through the site. If a student forgets his or her lunch or does not have money to buy lunch, under the district's policy, the student will be provided with a meal.
In 2016-2017, school district officials reported that students owed $107,229 in unpaid debt as of the end of the school year. In response, parents complained to the district that their children had been charged for meals they had not ordered.
If a student's balance is more than $50 in arrears, the district will send the student's family a letter asking for payment within 10 days. If no payment is made within 10 days, a second letter will be sent. The school's principal may also ask the student's family to come in for a meeting.
At the end of the year, unpaid balances are carried over to the next year. However, if a balance becomes unrecoverable, such as if a family leaves the district, a child graduates or if it is otherwise unlikely that the debt will ever be paid, it becomes "bad debt," and the school district becomes responsible for paying it.
Nationwide, 37 percent of students in reduced-price lunch programs do not have the funds to even pay for their subsidized meals. In Montclair, about 15 percent of students are eligible for free and reduced-price lunch. For families on reduced-price lunch, there is a 30-cent copay for breakfast and a 40-cent copay for lunch, which is billed through their accounts. Montclair will not deny a student a meal due to a lack of funds in their account.
Breakfast prices run from $2.10 at the elementary schools to $2.40 at Montclair High School, and lunch prices run from $3.40 at the elementary schools to $3.90 at the high school.
Montclair is not alone in its student meal debt. Seventy-six percent of school districts throughout the U.S. report having unpaid meal debt by students, up from 70 percent four years ago.
School lunch programs operate on tight budgets. While 50 percent of the programs are funded through federal and state reimbursements, meal sales make up the rest of the budget.
Some states, such as Colorado, have eliminated the co-pay for reduced price meals, and the School Nutrition Association reported that this had a positive effect on school meal debt.