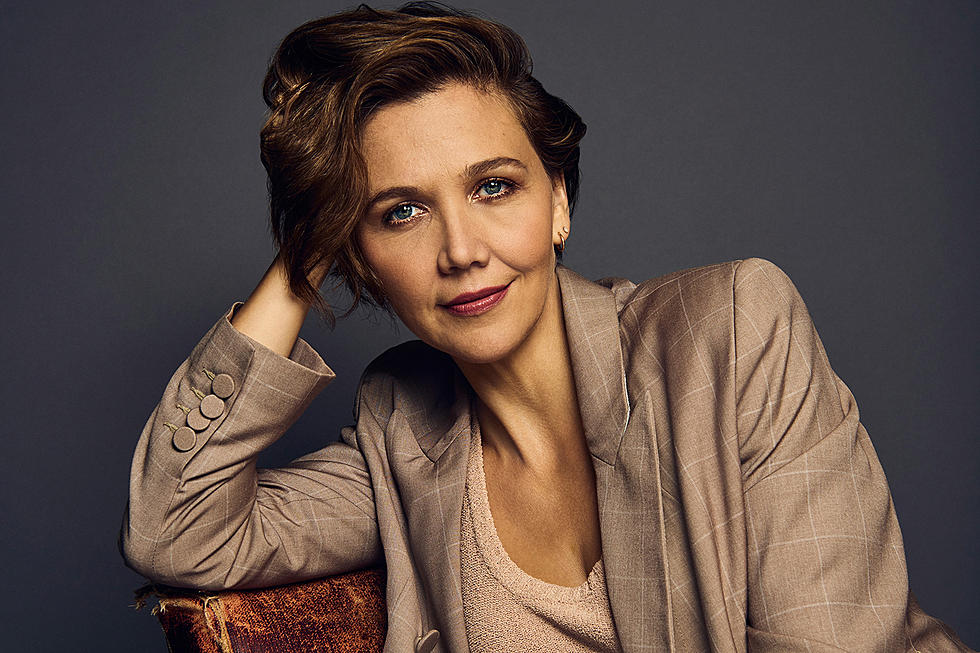 Maggie Gyllenhaal speaks with Stephen Colbert at Montclair Film Festival 2021 (Full lineup announced)
Writer, actor and director Maggie Gyllenhaal will appear at the 2021 Montclair Film Festival in conversation with Stephen Colbert. (COURTESY MONTCLAIR FILM)
Actress, writer and director Maggie Gyllenhaal will appear at this year's Montclair Film Festival alongside the star of her new film, "The Lost Daughter," and join Stephen Colbert in conversation.
Montclair Film on Friday announced the appearance, part of the festival's Storyteller Series, along with its complete lineup, on montclairfilm.org. The festival takes place from Oct. 21 through 30. It includes in-person screenings for fully vaccinated and masked audiences, as well as a selection of virtual programming on Montclair Film's Virtual Cinema platform, also at MontclairFilm.org.
The Storyteller Series conversation with Gyllenhaal and Colbert (a Montclair resident who has taken part in several previous Montclair Film Festivals and related events) will take place at 1 p.m. on Sunday, Oct. 24, at Montclair Kimberly Academy's Upper School. The "Lost Daughter" will follow at 4:30 p.m., where Gyllenhaal present the film alongside star Dagmara Domińczy.
Gyllenhaal will also receive the festival's Breakthrough Director and Writer Award.
The festival had previously announced its initial screening lineup, which includes the return of live performances of Rocky Horror Picture Show to Montclair — now, through newly formed group "The Ordinary Kids" at Clairidge Cinemas, which Montclair Film is reopening after the theater shut down at the start of the coronavirus pandemic under then-manager Bow Tie Cinemas. Live performances of Rocky Horror had a longtime presence in Montclair until 2017, previously presented by the group Home of Happiness, until Bow Tie Cinemas closed the Bellevue Theatre (which, too, is slated to reopen under new management).
The festival also includes partnerships with Out Montclair, a nonprofit organization created this year to raise awareness of LGBTQ issues and provide support and solidarity for Montclair's LGBTQ community, as well as the Trans Affirming Alliance. A free panel discussion on transgender representation in firm will be moderated by Trans Affirming Alliance chair and founder Celeste Fiore on Sunday, Oct. 24 at 6 p.m., at Clairidge Cinemas.
This year's Fiction Feature Competition films are: "Great Freedom," directed by Sebastian Meise; "A Hero," directed by Asghar Farhadi; "MEMORIA," directed by Apichatpong Weerasethakul; "The Souvenir Part II," directed by Joanna Hogg; and "The Worst Person in the World," directed by Joachim Trier.
The festival's fiction film highlights, according to Montclair Film, include Kenneth Branagh's "Belfast;" Mike Mills' "C'mon, C'mon," starring Joaquin Phoenix and Gaby Hoffmann; "The Electrical Life of Louis Wain," directed by Will Sharpe and starring Benedict Cumberbatch and Claire Foy; Céline Sciamma's "Petite Maman;" Rebecca Hall's "Passing," starring Ruth Negga, Tessa Thompson and André Holland; and Pablo Larrain's "Spoencer," starring Kristen Stewart.
The festival's Documentary Film Competition films are: "Bernstein's Wall," directed by Douglas Tirola; "A Cop Movie," directed by Alonso Ruizpalacios; "The First Wave," directed by Matthew Heineman; "Flee," directed by Jonas Roher Rasmussen; and "President," directed by Camilla Nielsson.
The festival's documentary feature highlights, the organization said, include "Carterland," directed by The Pattiz Brothers; "Cow," directed by Andrea Arnold; "Listening to Kenny G," directed by Penny Lane; "Paper & Glue" a JR Project; and "River, directed by Jennifer
Peedom and Joseph Nizeti.
"We have worked hard to bring the best in contemporary cinema to this year's Montclair Film Festival and we could not be more excited to share these films with our audiences," Montclair Film Executive Director Tom Hall said in an announcement from the group Friday. "The past couple of years have proven once again that the global community of film can be the catalyst for bringing people together. And we need that connection with one another now more than ever. So, we will be welcoming vaccinated and masked patrons into newly renovated cinemas to ensure we can come together safely and with respect for one another."
The full program is at montclairfilm.org/festival/2021. Tickets for individual films and events can be purchased on the site as well.
Previously announced:
The festival will open on Thursday, Oct. 21 at 7:30 p.m. with a screening of Wes Anderson's "The French Dispatch" at the Wellmont Theater. The film stars Benicio Del Toro, Frances McDormand, Adrien Brody, Timothée Chalamet, Edward Norton, Tilda Swinton, Jeffrey Wright and Owen Wilson. It tells the story of a group working to publish "The French Dispatch," a fictional magazine. The screening is co-presented by Investors Bank.
On Friday, Oct. 22 at 7:30 p.m. the Wellmont Theater will screen Jeymes Samuel's "The Harder They Fall," the festival's fiction centerpiece. The Netflix release is described as a "new school western," and stars Jonathan Majors, Idris Elba, Zazie Beetz, Edi Gathegi, R.J. Cyler, Regina King and LaKeith Stanfield.
On Friday, Oct. 22 at 6:30 p.m. will be an outdoor screening of the animated film "The Mitchells vs. The Machines" at Lackawanna Plaza, as the festival's family centerpiece. The film follows the Mitchell family driving their daughter to college when electronic devices try to take over the world.
On Saturday, Oct. 23 at 4 p.m. at the Wellmont, in partnership with Out Montclair, will be "Dionne Warwick: Don't Make Me Over," a documentary about the life of New Jersey native artist Warwick. The documentary, the festival's nonfiction centerpiece, follows Warwick's life and career, and her work as an advocate for AIDS research. Warwick and director Dave Wooley will be in attendance for a post-screening Q&A.
On Saturday, Oct. 30 at 4:30 p.m. at the Montclair Kimberley Academy Upper School will be Jane Campion's "The Power of the Dogs," the festival's closing film. It follows two brothers, portrayed by Benedict Cumberbatch and Jesse Plemons, as they run their family ranch together in 1925 Montana. The film is also presented in partnership with Out Montclair.
And that night, at 9 p.m. at the Clairidge, will be "The Rocky Horror Picture Show," with the live debut of The Ordinary Kids Floor Show, formed in 2020 during the height of the pandemic. The Ordinary Kids and Montclair Film will be launching The Rocky Horror Picture Show as a monthly film event at The Clairidge, according to Montclair Film. Montclair Film signed a long-term agreement with Clairidge building owner Dick Grabowsky to operate the six-screen art house cinema earlier this year.
— Includes information provided by Montclair Film