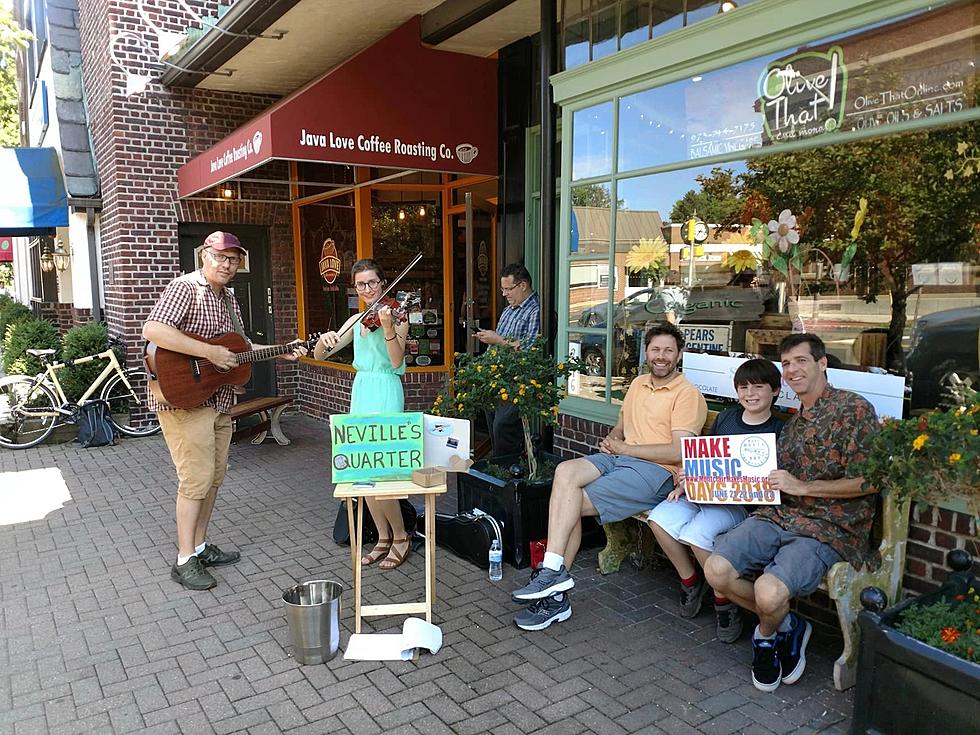 Make Music Days returning to Montclair, starting June 18
Performers are seen here in a past event.
(COURTESY INDIE ARTS MONTCLAIR)
The countdown is on to Montclair Make Music Day, and this year there will be four days of musical events, beginning Saturday, June 18.
For the past two years, the event was impacted by the pandemic. But this year, said Greg Pason, Montclair Make Music Day Committee chair, things are almost back to normal, and there will be close to 100 performers.
Make Music Day is an international affair born from the Fête de la Musique in France. It's meant to showcase all types of music, and musicians of every skill
level. 
Montclair's Make Music Day lineup captures that inclusive spirit by delivering music across the spectrum. Throughout town, music lovers will find rock, Americana, pop, R&B, hip hop, gospel and more.
Make Music Day will kick off on June 18 with Festival Underground, an annual concert organized by Terry's Serendipity Café to mark the end of school and the beginning of summer. It will be held at Watchung Plaza.
Sunday, June 19, will bring Get Rad with Dad to the skate park at Rand Park. In addition to skating, prizes, giveaways and contests, there will be a live DJ showering the event with music. Later that afternoon there will be Juneteenth celebration events at Montclair Brewery.
On Monday, June 20, the plan is to have a pre-Make Music Day concert at the Bellevue branch of the Montclair Public Library. Pason said the Make Music Day Committee has submitted the details to the library but as of Monday, June 13, hadn't received a final OK. But since the library has Monday evening music performances anyway, he hoped it would be approved.
The official Make Music Day is always June 21, which is the longest day of the year. The committee plans to take advantage of that by packing the day with music.
The lineup is expanding daily, but there are already over five hours of performances scheduled at First Congregational Church. The mix ranges from Eddie Nicholas bringing disco and gospel to Xander marX offering pop, R&B and hip hop.
Tyler Elden and Andrew Nieporent will bring indie rock, indie folk and folk music to locations such as Paper Plane Coffee Co. and Gift Bar. And music fans can get a fix of country and bluegrass from Crown Acoustic as well as punk from Joe Billy at Watchung Plaza.
An exciting addition this year will be a musical parade put on by the Montclair Community Pre-K, Pason said. "It's going to be fun getting kids involved and having them do their parade around town with instruments donated from RBI Music," he said.
But the "highlight new thing" about the event is being able to include the Wellmont Arts Plaza, he said. "We're always talking about doing the Wellmont, but we've never done the Wellmont Plaza … I'm excited to be able to use that space," Pason said, adding that there is likely to be about 2½ hours of programs there.
One of the biggest hits during past Make Music Days is the mass appeals, or the play-alongs, he said. So this year the committee will use the Wellmont Arts Plaza to host a guitar play-along in partnership with Terry's Serendipity Café and Cool Cat Music.
There will also be at least one band playing at the plaza. And to honor this being the 40th anniversary of Fête de la Musique, Gabi The Artist is scheduled to cover the song "Paris" at the plaza before marching back to First Congregational Church for a 30-minute performance.
After that, there will be four DJs at the church playing into the night.
This year marks the ninth for Montclair Make Music Day. In the last few years people have started to recognize it, Pason said.
"Back in April, people were waving their hands, running across the street, saying, 'Greg, we have got to book a show for Make Music Day.' So, people actually acknowledge it exists and are excited for it," he said.
The Montclair Make Music Day Committee hopes the annual event becomes part of the town's identity.
"The real goal is not to make it a festival; it's to make it a holiday," Pason said. "We hope music is all over the place so that it's part of the day as opposed to a festival where everyone is gathered in one spot at a specific time. We really want to make this a musical day where even if you're grabbing a coffee, you catch live music.
"We hope in the future people say, 'It's Make Music Day. Let's have music with friends in the backyard.' Instead of having big crowds here and there, I really hope to bike through town and see a bunch of people gathering on the corner or walking through a retail shop or people coming through the park with a Make Music Day button."
Pason hopes music will be what Montclair is all about on June 21. To help promote that aim, this year's event will include free giveaways, including harmonicas and other instruments
The event schedule can be found at montclairmakesmusic.org. Bookings are accepted up to the last minute, Pason said.  
Journalism like Montclair Local's is only possible because of the continued support of our members. Sustaining memberships of $10 a month or more entitle you to our print edition, and help provide us with the stable, predictable financial base that helps us plan to bring you important journalism for years to come. If you value this article or others from Montclair Local, consider becoming a sustaining member; sign up with the form below.