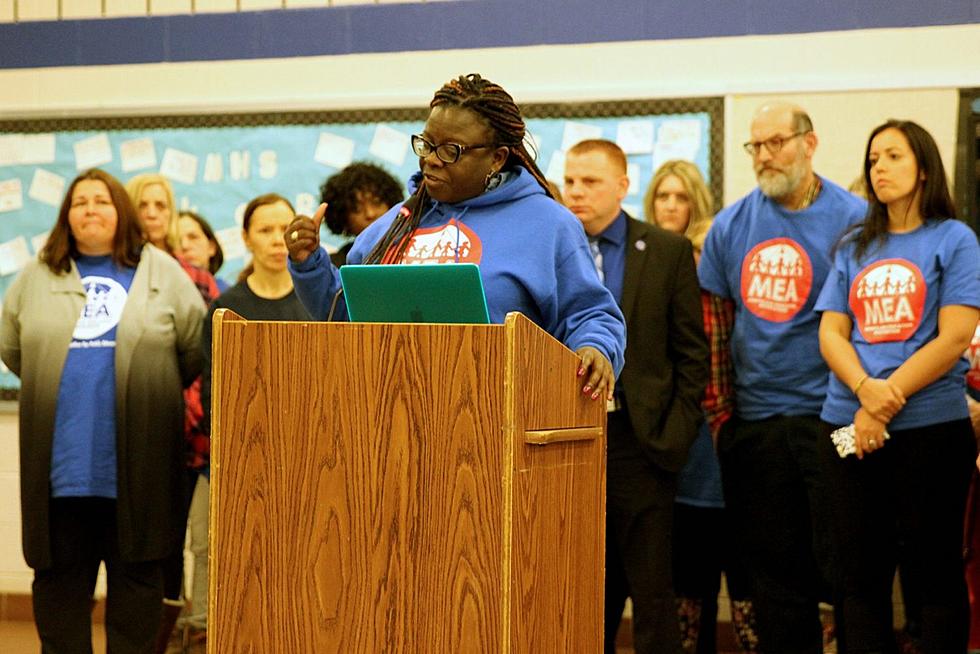 MEA's Petal Robertson is new NJEA secretary-treasurer; Spiller is president
Petal Robertson, president of the Montclair Education Association, speaks during a Feb. 7, 2018 school board meeting. ERIN ROLL / MONTCLAIR LOCAL
By TALIA WIENER
wiener@montclairlocal.news
Montclair Education Association President Petal Robertson has been named the incoming secretary-treasurer of the New Jersey Education Association — the powerful statewide union representing teachers and support staff.
Robertson beat out two other candidates for the NJEA officer position in a popular vote by the organization's 200,000 members, certified Thursday night. She will begin her two-year term on Sept. 1, 2021. 
She'll step down from her role as MEA president June 30, she said.
When Robertson begins her term, figures associated with Montclair will fill for two of the NJEA's three leadership positions. Montclair Mayor Sean Spiller, currently the union's vice president, was declared incoming president in March after running uncontested. Current NJEA secretary-treasurer Steve Beatty, a social studies teacher in Bridgewater-Raritan, ran unopposed for the position of NJEA vice president. 
Spiller will also be the first Black man to serve as NJEA president, the union noted in its press release.
"I ran for this office because I believe our association is strongest when all members take ownership to lead and lend their voice," Robertson said a message to Montclair Local, closing echoing a quote published in the NJEA press release. "I am honored and humbled to be given this opportunity, and I pledge to lead with passion and purpose to continue to ensure that our association remains the inclusive voice of its membership."
Robertson has been president of the Montclair Education Association for three years. She is also an English teacher at Montclair High School and has taught in the district since 2004. 
As a member of NJEA, Robertson created the Visions and Voices initiative, highlighting women in education, education support professionals and strategies for organizing around the coronavirus pandemic, the union said in its press release.
"I saw a need to uplift the voice of all members in NJEA," Robertson said.
In Montclair, Robertson headed the MEA through its at-times fraught negotiations with Montclair Public Schools over returning staff to school buildings. MEA members refused to returned for a planned start to a hybrid learning schedule in January, citing concerns over facilities and coronavirus safety procedures. That eventually prompted the district to sue the MEA, alleging an illegal teachers strike. The parties settled, with MEA members agreeing to return, and the district agreeing to provide more information on repairs to ventilation systems and other facilities, as well as to conduct building walkthroughs with union leadership. Elementary school students started their hybrid schedule April 12, and middle school students are set to May 10; no date has yet been set for Montclair High School.
She also led the MEA as it partnered with the district, township officials and Mountainside hospital on a program to vaccinate hundreds of teachers and other staffers. 
Robertson has also been the NJEA Delegate Assembly Representative for Essex County, the New Local Presidents Trainer for the National Council of Urban Education Associations and a panel presenter on racial justice for the National Education Association. 
Two MEA members, Virginia S. Weaver and Lisa Logan-Leach, ran for state delegate to the 2021 National Education Association Representative Assembly. Neither members were selected to be among seven delegates.