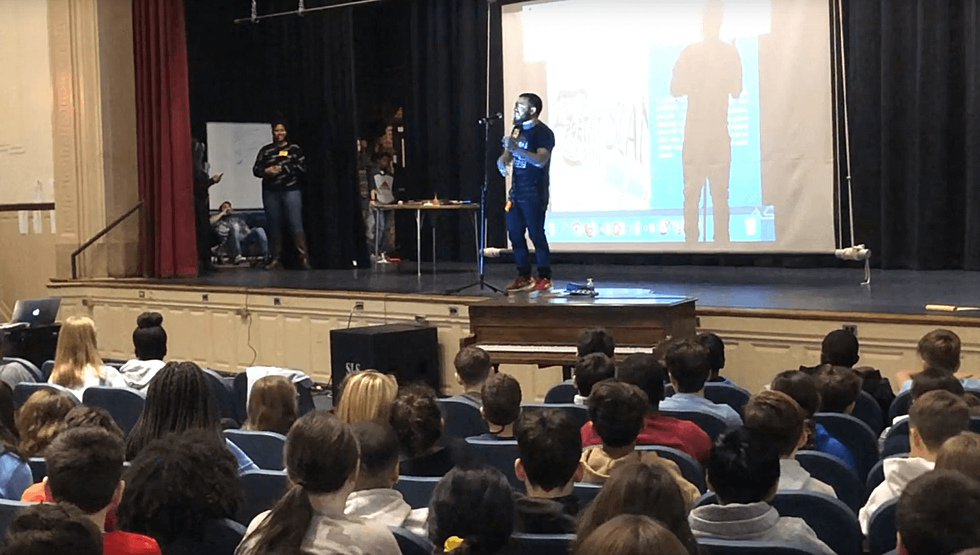 MFEE Arts Open Hearts campaign provides grants for school programs
PHOTO COURTESY MFEE Buzz Aldrin students listen to visiting guest poets from the LOUD Project, which worked with students for the school's annual poetry slam.
By ERIN ROLL
roll@montclairlocal.news
Buzz Aldrin students have poetry slams, while Renaissance students get to trip the light fantastic in ballroom dance classes, and Montclair High School students have story slams with senior citizens in the community.
The Montclair Fund for Educational Excellence has set up the Arts Open Hearts Fund, which funds programs like these and more in the schools.
It is not only for the artistic value, but also for their social and emotional well-being. The arts are being used to help address mental health issues among students.
"Given where we find ourselves as a community and a society, it felt like something that we really needed to address in our grants program," says MFEE board member Bridget Placek. Her own son, a first-grader at Nishuane, is shy and sensitive, but loves music and drama.
Arts Open Hearts was established last year when the school community was dealing with some deaths in the community. "We just realized that after the losses we experienced in May, these programs were reaching kids in ways that maybe other programs weren't," MFEE director Masiel Rodriquez-Vars said.
Some students may feel overlooked, perhaps because they aren't straight-A students in the classroom, or may not feel comfortable speaking up. But activities such as slam poetry give them a voice, Rodriquez-Vars said.
The current three ongoing projects associated with Arts Open Hearts are the ballroom dancing at Renaissance Middle School, the intergenerational story slam at Montclair High School, and the poetry slam at Buzz Aldrin Middle School.
The story slam partnered 10th grade students with area seniors in June 2019, in partnership with Lifelong Montclair. The teams did a five-minute story slam on their perception of the American Dream, modeled after the Moth: a New York-based organization that helps present story slams.
The most recent poetry slam at Buzz Aldrin was moved to an in-school only event due to ongoing concerns over COVID-19. But the slam went ahead all the same.
At one performance, Rodriquez-Vars recalled a student dedicating his poem to a friend who was his "brother from another mother," which resulted in a group hug at the end.
"You don't see that in middle school," Rodriquez-Vars said.
Jennifer Kosuda, an English teacher at Buzz Aldrin Middle School, oversees the slam poetry project, which has been in existence for five years. This is Kosuda's second year overseeing the project.
Many of the students who come to the workshops may not otherwise have the chance to make their voices heard. "It's just a way to give them a voice."
The school does not have the money on its own to hire the poets to come in and work with the students, Kosuda said. So each year, Kosuda writes a grant to send to the MFEE. This year, the poetry partner was the LOUD Project, an organization that helps students organize slam poetry events in schools around New Jersey.
In the weeks leading up to the slam, LOUD worked with students on rehearsing their poems.
Kosuda's classroom has a stage and microphone that students use after school or during designated poetry cafes.
Nina LoRusso is in charge of the ballroom dance program at Renaissance Middle School after receiving a grant from MFEE for a Dancing Classrooms program offered by NJPAC.
Placek taught middle school in Washington Heights in New York, at a time when ballroom dancing was gaining new traction among young people.
Dance is a medium through which students express themselves and learn communication skills.
Placek visited one of the classes to watch the students practice. Some of the boys said to her, "Everything we do now, the girls were like, 'ew, don't touch me, don't look at me,'" Placek recalled. "This helps them get past it." But in the class, students were learning how to ask each other to dance. And Placek could see a marked difference in the way students carried themselves as they walked out of class afterwards.