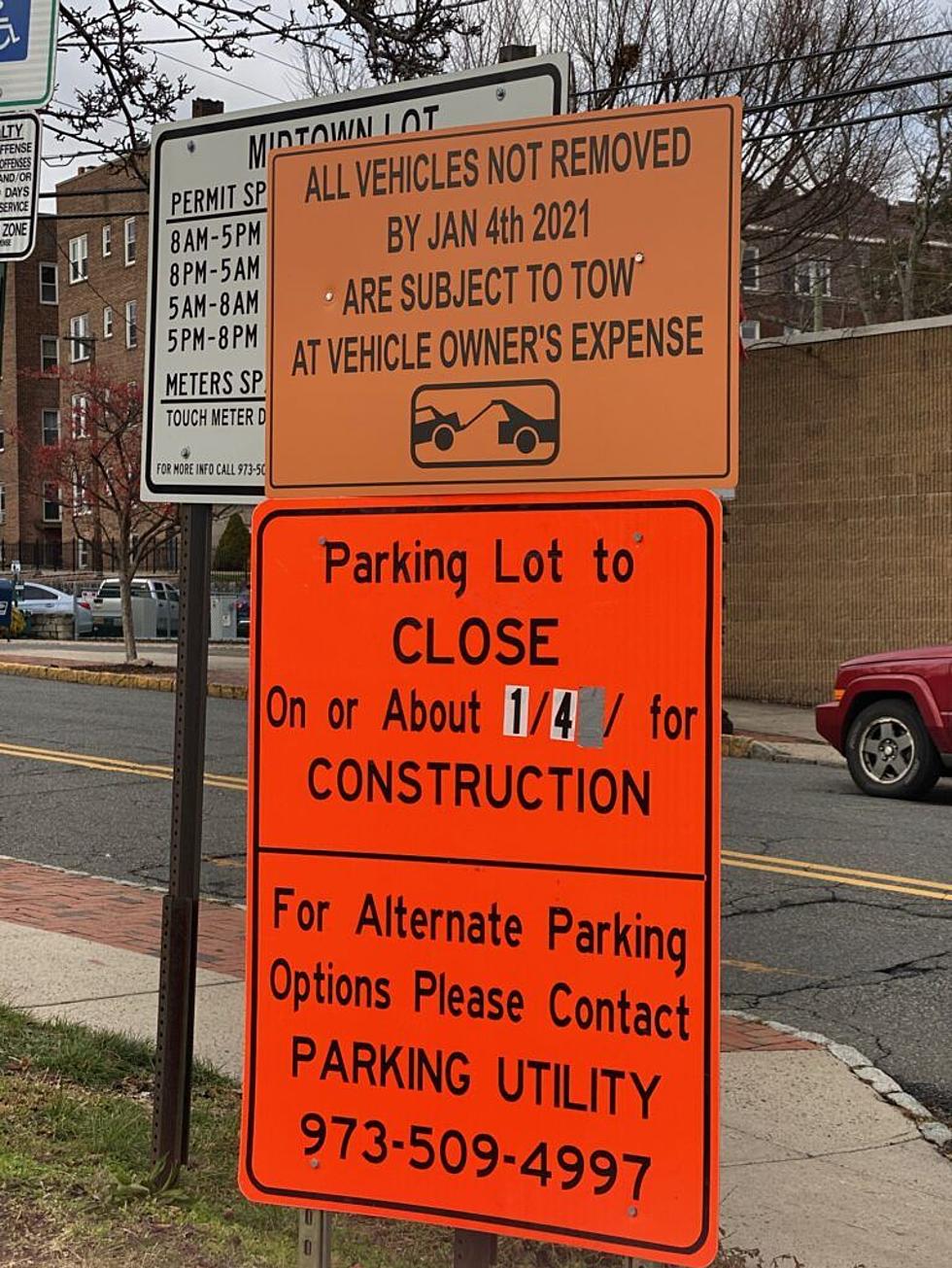 Midtown parking lot to stay open for now
The Midtown parking lot is to remain open until one of the new nearby decks opens, offering a parking alternative.
By  JAIMIE JULIA WINTERS & GWEN OREL
winters@montclairlocal.news, orel@montclairlocal.news
Businesses dependent on parking at Montclair's Midtown lot got a small reprieve before the lot's impending closure for a year of construction, officials said Monday. 
The Midtown lot, on Glenridge Avenue, was expected to close Monday for construction to expand the facility from 83 to 314 public parking spots, officials announced last week on the municipal website. 
But after businesses quickly banded together and petitioned against the lot's closure, township officials announced the closure would be delayed until one of two new neighboring parking decks opens to make up for the loss of parking.
The project, at the intersection of Glenridge Avenue and North Willow Street, is part of the Seymour Street development, which is bringing apartments, office space, retail and an arts plaza to the area of the Wellmont Theater on Bloomfield Avenue. That two-building project also includes 434 parking spots in two garages to accommodate the residents and retail, and also will offer public permit parking. 
Although the parking permits have been available for purchase, the two garages have not yet opened.
Some local business owners say they had no idea the Midtown lot was to close Jan. 4 until a sign went up in the lot.
Although the township offered parking at neighboring lots, last week the businesses, worried that the closure would hurt them, created a petition and gathered over 800 signatures in eight hours.
"We expected adequate notice about the date of the lot closure, and a detailed plan for replacement parking, garbage disposal and pedestrian access for businesses," the petition reads. "From the beginning of the Seymour Street project we were led to believe (as was every town representative that we have spoken with) that the Glenridge lot would not close until the South Fullerton and South Willow street decks were completed and open. Small businesses have been told that we 'must bear the pain' and 'just try to get through' until construction is complete."
On Monday, Councilman Peter Yacobellis told Montclair Local that the lot would remain open and construction would not begin until one of the new decks opens, hopefully by the end of the week.
"The opening of the new deck is pending receipt of a temporary certificate of occupancy, which is issued by our township building office. It is anticipated this will happen later this week, triggering the formal closure of the Midtown lot," Yacobellis said. 
As of Tuesday, Jan. 5, Dr. Elizabeth Houston, a veterinarian at Cameron Animal Hospital, 417 Bloomfield Ave., said the businesses have not received any official communication from the town regarding what's happening, what they're trying to do, or a definitive timeline. 
Although the lot remains open, signs are still posted that say if you park here after Jan. 4, you will be towed at owner's expense, so no clients are comfortable parking there, said Houston.
Dimitry Banjansk, of Trend Coffee & Tea House, 411 Bloomfield Ave., said that while the township let businesses know a year ago that a new facility would be constructed, they were not told directly that it was set to close this week.
"We need at least a month ahead of time to give us time to make plans," Banjansk said, calling the "last-minute rollout" unprofessional.
Houston said a Jan. 4 lot closing would have amounted to a disaster for her clients, who would have had to walk blocks with their pets.
Some businesses are also concerned with the increase in parking fees in the two new lots. While the township set the fees for the publicly owned Midtown lot, the developers, which retain ownership of the two new lots, will set the fees. 
When they open, Houston said, the fees the developers are charging will be prohibitive. Daily rates will be $7 for up to 12 hours, or $10 for up to 24 hours, a huge price hike from what had been $1.50 for two hours or $50 monthly. 
Yacobellis said: "In terms of rates, the new decks are obviously privately owned. But when I look at their current published rate/time options and compare it to their other New Jersey facilities, it's clear to me that there should be a more dynamic pricing model, and I'm calling on Little Man Parking [the lots' operator] to introduce more incremental and affordable options." 
Township Communications Director Katya Wowk denied that small businesses had been notified just last week, stating that construction was originally supposed to begin in October but had been pushed back. Furthermore, on Thursday, Dec. 31, Manny Germano, superintendent of the Parking Utility, visited local businesses to update them, she said.
The Montclair Center Business Improvement District was also notified, Wowk said. BID did not respond to Montclair Local's requests for comment.
All permit holders who currently park in the Midtown lot can use other municipal lots until the project is completed:
North Fullerton deck (North Fullerton Avenue) – Entire third floor, or ground level in parking spaces marked "Permit parking only"

South Fullerton lot (33 South Fullerton Ave.)

Plymouth lot (43 South Fullerton Ave.)

Portland lot (13 Portland Place)

Montague lot (14 Montague Place)

Maple Plaza lot (6 Maple Plaza) – In parking spaces marked "Permit parking only"

Gates Street lot (48-26 Gates Ave.)

Valley Road lot (20 Valley Road) – In parking spaces marked "Permit parking only"
Some local business owners said they're concerned about parking spots in front of their buildings being used for construction dumpsters and as a loading zone. Township officials have said businesses can request that dumpsters not to be placed there.
"They (dumpsters) are in the process of being relocated depending on the private companies that manage them and the businesses that contract with them and the schedules they're working out. The town has also reached out to each of the companies to help facilitate the transition," Yacobellis said on Monday.
There will also be no access to the rear of Bloomfield Avenue businesses that currently have access from Glenridge Avenue. Any vehicles parked on private properties behind businesses on Bloomfield Avenue may be trapped there until the project is finished. Refuse that was once picked up in the back of businesses will now be picked up in front of them.
"I understand the need for reconstruction and redevelopment," Houston said. "All we're asking is that while they're taking away these municipal spots that they create alternatives, and not tell people to park in over-full lots."
There is already a long waiting list for permits for the lots, she said, adding that she worries not only about permit spots, but about patrons and clients.
In January 2018, the Township Council approved an agreement allowing for the mixed-use Seymour Street project, but with the condition that the developers deliver a parking facility along with it to replace the loss of the two municipal lots at South Willow Street and South Fullerton Avenue to make way for the project. That parking facility will be the Glenridge/Midtown Avenue deck.
Once it is built, the deck will be owned by the town, which will keep the parking revenues. 
Although most of the $8 million to $9 million construction cost to build the garage will be picked up by the developer, there could be some construction costs for the town, but that cost is capped at $1.2 million.
The entire project includes a six-story building, at 2 South Willow, that will feature rental apartments, 28,000 square feet of street-level retail space, 224 parking spaces and 10,000 square feet of space available for rental by artists. A seven-story building, at 1 Seymour Plaza, will rise just southwest of the Wellmont and include 40,000 square feet of office space and 210 parking spaces.
"Small businesses are terrified," Houston said. "The stress of the situation and this year has been pretty awful. We want the town to support the small businesses that support the town, and make it what it is."