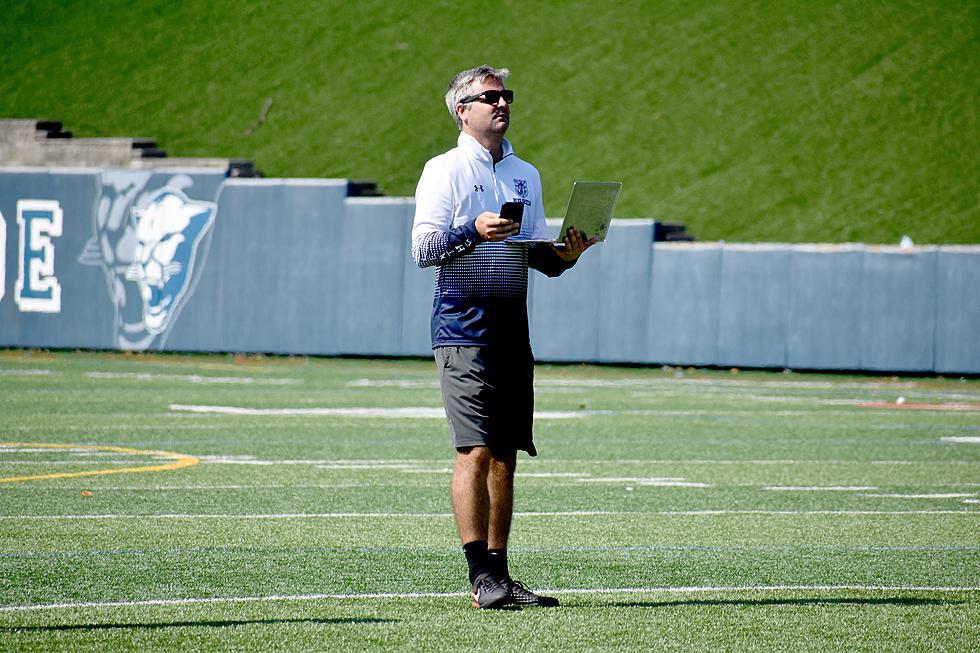 MKA boys soccer: Cougars look to take next step in 2020
MKA boys soccer coach Rob Leather said the team will attack each game during the abbreviated season as if it were a final.


PHOTO BY ANDREW GARDA
by Andrew Garda
garda@montclairlocal.news
Last season was an excellent one for the Montclair Kimberley Academy boys soccer team, but fell just short of where they wanted to be. 
The Cougars put together a 16-6-1 record, 11-3-1 during the regular season, but fell short in the Essex County Tournament semifinals in a heartbreaking 1-0 loss to Seton Hall Prep and a loss to Gill St. Bernard's in the North Jersey, Non-Public B finals. 
Due to the pandemic, this season will be a little different, with no postseason county or prep school tournaments, a potentially very different-looking state tournament and fewer games overall, but head coach Rob Leather still has high hopes.
"We are really going to be looking to take each game almost like a cup final," he said. "I feel like everything's about the conference this year. In my mind, if you win the American, you're county champions without a county tournament or without a county cup."
Leather knows that is a steep hill to climb.
The American Division is the best in the Super Essex Conference (SEC) and contains a murderer's row of state-ranked teams. Seton Hall Prep finished 2019 ranked second in the state, and Montclair High School landed in 11th. Meanwhile, MKA finished at No. 36, one spot ahead of American Division neighbor Caldwell. 
They are hoping they can make more noise this year.
Leather wants them to start by notching wins against teams like Seton Hall and Montclair. 
"For us this year, Montclair High, Seton Hall, Millburn, all these schools are the schools that the boys have been desperate to beat for the last few years," he said. "If I have one disappointment in conference play, I think we've held our own for a school like ours but at the same time, we've never really beaten any of the big boys. We beat West Orange last year, I would class them as one of the biggest and better schools."
That MKA has been within striking distance of the best schools in the state is an impressive feat given its size. Montclair High School has a population of just over 2,000 students, while Seton Hall Prep — an all-boys institution — has about 935 students.
MKA has 1,000 students across all three campuses, which encompass kindergarten through 12th grade.
Leather has managed to put together incredibly talented squads each year, and last year finally had the depth he needed to really compete with teams that draw a lot more players from much bigger pools.
This year, he says, he has the deepest bench yet, and he could see it forming right from the beginning this summer. 
"I'd say we probably had like 30, 35 kids for the month when we were basically allowed back to training," he said.  "I think they were just psyched to get back out on the field."
The numbers are especially good given that the team isn't dealing with a lot of turnover. Instead of having to replace a lot of players, Leather has just a few positions to focus on, and then shore up other areas.
"We only really lost four guys who played a lot of varsity time," he said. "Andrew [Garofolo], our goalkeeper, John Park, a captain, Shea [Hammond], a goal-scorer, and Myles [Cherry] played up top and chipped in with goals as well. So those are the positions we're obviously looking at.
"Everyone else returns. I'll be honest, that's never really happened, where I've had like eight and nine varsity starters returning."
Some of the key returning players will be midfielder Zach Wheeler, who led the team in goals (13) and assists (15), Omar Martinez, Will Horn, Jeremiah Druckemiller, Sean Cadigan and Rollins Heath. Any of them could end up anywhere on the field, and Leather feels they are all capable. 
While Leather will need someone to step up offensively to replace Hammond's 12 goals — no other Cougar beyond Wheeler had double-digit scores — the biggest question will be who takes over for Garofolo.
Leather has some options to choose from, with freshman Andrew Avalose, junior Aaron Lefkowitz and seniors Heath and Arjun Sharma all battling for time.
"I'm really looking for one of those guys to step up, because that's obviously a [key] position. Andrew was a three-year starter for us, was a captain and was a great goalkeeper for the program. So the goalkeeper position is probably the first hole we need to fill from last year. And basically the guys have been told that it's the best player that we'll start."
Leather again has a host of options in the backfield, starting with seniors Jack Raff and Nico Eiden, who the coach hopes will step up to replace Park. Replacing Hammond and Cherry will also likely require some shuffling, but Leather said they might move Wheeler a little higher up, to forward. 
---
READ: MHS FIELD HOCKEY LOOKS TO VETS THIS SEASON
---
Leather is also hoping junior Koome Murangi might be able to contribute.
Murangi has been injured the last two years, but Leather said he can step onto the field and perform immediately when healthy.
"He has great talent," he said. "He's back, playing club for the first time, feeling healthy, and could take a step forward for sure."
While there is ample opportunity for players to embrace new or different roles, Leather said the number of returning starters means every practice rep counts. If you don't perform, he said, it's going to be harder to get on the field. 
"It's going to be tough," Leather said. "I mean, the fact that we're returning so many starting players means that everyone's kind of got to step up."
MKA opens up at home against Montclair High on Oct. 1.