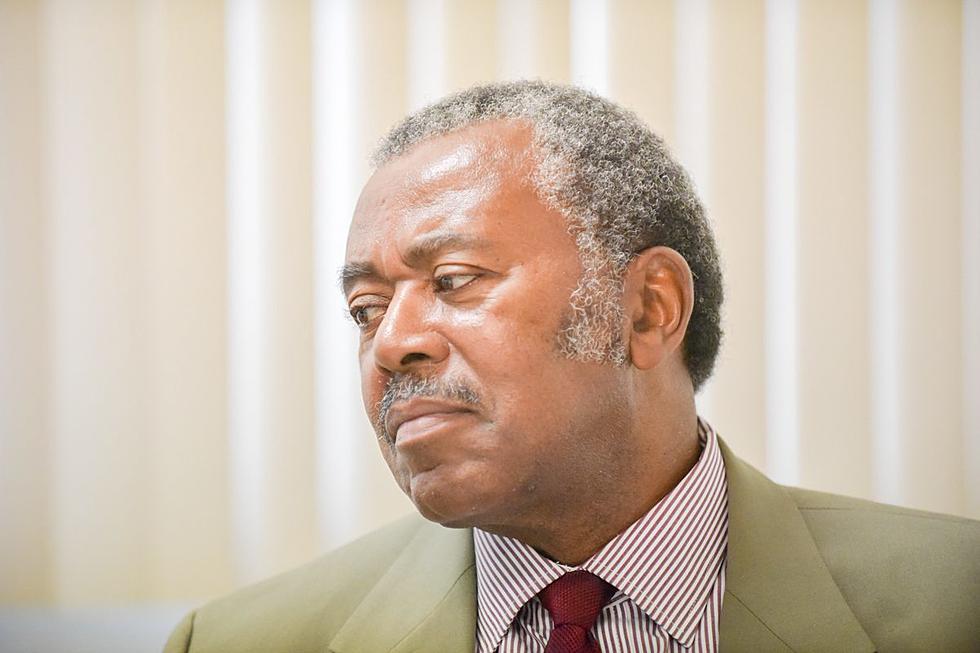 Montclair civil rights leader apologizes after criticism over anti-Semitic remarks
FILE PHOTO James Harris, chair of the New Jersey Association of Black Educators, has been criticized for making remarks viewed to be anti-Semitic at a Fourth Ward community meeting held last week.
By ERIN ROLL
roll@montclairlocal.news
Montclair civil rights leader James Harris has apologized following criticism of comments viewed by community leaders to be anti-Semitic at the Dec. 30 Fourth Ward meeting.
During the course of the meeting, which dealt in part with gentrification and housing affordability in Montclair, Harris, the chair of the New Jersey Association of Black Educators and the education chair of the Montclair NAACP, referred to the "gutting" of public schools in Lakewood and the diverting of education funding to yeshivas. Harris went on to remark about how people believed to be Hasidic Jews were going around neighborhoods in Jersey City buying property in order to "replace" residents.
Harris' remarks at the meeting prompted an immediate rebuke from residents David Greenstein, rabbi at Shomrei Emunah, and Marc Katz, rabbi at Bloomfield's Temple Ner Tamid, who attended the meeting. Further criticisms from residents, as well as town and statewide officials, followed in the days after the meeting.
On Monday, Jan. 6, Harris issued a statement of apology, and a statement of condolences to those affected by recent hate crimes in Jersey City and Monsey, NY:
"I condemn the recent violence in Jersey City, NJ, Monsey, NY and all of the recent hate crimes against the Jewish communities. I offer my condolences. I would like to express my sincere regret and apologize for the remarks I made about the Hasidic community and the development of Montclair, NJ.
"I indicated during my speech that I was not speaking on behalf of the National Association for the Advancement of Colored People(NAACP). My whole life has been devoted to civil rights and promotion of justice and equity for all people. I abhor violence against any community.
"My personal statement was meant to focus on the impact of gentrification on lower socioeconomic communities in Montclair, NJ. Instead, I used a regional example of Lakewood, NJ real estate and public education funding. Unfortunately I used terms and examples that have been interpreted as anti-Semitic.
"My statements were in no way connected to or reflections of views and values held by the National Association for the Advancement of Colored People(NAACP) or the New Jersey Association of Black Educators(NJABE). I will remain dedicated to working for equal; rights and justice for all residents of Montclair. I respectfully ask that everyone please accept my apology," Harris said.
In the wake of the Dec. 30 meeting, the township has announced that a follow-up meeting was being planned between African American and Jewish leaders in Montclair, along with Mayor Robert Jackson and other township officials. The closed meeting was held today, Jan. 6, at 2 p.m., said Jackson.
"Heinous incidents nationwide, and in Jersey City and Monsey in particular, shocked and sickened all of us.  However, recent developments have made it abundantly clear that there is much work to be done, even in our beloved Montclair," Jackson said on Jan. 4 about calling a meeting.
"Hate, bigotry, racism, anti-Semitism, and intolerance have no place anywhere and particularly in our community and as a community we will work tirelessly to ensure that they are addressed head-on and rooted out. Please keep these leaders, the meeting, and our community in your thoughts and prayers and let's be ready to commit ourselves to affirming the best Montclair, the Montclair of our dreams," Jackson said.
"This is an important next step to laying the foundation for rooting out bigotry in our town, moving all souls in Montclair to greater independence while respecting our mutual dependence, and creating a community that does not tolerate bigots," said Fourth Ward councilwoman Renée Baskerville, who hosted the Dec. 30 meeting.
Harris told Montclair Local he had been speaking with colleagues and community members for advice, and some of those colleagues advised him on how his remarks had been perceived. He added that he was willing to speak to anyone who wished to have a constructive discussion.
Events of the meeting
The meeting was Baskerville's annual year-end conference offering residents a chance to reflect on what had been accomplished in 2019 and how to move Montclair forward in 2020.
Harris, a member of the township's Civil Rights Commission in addition to his positions with the Montclair NAACP and the NJABE, came to the microphone to discuss the subject of gentrification in Montclair, and how the township has become more and more unaffordable for low- and middle-income families.
Harris began by talking about his time growing up in Montclair, and how the township has changed substantially in recent years. However, Harris then began discussing the town of Lakewood, which has a substantial Orthodox Jewish population.
Harris said the town dedicated large amounts of money for yeshivas. "And they gutted the budget for the black and Latino students who are in the schools," Harris said of the town's council and board of education.
Harris next began discussing Jersey City, where he said there were tensions because of perceived efforts by Hasidic Jews to get longtime residents to sell their houses.
"I'm seeing these folks walking down the street, long black suits, curly locks," he said. "Those people" were going around trying to get residents to sell their properties, he alleged. "Out of that fear of being replaced by these strangers, who weren't all that friendly … how many people are familiar with the Hasidics? ... So stress started to develop because people remember Brooklyn and Lakewood."
The remarks prompted a rebuke from Greenstein, who said that he had come to the meeting to listen, rather than to speak. But after hearing Harris's remarks, he felt moved to issue a response, he said.
"We're all supposed to be defending each other," Greenstein said. "To generalize and to paint with that kind of broad brush a situation that is so much more painful and complicated is a sin. And I'm going to say Jews are not the problem. Hasidics are not the problem. They're not your problem. They're not the problem. There are many problems. There are bad people out there. They're the problem. There are insensitive people. They are the problem. Crazy people are the problem."
Greenstein remarked that if the remarks had referred to black people instead of Hasidic people, there would have been uproar at the meeting. He said that he was also distressed that people in the audience appeared to support Harris, and that no one had immediately stood up to criticize his remarks.
"Let's recognize that tarring groups of people with that kind of superficial, stereotypical language is what has created all of the terrible injustice that everyone in this room knows so well. We shouldn't tolerate people with supposed credentials to tell us how to think. I think that that was really, really unfortunate and I just felt obligated to say something," Greenstein said.
The meeting occurred a few days after authorities say a man broke into the home of a rabbi in Monsey, N.Y., and stabbed five people attending a Hanukkah celebration, and weeks after a shooting at a kosher grocery store in Jersey City that left three people dead.
In Montclair, police are investigating after swastikas were found drawn on a desk at Montclair High School.
Harris said on Jan. 6 that he had been speaking at the meeting in his role as chair of the New Jersey Association of Black Educators, but said that media reports of the meeting had been putting the focus on his role with the Montclair NAACP, which he found concerning. He also said some of his remarks had been taken out of context.
Community response
Christa Rapoport, the chair of the Civil Rights Commission, called Harris's remarks unnecessary and divisive.
"When complaints about gentrification are folded and woven into a narrative that historically paints Jews as being uncaring developers, and using tropes about Jews not caring about anyone else, that's not what Montclair is about," Rapoport said.
The conversation had been about affordable housing and gentrification in Montclair, and Rapoport said that the good points that Harris had made in his speech were obscured by the anti-Semitic nature of the remarks.
Rapoport also noted that she and Harris had worked together for a long time on the Civil Rights Commission, and that he had done good work as a commissioner.
Every member of the community has to be aware of their own unconscious biases and stereotypes, she said. "We all have to check ourselves and say, is this necessary, is this true?" Rapoport said. "The widest course is to say, I'm on this path, get off this path."
Much of the audience was likely in shock over the remarks, Rapoport said, and she noted that Baskerville had tried to redirect the conversation. But she noted that Harris's remarks had resonated with some people in the audience.
"I think we do need to, as a township, discuss the factors changing the township for good and bad, and hear the voices of those who are saying, I'm being priced out," Rapoport said.
On Tuesday, Baskerville released an additional statement reiterating her views on Harris's remarks: "I reiterate that the anti-Semitic, bigoted, and hateful comments of a speaker at "My Brothers- Sisters CalmUnity Engagement" were his alone. I feel badly about hurt feelings. I also reiterate the purpose of the meeting was to build bridges between communities and climb higher together. I am abundantly clear, as are the preeminent global leaders on best practices in building and sustaining the Beloved Community, that the way to do this is not to publicly excoriate and eliminate the ill-informed, but rather, to educate, to liberate, and move to higher ground. I want to make abundantly clear: hate has NO home in Montclair. We must be vigilant identifying and responding to acts of bigotry. I will continue my life's work bringing people together and working toward a just world and increased opportunities for ALL people."
Third Ward Councilman Sean Spiller issued a statement criticizing Harris's remarks. "Mr. Harris should apologize for his remarks, but we must go beyond apologies.  We must go further and work harder to foster understanding, tolerance, and to promote healing.  To that end, I look forward to attending a meeting later today, called by Mayor Jackson between faith leaders in the African-American and Jewish communities in Montclair to begin the process of healing. I sincerely hope and believe that Mr. Harris can and will be a part of that healing process."
Katz, the rabbi at Temple Ner Tamid, posted an open letter about the Fourth Ward meeting to social media on New Year's Day, denouncing Harris' statements but hoping to use the incident as an opportunity for dialogue and growth.
"Mr. Harris's statements were clearly problematic, and at the same time, have opened the dialogue for community leaders to begin addressing the issues at the root of the problems that the event brought up," Katz told Montclair Local on Jan. 3. "I hope that officials in town, as well as leaders, will join the Jewish community in denouncing not only these statements but also charting a mutual path forward of learning and growth."
He concurred with some of the points Harris raised, including that hate crimes committed against Jewish people typically result in a full-scale response from law enforcement and government officials, but hate crimes committed against black people frequently do not get the same response.
Congresswoman Mikie Sherrill also criticized Harris's remarks.
"It's always awful to see division, racism, and anti-Semitism in this country, but especially heartbreaking when it is here at home," Sherrill told the New Jersey Globe newspaper.  "James Harris's comments were shocking not only because of the anti-Semitism that seems to be drawn from issues in no way related to the affordable housing problems in Montclair, but also because I would assume his work to stand up against racism would apply equally to all forms of hatred."