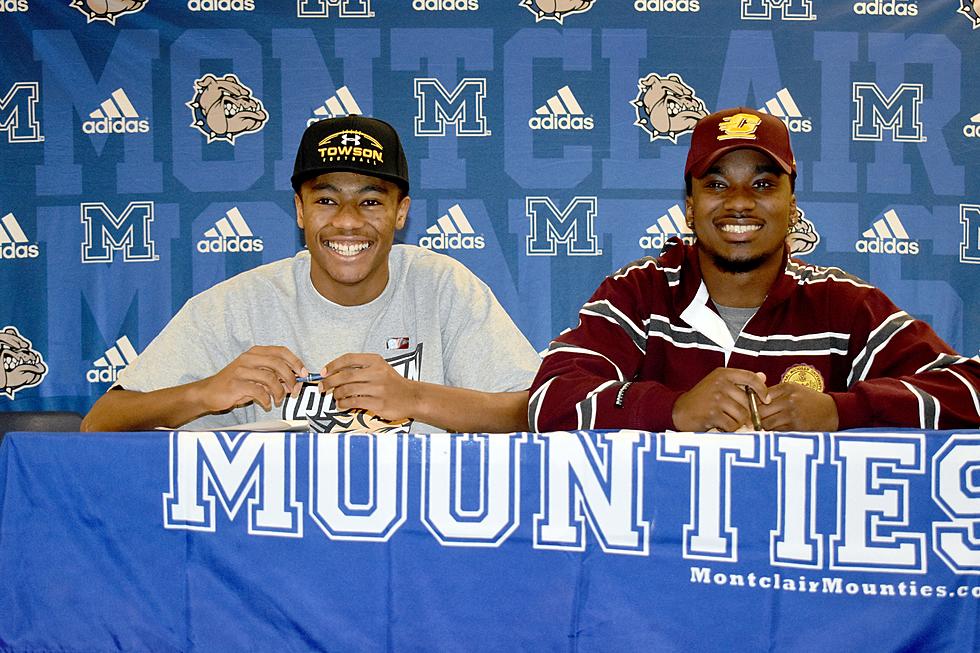 Montclair Athletics: Local football players declare for college, rowers celebrated
Charles Murphy Jr. (left) and Josh Crawford (right) signed during the early National Letter of Intent signing period on Wednesday, Dec. 19 with Murphy heading to Towson University and Crawford declaring for Central Michigan.
PHOTO BY ANDREW GARDA/STAFF
by Andrew Garda
garda@montclairlocal.news
For years, football's National Signing Day — the day high school seniors signed their National Letters of Intent, officially committing them to play the sport at the next level — was annually an early February event.
However, last year, the NCAA instituted an 'early' signing period, allowing seniors to declare their intentions in December.
Montclair High senior football players Charles Murphy Jr. and Josh Crawford took advantage of this early signing period Dec. 19, putting pen to paper on their college choices. Murphy, who played quarterback for the Mounties during their 7-5 season this year, will play for Towson University, while Crawford, a running back/linebacker, will play at Central Michigan.
Montclair High also took the opportunity on signing day to  honor four Mountie rowers who had previously signed with their colleges.
Murphy, who threw for 1,700 yards and ran for 1,000 this year, had many offers from institutions like Rutgers and West Point. However, he  was looking for a place where he could major in civil engineering or applied physics.
Towson University is in the process of creating a new state-of-the-art STEM building, which will be complete in 2020. That, as well as the high academics and an opportunity to step into a wide receiver role early all factored into his decision.
"The feeling from the coaches, and the vibe I got on campus and student life helped," Murphy said.
On the football side, Murphy projects as a wide receiver at the next level, a familiar position — as a junior at MHS, Murphy caught 29 passes for 729 yards and 12 touchdowns. It's a change he welcomes, though he was happy to help out the Mounties by moving under center.
"[Towson] is gonna move me from outside receiver to slot and back and forth a lot," he said. "So they'll really be using me to set things up."
For Crawford, the decision  to sign with Central Michigan had been made back in April and he never wavered, even after racking up 1,143 yards and 18 touchdowns during his senior season. CMU felt comfortable enough that Crawford didn't have any doubts despite a change in the head coach over the past year.
"When I first committed I felt the family vibe," he said. "I'm not going to lie, it was kind of overwhelming knowing the coaches who offered me were no longer on staff. But when I went to campus with my family, just the loyalty they continued to show. And coach [Jim McElwain] has that positive mentality that he wants to change the program around. And knowing my parents were comfortable staying at that university even with another coach, is something I was very focused on."
Crawford said that he will likely fit in as a running back and slot receiver at the next level.
While the Mounties were signing their NLIs, across town, Immaculate Conception defensive back/wide receiver Isas Waxter became the Lions' first Division I signing in many years when he officially committed to Villanova.
Waxter had committed to Stony Brook in the fall, but chose to move on, and could be a standout playmaker in the competitive Colonial Athletic Association — the same conference as Murphy's Towson — at cornerback or safety.
MHS rowing has been on a tear the last few years and the result is a lot of kids going to high-academic institutions on scholarship.
This year was no different, and the school decided to take a moment to honor Julian Zincani (Cornell University), Alexander Abuhoff (Northeastern), Kim Troeller (UPenn), and Roisin Cahill (Clemson) for their achievements both at Montclair, as well as wish them well as they head off to row at the collegiate level.
Meanwhile, a familiar name for Mountie fans made his college choice official Wednesday when 2018 MHS graduate Tysean Williams signed with Duquesne University.
Williams, a starting cornerback on Montclair's undefeated 2017 state championship team, played a year of prep-school football at Milford Academy. There, he intercepted 11 passes, returning three for touchdowns, and was named the team's Defensive Player of the Game four times.
He will study business while taking the field for Duquense, which qualified for the Division I FCS playoffs this past fall.