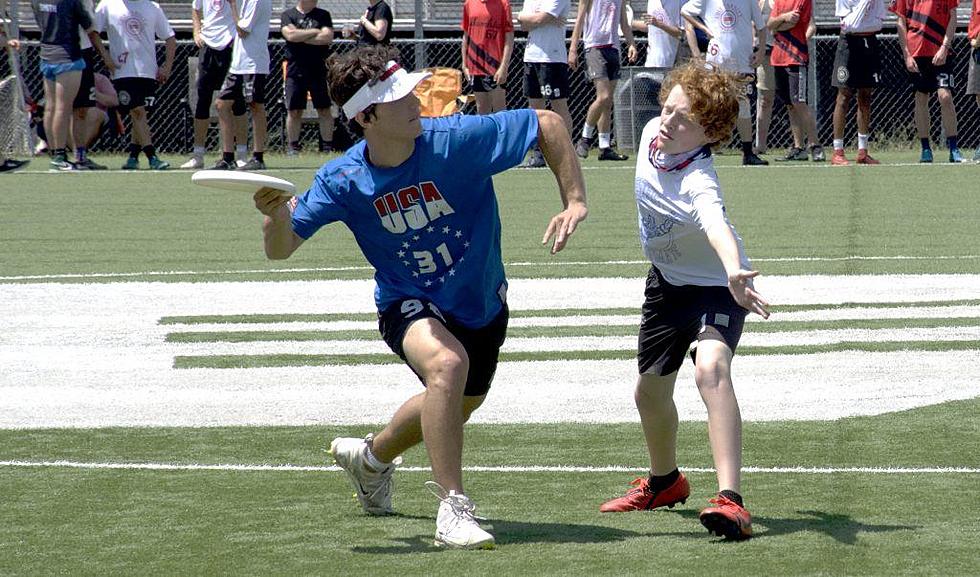 Montclair Athletics: Departing seniors hope to leave MHS Ultimate Frisbee program in good hands
Unlike most teams at Montclair High School, the athletes on the Mounties' Ultimate Frisbee team don't just play — they coach, schedule and organize.
Courtesy MHS Ultimate Frisbee Club
by Andrew Garda
garda@montclairlocal.news
The Montclair High School ultimate frisbee team has come a long way in three years, starting out as a loosely organized group looking to have fun, to a team which legitimately vied for a state championship.
The Mounties may have tied for third in this spring's state tournament with West Windsor, but facing two long-standing, nationally ranked powerhouses — Westfield High School and Columbia High School — makes even a third-place spot in the tournament a huge victory.
"Probably our biggest competitor, we were tied in fourth place with them throughout the year, was Watchung Hills," said Donovan Mierlack, who, along with Will Christian, and Jack Waitz, was a senior captain on the team. "We played them in the last game of that first day and we won, which put us at the top of the pool, so that was a great game."
Unfortunately the next opponent was Columbia, the second ranked high school team in the country.
"There are some ultimate frisbee powerhouses in New Jersey, two high schools [Westfield and Columbia] with huge programs that have gone on for decades and have multiple coaches," Mierlack said. "They happen to be in our state, so we have to play them and they're way above the [rest of the] competition."
Both high schools have multiple teams with full coaching staffs, and have existed for more than a decade, while MHS is just three years old and the team is student-run.
"We played our first year with ironed-on jerseys and not much parental support. That's changed over the years, but it was a real underdog story," Mierlack said.
The Mounties had improved since they'd faced Columbia in the state tournament in 2018, but ultimately they couldn't overcome a tough and talented Cougars team, falling 15-4.
"We were all happy with [third] and [Columbia] said we put up a good fight, so it was a good way to wrap up the season," said Mierlack.
While Columbia and Westfield might have more numbers and organization, one thing they have that the Mounties program isn't aching for is a coaching staff of adults. While running it by themselves has occasionally made organizing a little difficult, it's also what makes the team special, according to Will Christian.
"Being student-run, it creates a very unique sense of community," Christian said. "If we had a coach or an advisor or anything like that, I feel like we wouldn't have been as close as we were. Since we didn't, we were constantly talking with the team, setting things up, talking about practice. We had like six group chats. If we had a coach, I think it would have taken out a certain sense of, not so much community, but ownership."
Some of that has trickled down to the middle-school program, which numbered over 40 kids this year, senior Jack Waitz said, and has become a critical pipeline for the high school program.
"One of the difficulties that we have is that while we are a club at the high school, in many ways we have to disassociate ourselves from the high school for insurance reasons, and liability reasons," Waitz said. "They don't want to be liable for what happens to us at practices and stuff like that. So recruiting becomes very difficult because we're not an official high school sport. So with the middle school team, that helps us recruit early and then make it less a burden for whoever is on the team [already] in high school, with not having to recruit players that year."
With Mierlack, Christian, Waitz and the rest of the strong senior class graduating, maintaining that pipeline is one of the key hurdles facing the Mounties as they try to build off a great 2019.
Luckily, the three captains already have their replacement lined up in the form of junior Lukas Karapin-Springorum.
"That's been the concern for a while," Mierlack said. "How do we keep the legacy going? Fortunately, two years ago we had a sophomore named Lukas join. He's very passionate, organized and energized. He's kind of taken up this leadership role, and I've had multiple meetings with him and I was helping him get settled, telling him what he needs to know."
"I feel very confident leaving the management side of the team to Lukas," Christian said. "He's a very capable rising senior, he loves the sport as much as we do and he is happy to take all the responsibilities and move the program forward. He would take me or Jack aside after practice and say, 'I think it would have been better if did this or that before the drill.' And I would sit there and be like, 'Maybe you can do that next year.'"
Christian said that Karapin-Springorum is already talking to eighth-graders in the middle school program about what to expect when they come up to the high school next year.
For Mierlack, Christian, and Waitz, it's comforting to know they're leaving the program they helped build in good hands. Christian is going to UMass, Mierlack to the University of California at Berkeley, and Waitz to Cornell; all three made sure the opportunity to play ultimate frisbee in college was there.
With Karapin-Springorum set to take their place, they know they can concentrate on that and the MHS program will be well cared for.
"Lukas has watched us do things right, he's watched us mess up and he's watched us get the team to third," Mierlack said. "He knows what he's doing and he's confident about that, and we're very confident about him. Me, Jack and Will have talked multiple times about how 'Thank god Lukas is coaching.'"