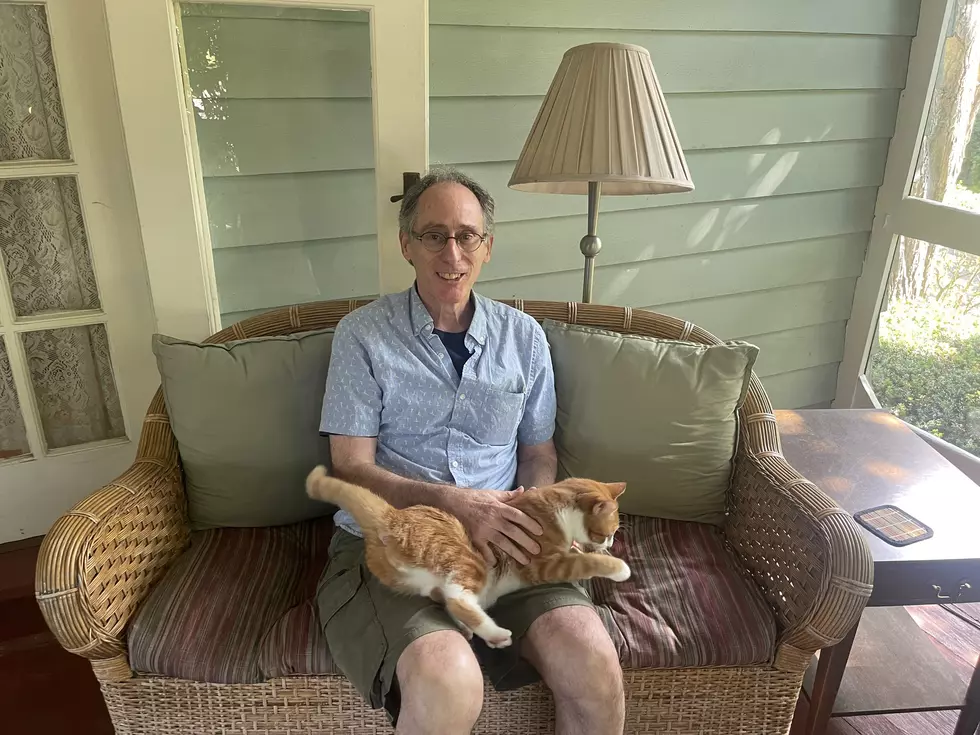 Montclair author, Michael Laser, releases seventh novel
Author Michael Laser with his cat, Charlie.
Author Michael Laser sat on the porch of his Montclair home on an August morning with a bulging folder of papers and sticky notes. His two cats, Bucket and Charlie, one striped gray and white and the other a tabby orange cat with one eye, occasionally joined him at the table. The folder – a compilation of more than six years of edits and notes – held the answers to any potential questions that might come up in interviews, like this one.
The reason for the interviews is his seventh novel, "Eulogy," which was published in July by Regal House Publishing.
Laser describes the novel this way: "Hours after delivering his father's eulogy, a man discovers that his unassuming dad kept important secrets, including three years in prison and two surprising acts of heroism."
The main character, Ken Weintraub, tries to sort out the contradictions he learns about from his father's friends, relatives and others to find out what kind of person his father really was. But more questions seem to pile up.
"When you're a child, you think your parents are all-powerful," Laser said, describing what lies at the heart of his novel. "When you're an adolescent, you think that they're nothing. When you're an adult, you forgive them, and when you really become an adult yourself, you forgive yourself for the ways in which you fell short of what you wanted to do."
Though the author says that this memoir-style novel is not autobiographical, he admits that he pulled inspiration for it from certain aspects of his father's life. The main character's father made rosaries for a living, as did Laser's. Both the main character's father and Laser's were shot in World War II. 
"And you could say, 'Why did I do that?'" Laser said. "Because it would have been easy to fictionalize those things. And I just didn't want to do it because I, in a way, was making a little memorial to my father and preserving the stories from his life in some way."
Originally from Brooklyn, Laser has paid tribute to significant people in his life in previous books.
Wanting to be an author since middle school, Laser credits his mother and his sixth grade teacher, Mr. Catania, with encouraging his drive to write. His mother admired authors like John Steinbeck and instilled the idea in him that being an author was a noble profession.  
"I promised both of them that I would dedicate my first book to them when I was a little kid," Laser said. "So I went ahead and, in the first book, I dedicated it to them."
Working several jobs before he became an author, Laser worked as an ice cream man, a camera salesman and a real estate paralegal, to name a few.
He and his wife, Jennifer, lived on the Upper West Side of Manhattan before moving to New Jersey in 1994, when they were awaiting the birth of their first child. Laser said they immediately fell in love with Montclair.
"We literally had four criteria: We wanted good schools, nice houses, diversity … and an easy commute," he said.
Laser writes from home, generally sitting in a chair he got from the Salvation Army and using a pen. He has photos of both on his website.
Montclair has shown up in his work. "Hidden Away," a novel he self-published in 2013, follows a mother and father who are frantically searching for their missing son. Though the fictional town has a different name, Laser said, Montclairians would immediately recognize it as their home.
Although "Eulogy" is not set in Montclair, Laser said he had the New Jersey town to thank for providing inspiration for his books for nearly 20 years.
With his seventh novel, Laser said, he hopes that readers take what they feel they need from the book. There is no set moral of the story, he said, but he wants readers – especially those who have lost a parent – to know that feelings of "adulation, to disenchantment, to forgiveness and to appreciation" are normal to feel throughout the grieving process. 
Now that "Eulogy" is out in the world, Laser is moving on to the beginning stages of his next novel. He said he still enjoys the writing process just as much as he did with his first novel. 
"The greatest part for me writing is when you're just furiously throwing ideas on a page, you don't even know what the characters are going to be, what the story is going to be," he said. "All you know is you want this to happen. You want it to be about this, here's an idea, here's an image. I cover pages and pages with ideas, and then I start to shape it. I enjoy all of those steps." 
Laser will discuss "Eulogy" with his friend and fellow author Rob Edelstein at 7 p.m. Thursday, Sept. 8, at Watchung Booksellers.