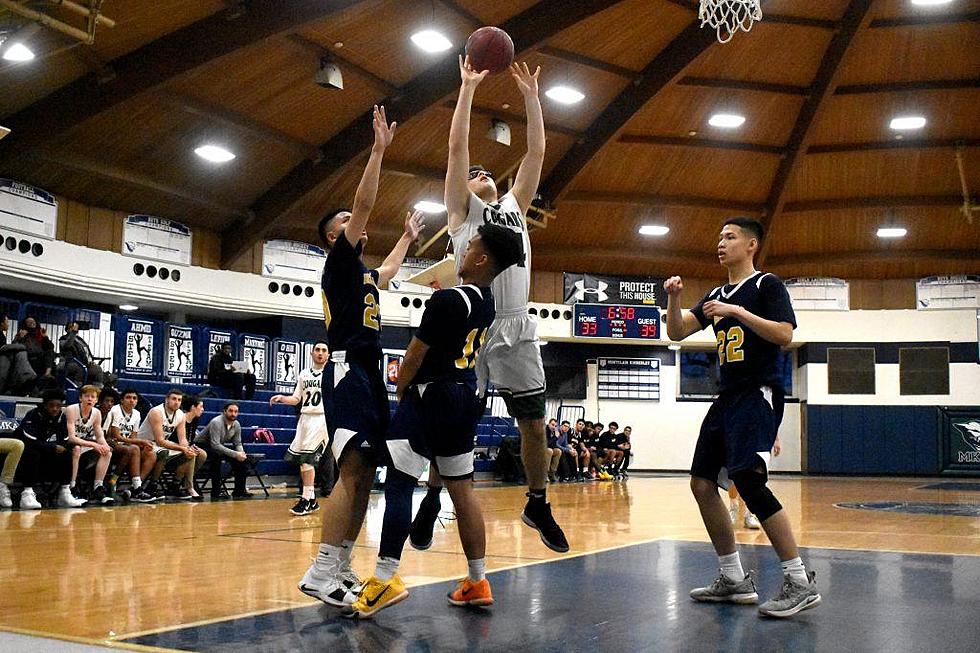 Montclair Basketball: Belleville denies Cougars ECT victory
MKA's Bennett LaLonde was one of the high scorers for the Cougars, scoring twelve points in a 57-44 loss to Belleville in the first round of the ECT.
ANDREW GARDA/STAFF
by Andrew Garda
garda@montclairlocal.news
The Montclair Kimberley Academy has worked hard all season long, only to come up short of a win each time.
That was the case again on Thursday, Jan. 31 when the 35-seeded Cougars fell to the 29-seeded Belleville Buccaneers, 57-44.
"Sometimes when you have a team that hasn't won or hasn't won a lot, when other teams make a push, they have a hard time responding," head coach Tony Jones said after the game. "And that's where we are right now. We need to be able to get over the hump with that."
Things looked favorable after a massive second quarter. The Cougars came into the period down 17-11, but went on a 9-6 run to open the quarter, scoring a trio of three-point shots to come within three points. After a 30-second timeout called by Jones, the Cougars went on another 4-1 run to end the half tied with Belleville 24-24.
Bennett LaLonde and Breman Columbia-Walsh are two young players who Jones is especially excited about. They were key players in the second quarter.
"Bennett's been great for us, he's probably our best shooter," Jones said. "So we've been encouraging him to shoot."
Meanwhile, Columbia-Walsh may be a freshman, but he didn't shy away from contact inside.
"That's what we love about Breman. The moment isn't too big," Jones said of the young center. "It's about him building his skills, and getting some experience."
The goal, according to Jones who is fielding multiple freshmen and sophomores, is to give as many 9th and 10th grade players experience so they can be better both as this year goes on and when next year arrives."
Unfortunately, that means there will be growing pains, such as the second half of the loss to Belleville.
The Buccaneers came out of the half red-hot, dominating the Cougars with an 8-2 run and outscoring them 13-6 over the course of the quarter. They out-rebounded MKA 7-4 and only turned the ball over twice compared to MKA's five turnovers.
---
RELATED: ROLE PLAYERS LEAD WAY IN COUGAR GIRLS' WIN OVER BELLEVILLE
---
"We got a little careless with the ball, shots didn't go in and we got a bit sloppy on defense," Jones said. "We just lost guys and then they just start making shots."
Jones said it's the little things that make the difference in games like the most recent one, or in the 58-52 Prep B Tournament loss to Newark Academy on Monday.
Luckily he has senior leadership to help teach the young players how to work hard, even when the wins aren't there. Trey Wilson has been injured, but Jones said he has been at almost every practice and game. Andrew Friedman and Adam Erbes have been great examples to follow during games and practices.
The result is a team that hasn't quit.
"The one thing I like about this team is they haven't given up," said Jones. "They practice hard, I think they play hard. You can't always say that about a team that's losing the way we are."