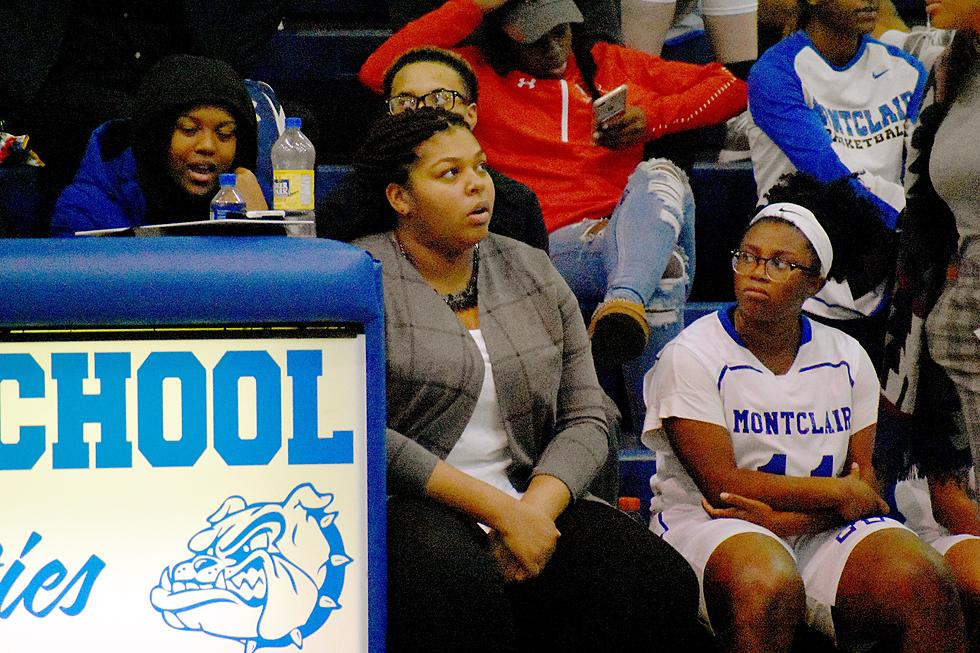 Montclair Basketball: Former Mounties return as coaches
First year freshman coach Ciara Stewart is excited that she can be a role model for the program. "I think it's good these girls have three positive role models to look up to who they can relate to."
PHOTO BY ANDREW GARDA/STAFF
by Andrew Garda
garda@montclairlocal.news
Not much has changed for the Montclair girls basketball team. Sure, there are many new players, but the plays, the games, the wins and losses all progress just like they do any other year.
One thing is different though—all three coaches for the program are African American women.
Second-year varsity  head coach Emily Hall and returning assistant coach, now also head junior varsity coach, Ryan Jones have been joined by Ciara Stewart, who will manage the freshmen team as well as help out with the varsity.
The three are all former Mountie players and collegiate players as well, but the fact that they are women of color is a unique set of circumstances, even for the diverse Montclair School District.
There hasn't been an coaching staff made up solely of women of color in a long time, perhaps ever.
"I had male coaches until I got to college," Hall said after a recent game against Summit High School. "So I didn't have a role model in that sense. But for these young ladies, and just how crazy the world is today, I think it's very, very important that they have us three as coaches. Whether they be African American or not."
"Three role models who have also gone on and played basketball in college," Stewart said. "And gone and done further things than just coming to coach. I think it's good these girls have three positive role models to look up to who they can relate to."
"That's a big step," Jones added. "I think if they see all women, it will help a little bit more and maybe it could be a different view inside of things."
Hall, who played professionally abroad after college, Jones, who came to the staff when Bianca Brown was the coach and played at Saint Peter's University, and Stewart, who played at Moravian College and hopes to coach in the WNBA one day, all came to the program in different ways, but each was attracted to coaching high school in part because they wanted to help raise strong, confident young women.
"It's a pleasure and an honor," Jones said. "It's also a lot of pressure. Trying to keep it positive, and not just keeping it about basketball. Life things, college, boyfriends, girlfriends — just trying to keep them in the right headspace."
Members of the team know they can come to the coaching staff, who have created a safe space for when the girls have topics or questions they aren't comfortable talking to their parents about.
For Hall, she also feels as though being a good role model is also a way to honor her father, another former Mountie who encouraged her when she was in high school.
"My father, I think he graduated in the 60s or something like that," Hall explained. "Of course, he was African American, so he wasn't allowed to play on the team because of that [even in] Montclair. A lot of the reasons I pushed so hard and got the opportunities to play is because he didn't have those, and he supported all my dreams athletically, especially towards basketball."
It's one of the reasons Hall and Jones reached out to Stewart, why they support her dreams of coaching at a higher level one day, and a reason why the three of them want to be there as an example for their team of what they can achieve if they believe in themselves and focus.
"I know Ciara really wants to be a head coach one day, so I hope I'm doing the best job helping her," Hall said. "She's helping me to be a better coach too, and she's pushing me out of my bubble to insert different plays or activities, and stuff like that. So whatever I can do to help her, I'll do."
Stewart is definitely enjoying the challenge of the freshmen team — many of whom have never played organized basketball before — and is glad to be back in the Mounties family. She recalls how much it meant when former players returned to practice in the past.
"I think for me especially, it was very encouraging," she said. "Because when I played in high school, Ryan and Emily would come back and practice with us. Now it's great that I get to see a different side of things."
All three coaches know it's a long season and the team has a lot of work to do, but the hope is that what the girls learn on and off the court will continue to resonate long after the final whistle blows.
"It's a blessing and it's fun to see girls grow, see them go to college," Jones said. "I'm here to for the long haul."