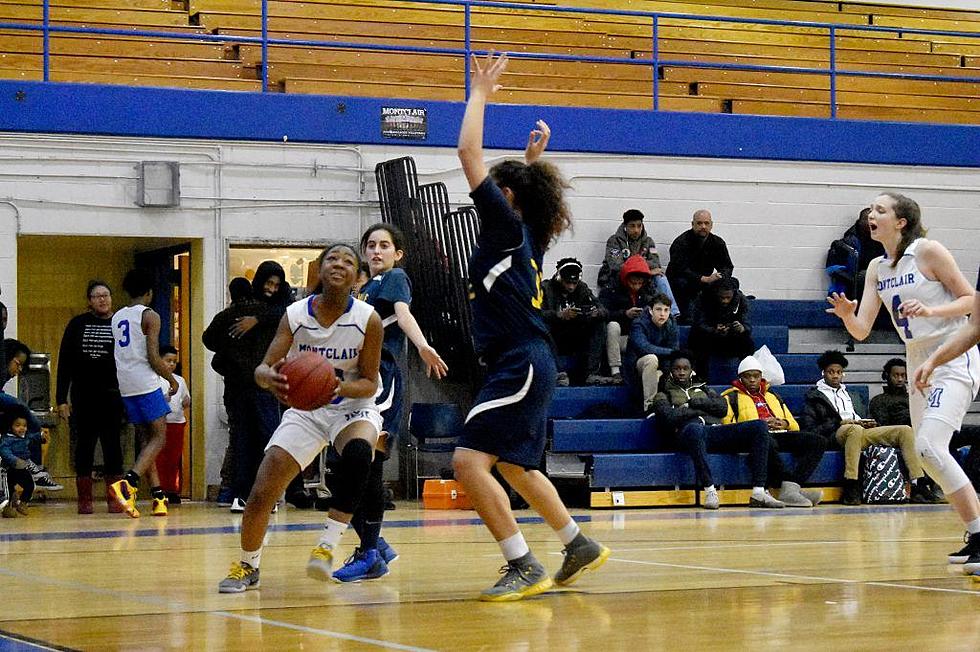 Montclair Basketball: Free throw struggles cost Mountie girls in ECT prelim
Freshman Ayanna Brantley tries to find room for a shot during Montclair's 37-34 loss to Belleville in Play-In round of the ECT.
PHOTO BY ANDREW GARDA/STAFF
by Andrew Garda
garda@montclairlocal.news
The 34-seeded Montclair High School girls basketball team held the lead over 37-seeded Belleville for three quarters of their Essex County Tournament play-in meeting, but fell just short in the fourth, losing 37-34.
Free throws from both sides made the difference, with free throws by Belleville shooters Fiorella Samaniego and Jazailis Gual helping the Buccaneers advance.
For assistant coach, Ryan Jones — who stepped in to coach the game with head coach Emily Hall unavailable — a few baskets from the charity stripe here or there would have had a huge impact.
"It's just being consistent especially with the free throws," she said after the game. "We could have beaten them but we went 17-of-39 in free throws and that was really tough. That really killed us, especially in the fourth quarter because we went to the line a good 10 to 15 times."
Prior to the struggles at the line, the Mounties had leaned on the play of senior Birgitta Taylor-Lilliquist and freshman Ayanna Brantley.
Taylor-Lilliquist led the team in scoring with 16 points, including six free throws, but where she really dominated was in rebounds. Through the first three quarters of play, the Mounties out-rebounded the Buccaneers 24-8, most of which came through the efforts of their big center.
"I call her Mr. Clean," Jones said. "She always cleans up. She's very aggressive with rebounds, very long arms – with those she's almost seven feet [tall]. Using those arms, she'll always get the rebound."
For Taylor-Lilliquist, that aggressiveness has been something she developed over time.
"I realized I can get a bunch of my points from just being able to rebound off the glass and putting a layup back up," she said. "I'm trying to add driving to my game, and I've been really working on that this season, and I think I've gotten pretty good at it."
Jones has been impressed. "She's bruised all up, elbows, knees – she's playing really hard."
Driving the lane gave Taylor-Lilliquist ample time at the free throw line, which she was able to convert to points.
---
RELATED: ATHLETE SPOTLIGHT - BIRGITTA TAYLOR-LILLIQUIST
RELATED: FORMER MOUNTIES RETURN TO COACH GIRLS BASKETBALL
---
With the youth of the Mounties though, that tense fourth quarter made them press a bit too, hard and struggle both at the line, and running plays across the floor.
"We just need them to try to dig a little deeper," Jones said. "Some of the girls don't have the passion for it or don't know what it means to dig deep. When it's time it's time, and by any means necessary, you've got to get to the basket and make the layup."
One player who seems to get it is Brantley. The freshman got the start on Saturday, and while she struggled a bit late, she was clearly working hard to make things happen on the floor.
"She's a freshman and she's still learning. She didn't play basketball her seventh or eighth grade year of school, so this is new for her," Jones said. "She's very aggressive. She's very coachable. You tell her to go to the basket, she goes to the basket, you tell her to do something, she does it. [But] she has to understand, she can't do it all."
That will come in time. The Mounties were always a team rebuilding, and with the young core group of players, they have a bright future. With senior leaders like Taylor-Lilliquist and Chynna Dunneman to show the way, that future will come sooner than later.