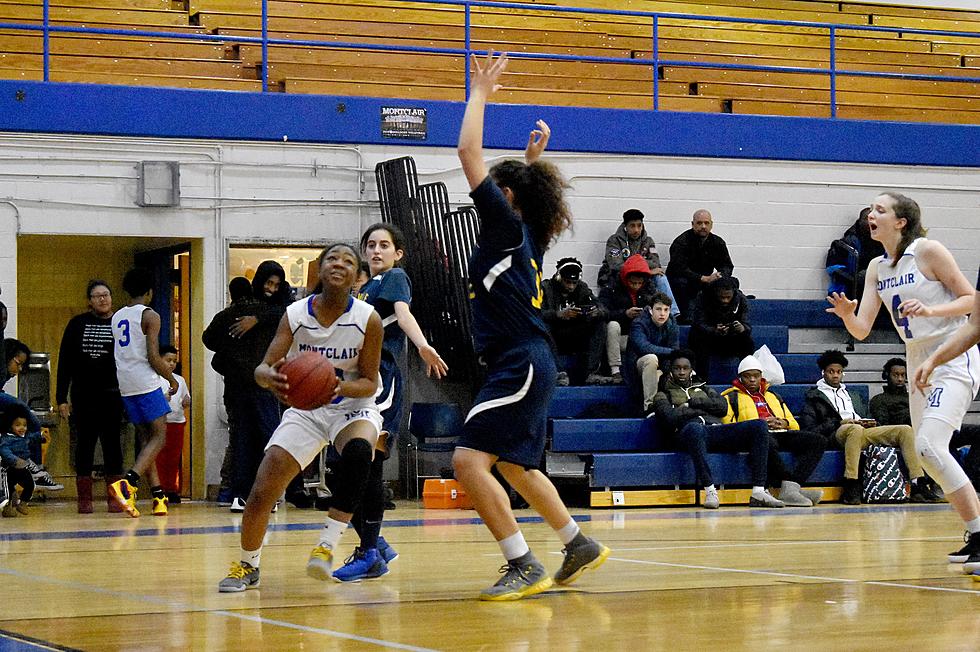 Montclair basketball: MHS girls will lean on 2019-20 foundation to overcome COVID-19 hurdles
MHS junior Ayanna Brantley has been a big part of the Mounties since her freshman year. Now as a junior and captain, Brantley is one of three players Montclair needs to step up.


PHOTO BY ANDREW GARDA/STAFF
by Andrew Garda
garda@montclairlocal.news
Things are obviously different for the Montclair High School girls basketball team.
Traditional changes would include things like replacing graduates or moving the team from the Colonial Division to the Independence after a 4-12 season.
This year, though, second-year head coach Ed Connell has to contend with some very unusual changes. COVID-19 has reduced the number of games in the season to 15 – including any playoffs. It's removed fans and other people not essential to the actual game from the building, and added multiple pandemic-related tests and protocols to the daily routine of the team.
That means Connell and his staff are trying to be innovative in how they deal with things.
They are well-poised to do so in some respects. Connell is a coach on the Montclair Kimberley Academy football team, and when he took the girls basketball job last season, he brought some of the things the Cougars did at practice with him.
The team's practice time was broken down into segments, with strict time limits to keep things moving. Connell wanted to keep the team engaged and maximize the time he had with them.
"I think that we, as coaches, have to examine every minute of practice time," he said. "That sounds cliche, but it's really not. You have to go through and figure out, you know, what is the most functional use of time."
The Mounties must make sure they cram as much into the time they have, while also keeping player health and safety in mind.
"The short timeline is a challenge," Connell said.
Since the returning Mounties have a year under their belt and are used to the regimented practices, MHS won't have to spend as much time building a system from the ground up — that system is already in place.
All of the staff is back as well. Ciara Stewart has moved to varsity assistant head coach from junior varsity head coach, while Stevana Sims moves to JV coach. The group added Brielle Feaster as the freshman coach, the only new face.
Along with a proven coaching staff, Connell has several key players who will step in and show new and younger players how things are done.
Ayanna Brantley, Karen Hankerson and Phoebe Sullivan will all return as starters this year. Brantley and Sullivan are juniors, while Hankerson is a senior. All three know their way around the court.
Brantley will play point guard, with Hankerson as a wing and Sullivan often at power forward.
"Those three are our captains, and we're counting on them for a lot of leadership and a lot of play time to really set the tone," Connell said. "They've taken that very seriously.  They've been doing a really great job of taking control of the emotional side, really setting the culture of what we want this program to be."
Connell said there are a lot of juniors, sophomores and even freshmen in the mix to contribute at the last two starting spots, and he expects to rotate various players into those roles throughout the season based on game situations and matchups.
Even though there have only been a handful of practices, he feels a shift has already taken place on the floor, as the team moves from year one to year two under his tenure.
"I think last year was a lot of us just trying to feel each other out, which it tends to be when a new head coach takes over," he said. "This year has been all about, "OK, you know, let's address what things we all want to do better and let's establish that early. We've had great commitment from all three of the captains and open communication and with them encouraging their teammates to be involved."
The Mounties get their first test of the season on Jan. 26, as they head to Orange High School for a 4 p.m. tipoff.