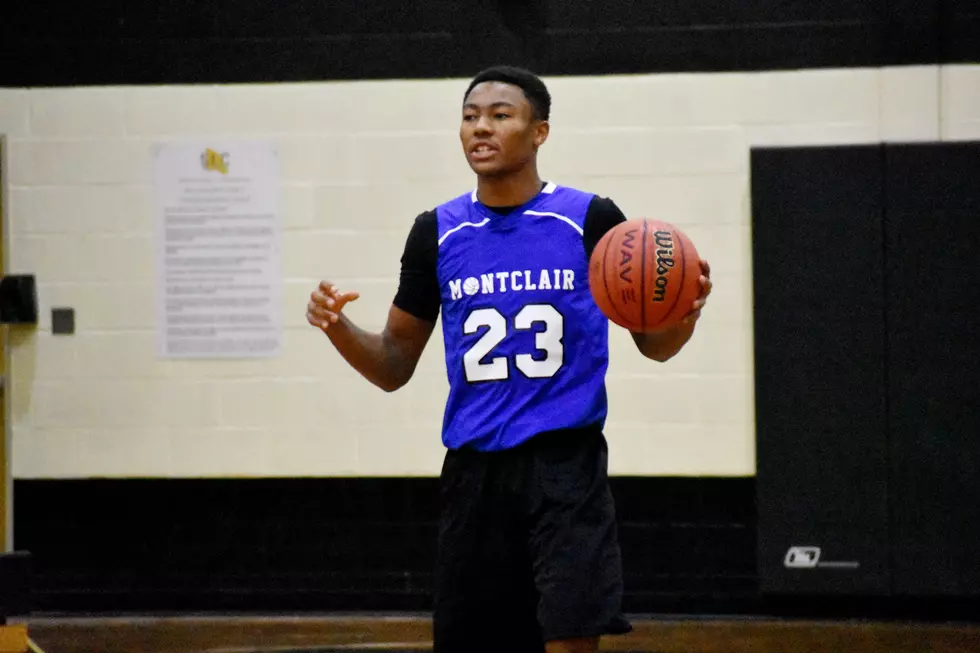 Montclair Basketball: Mounties coach looks for team to believe in the system
MHS senior Charles Murphy Jr.will be a critical leadership voice on and off the floor for the Mounties this season.
ANDREW GARDA/STAFF
by Andrew Garda
garda@montclairlocal.news
Three years into his role as head coach of the Montclair High School boys basketball team, Gary Wallace feels Montclair has a chance to make some noise in the Liberty Division where they now reside after a tough year in the American.
He just needs his players to keep buying in.
"These guys are different individuals, but they have to understand there's a process and we're going to do it my way, not their way," Wallace said after a recent practice. "But I'm excited for what we have."
What they have, according to Wallace, is a lot of length, a lot of athleticism, and a lot of guards.
They also have some key players who the Mounties will look to for leadership on and off the court.
Shawn Summers, Charles Murphy, Isaiah McPherson, Gabriel Schreiber and Shawn Davidson are all important pieces according to Wallace, and players he expects to contribute.
While the team is counting on those players as guys it can lean on, Wallace said it is equally critical for role players to be ready to pitch in.
"I've got guys like Steven Rose, who is just a pest on defense," he pointed to as an example. "I talk about this kid all the time and how he changes the complexions of games just by his defense. He did it in the games we played last year."
While they aren't regularly facing teams like Immaculate Conception and Newark East Side, Wallace has set up a game against Seton Hall Prep, which is likely to be one of their toughest regular season games, but he said the team will be tested plenty by their new division.
"We've got Millburn, Orange, East Orange, Columbia, and Bloomfield," Wallace said. "It's still going to be a tough conference, great teams, great players. [But] I think if we can focus, we can put ourselves in a great position to compete for a regular season title and conference playoffs, then the counties and then the states."
Wallace needs his leaders to step up, however, and fill the void left by Tarrin Earle, who now plays football at Bucknell University.
"These guys, he got them going the right way," Wallace said of Earle. "That's what we need to continue to build on, as well as communication. These guys think they can read each other's minds on the floor, but they have to learn to communicate. I tell them, the more you guys communicate, the more you put egos aside, the better you'll be."
The ego thing can be an issue with young men, no matter how long they've played basketball, and it's something Wallace is working on with the team.
"We've got a great group of guys but some of the egos and attitudes, we've just got to get it out of them," Wallace said. "But I know I can get it out of them and I have a way to make them listen. They don't like running. That's for sure."
Wallace needs players who can put that ego aside and consider the team over themselves.
"This year we're really working on it because you have a lot of guys who can control the ball, but need to ask what can I do best, what I can I do to help the team?"
However, it's not all on the kids, Wallace said. As a third year coach, he feels that every year he is adding to his toolbox, adjusting his methods and keeping his eyes open to ways he can improve.
"Some of these guys have never been taught the game of basketball," he said. "And I blame myself for not stopping some things the last two years, and doing the right things on the lower level. That's on me and the other coaches. At the end of the day, I'm the one who is supposed to stop things and say, 'hey this is how this should be.'"
If he can make adjustments and get his team to do the same, Wallace feels he can take not just this team, but the whole program to the next level.
"The next step isn't just here, but being able to reach those younger levels," Wallace explained. "Having these guys understand that their play is going to help guys here and seeing, that we can run a system and be a team, it helps those younger guys see that, yeah that's something I want to be a part of."
Reaching back is a big part of what Wallace wants to do, finding ways to get middle schoolers involved and excited to join the Mounties.
To do all this, Wallace just needs one thing from his varsity team; he needs them to buy in.
It's a simple thing, but very hard to really execute.
"Our application, our recall and our remembering things sometimes is terrible," he said. "So, they need to be going home and saying 'what did we do today in practice?' Talk with your teammates, direct your teammates when they're lost. Not just depend on my and the coaches to do it, but say 'you're out of bounds and here is where you're supposed to be.'"
The Mounties have a chance to do that beginning with Friday's opener at Orange, followed by Tuesday night's home opener against rival East Orange.